Digital Transformation and designing the future of law with Kai Jacob
On this episode with speak with Kai Jacob - Partner at KPMG and Co-founder of Liquid Legal Institute - about digital transformation and designing the future of law.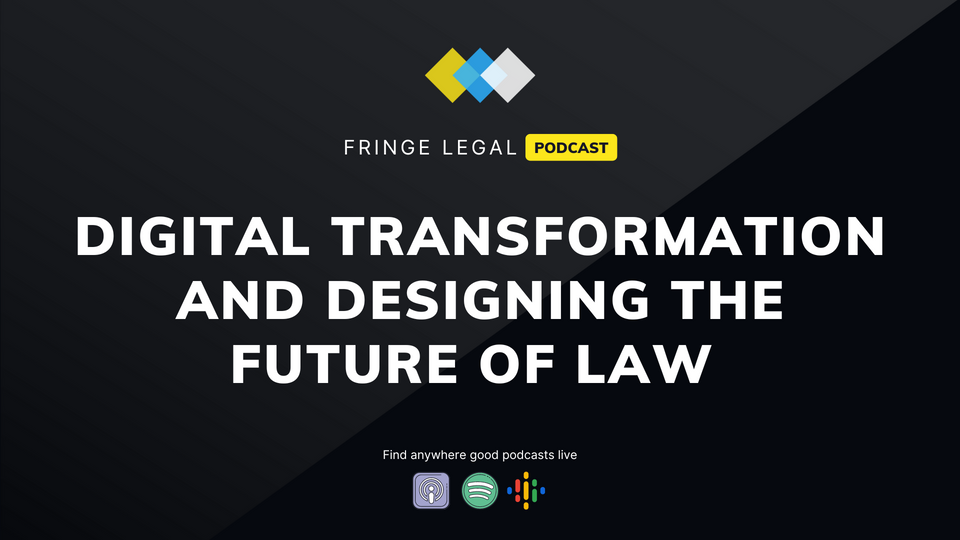 On this episode with speak with Kai Jacob  - Partner at KPMG and Co-founder of Liquid Legal Institute - about digital transformation and designing the future of law.
In the episode we cover (min.seconds):
Introduction -> 0.20
Enthusiasm vs adoption of technology -> 1.56
Founding the think thank -> 3.24
Facilitating cross collaboration -> 5.06
Distributing projects equitably -> 6.04
Designing the future -> 10.14
Mental wellbeing -> 13.52
Skills for future lawyers -> 21.54
Being embedded with customers -> 27.12
---
Highlights from the episode
What is Liquid Legal Institute
We consider ourselves a collaboration community of doers. So we like to do stuff, everything that we tackle and that we focus on should lead very fast to a result. Not just talking, doing.
Lack of collaboration in the legal market
...they helped us really to nail down the question of 'why is the legal market not collaborating'? That was a very interesting question because we are all sharing, we all do this together. We even have this concept of Co-opetition. Then why not work with competitors on something like setting standards? Why should we, in the legal market, cooperate? We are all making good money with this private wisdom that we have and built up over time. So why should we share? We also believe that without sharing, without creating true standards in the market, it will take ages to go through this digital transformation.
Struggling with digital transformation
We see that people are really struggling with digital transformation. They first don't understand why all this is happening. They're missing the digital mindset.
The idea that digital transformation is something positive. They do not get the link back to legal because, they are thinking that what we do is something that's handcrafted; it's something that relies on very special knowledge.
We do a perfect job of creating the perfect, beautiful contract that nobody else understands. We see beauty. And we see our role in protecting our company and defending our companies, defending our client's interests. It's just that the other side doesn't understand it.
So the digital aspect is that we need to get more out of this dormant contract that's archived in the file cabinet somewhere. To make it valuable information, accessible for the digital company that we are working in.
The whole idea of digital transformation is to make information that sits somewhere in an unstructured format, deep in contracts, more accessible
We miss a huge opportunity for our profession to sit at the C-suite table and contribute to the overall goals of the enterprise. Second, everything moves so fast. We are overwhelmed with the speed of change. And we need to understand that change is constant and it will never go back to a slow motion mode. It will not happen. It will be fast. So we need to learn how to become adaptable, call it agile, call it whatever, but we need to adapt fast to a changing world. We need first to understand what is digital, and second how to deal with that in an agile working model.
---
About Liquid Legal Institue
The Liquid Legal Institute is an open and interdisciplinary platform for promoting a new way of thinking in the legal sector. Digitalization, new business models and technological innovations are currently changing all major industries worldwide. However, the legal sector has not yet benefited sufficiently from these trends. The Liquid Legal Institute was founded by seven experts from legal and business practice, design thinking, and computer science to close this gap.