Fringe Legal #37: wrong measures create absurd outcomes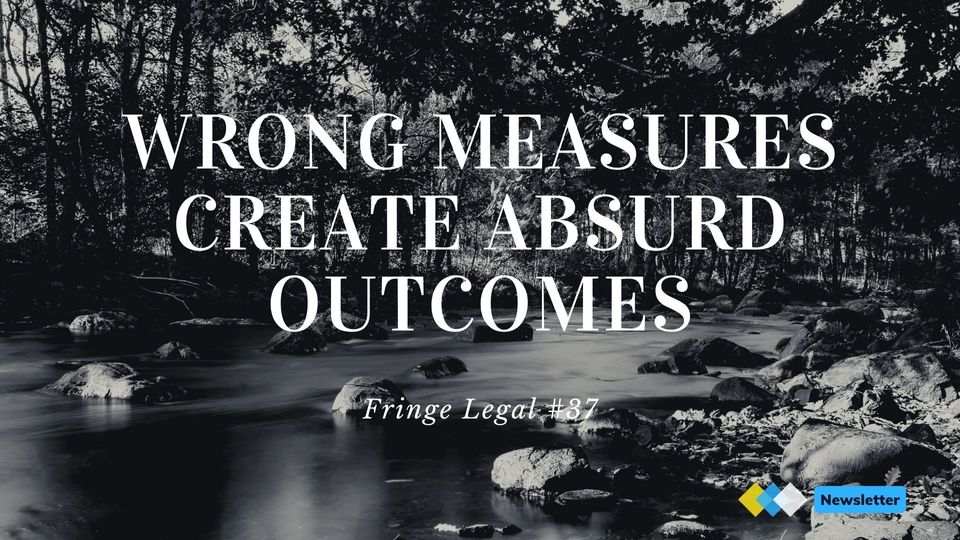 Goodhart's Law
As data becomes even more central to decision making, so does the temptation to increase the reliance on performance data. Performance data is the metric used to determine the success of a task. One consequence of this is that this can lead to the gamification of the metric, driving towards behaviors that don't produce the desired outcomes.
This is known as Goodhart's Law:
When a measure becomes a target, it ceases to be a good measure.
Put a different way, when the measure being tracked for performance is the same as the target being optimized by those being measured, it becomes pointless.
The classic example of this includes nails, and a Soviet factory, which is depicted by this sketch:
Another common example is within support teams (think IT support) tracked on time to close a ticket. The measure is often the same as the metric each operator is looking to optimize. More often than not, it leads to a surface-level response being given so that the ticket can be marked resolved as quickly as possible.
A better method is to reward the behavior that drives the outcome one might want. In the example of the support operator, scoring them on customer delight or positive experience is a better way to do this.
Next time you are setting measurable targets to avoid dangers of metrics-driven behaviors, try the following:
be mindful of Goodhart's law (being consciously aware often improves ideation)
Measure based on a variety of measures (perhaps collected together into a balanced scorecard)
Set measures with the outcome in mind
Celebrating women
8th March marked International Women's Day. As part of Fringe Legal, I'm fortunate to have had the opportunity to meet and learn from so many phenomenal women.
The image shows all the women guests I've had on the podcast episodes published so far - and through each of them, I've been inspired in a different way.
Check out the post on LinkedIn, where you find links to each of their profiles to follow/connect. (While you are there, please give it a like).
Process-driven innovation
In this week's episode of the podcast, I spoke with Rasmeet Charya, Chief Innovation Officer at Algo Legal.
Algo Legal is an interesting firm - they started less than two years ago and have quickly grown to be 70 lawyers. Starting from scratch, the firm embedded a couple of foundational tenets: to deliver a new brand of legal services, driven by technology & innovation, and utilizing a process-driven approach.
Working in this way requires a readjustment, even if you are starting from scratch. Importantly, it's an adjustment for all the firm's employees and the clients. During our chat, we explore how the firm has those conversations with clients and prospects.
Listen to the full episode here (or a short 2-minute trailer)
How did you like this article?