Making innovation everyone's business with Allister Spencer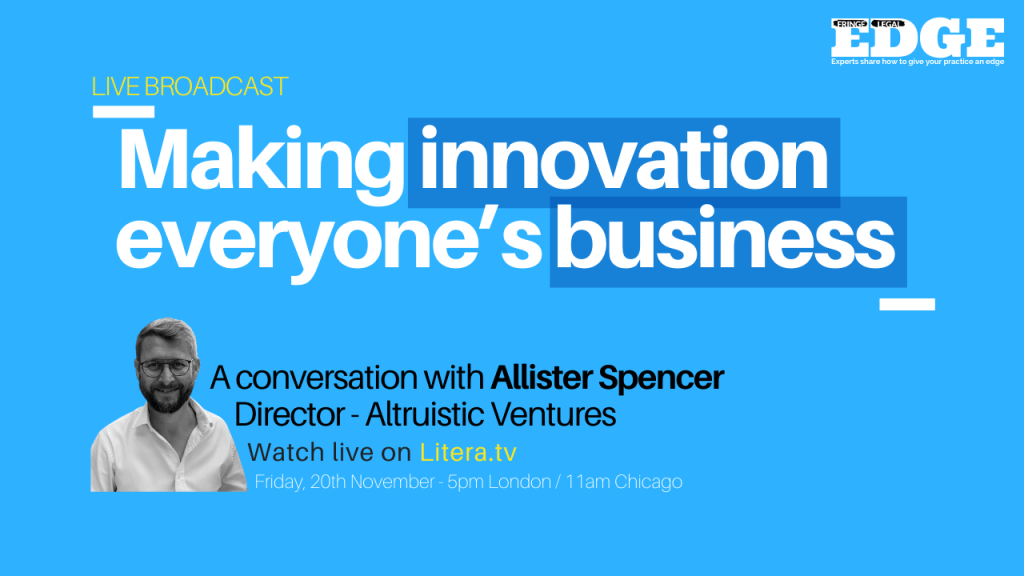 SUBSCRIBE AND REVIEW:  iTunes // Spotify // Pocket Casts // Stitcher
Innovation has as many definitions as the number of people you ask to define it. Regardless of what you think of as "innovative," the execution needs to permeate the business. Abhijat Saraswat speaks with Allister Spencer on how to make innovation everyone's business. In this episode, we'll go over:
(1) Review the state of the union
earlier this year firms put their hand brakes on; some thrived, some fell apart. What drove this?
What were the differences between segments (law firm sizes, law firms vs. in-house legal, etc.)?
(2) General hygiene across the profession
How firms can improve their operational excellence so they can
make clients stickier
get more clients
Increasing profits
How do we establish a baseline
discovery
benchmark
improvement
(3) How Alt-V approaches the above
Quotes have been extracted from the live conversation and have been edited for grammar and minor corrections. What follows is a commentary based on the discussion from the episode.
Handbrake
Earlier this year, the handbrake was pulled hard, and we saw a massive slow down across both legal and in-house counsel:
Interestingly though the in-house counsel have certainly managed to achieve a little more gains in that space during the 2020 pandemic. But we have noticed that the thawing out of law firms, particularly in APAC… ramping back up. We're also seeing markets across EMEA rapidly getting back to normal. And I think that, given the number of months that have passed, just keeping the lights on for the first few months was absolutely critical.
Businesses now realize that the programs that they had put on hold have to come back online, and things need to restart – the work must march on.

Factors affecting the adaptability

Smaller firms with multi-jurisdictional teams fared better because they were better geared up to working remotely, as, in effect, many were already had a remote workforce.
Many of the mid-tied single office firms, or those with a dated view that 'bums on seats equals productivity,' struggled to adjust quickly. Some of the bigger firms that are spread jurisdictionally also had issues. Several factors contributed to this, and one of those was the rapid lateral hiring approach. This resulted in the firms having disparate systems, and when you bring everything back together, those systems sometimes don't talk to each other.
How did the law firms compare to in-house legal?
Allister: I always equate a law firm with the profit center and in-house as the cost center. So, they're two very different, strategic alignments as to what makes money and what costs money. And in-house generally run on the smell of an oily rag. Whereas, law firms are very profitable. But, what we found is that given the opportunity they had, they [in-house] cracked on and because they had the structure and governance from the top they were less disrupted.

Ab: That's important and one of my thesis is that the in-house teams, because they are a cost center, naturally work to streamline their processes and systems first, rather than just throw people at the problem as often happens within a law firm. And therefore you do reap the rewards when the resources for everybody else become tighter. It then becomes a more equal playing field.
What are the next priorities?
There's a big push for ERP systems (document management, practice management, Exchange, and other basic systems that firms rely on so heavily) – some firms that have fallen behind are now rapidly coming back on board. However, it's a cautionary tale:
They're big-ticket items – they're very expensive processes and implementations. That more firms have to understand that this is a 10-year project, and if you do it incorrectly, it's a 10-year mistake that is very hard to wind back if it's done incorrectly.
The most common foible is taking an assumption-based implementation approach. Each firm has specific requirements, and without teasing those requirements out effectively, you're not going to get them the system they want.

The business of law
Ab: if you look at the law firm as a business, and you're focused on becoming operationally excellent – you're really only trying to achieve only two things:(1) How do you retain the clients you have today (how do you make them stickier); and, (2) how do you get new revenue (how do you attract more clients?) It is literally just those two things. Everything else just feeds into that.

Allister: Yeah, that's right. I'd probably add one more of that and that's the (3) leverage model (actually being more profitable)…So once you've nailed the process and the people within that process, you can leverage down and make it far more profitable? And we work closely with firms, but also with their clients to actually engage in our labs that.

It's slightly controversial and you'll find that the lawyers get quite squirmy when they think of their clients in a lab context with them, showing inefficiencies that they are producing… this is the point to both sides.

What you're trying to do is improve the service delivery of that piece of work to the client, but also hopefully make it more efficient. Hopefully make it more profitable for the firm, but cheaper for the client. So it's a proper win-win
To achieve this, you need a mindset of future state thinking – those individuals that understand that what may have been working for the last 10, 20, 50, or 100 years may not work the same in the future because there is a changing tide coming and it'll be disruptive. And the funny thing about disruption is it hits you in the face; as soon as you turn the corner, you don't get a warning.
Operational excellence
This feeds into running a successful law firm – from a reporting perspective, you have operational excellence and strategic excellence. One can think of one as the dashboard and the other as the table – you have to marry those two up.
Firms, with all the best intentions, often miss the mark because they fall to the exclusion of the inclusion, i.e., they focus on improving things that happened, but not to convert those opportunities that may have slipped through the cracks.
The rhetoric from our perspective is what's above the line and what's below the line. You've got operational costs below the line that you can't control, but you've got leverage model objects out there that are the leavers that you can pull, and you've got to bring senior stakeholders on board and educate them on what leavers they can pull, and what effect that has on their practice group for the entire business.

It's a really important one because you're essentially converting a partner into a business owner… getting them across the line is a difficult one because they don't really want to understand the operations of the business. They just want to do legal work because that's what they've done for 20 years. So bringing them on that journey and engaging with them on 'yes, you can make 30% profit by doing what you're currently doing, but do you want to make 40%, here's the way you can do it'. So it's a carrot rather than a stick.
A holistic approach
The purist approach of following just one methodology (e.g., we'll be an Agile shop) works in certain industries but rarely works in a law firm context. Instead, using multiple methods to tackle different problems is a better approach.  The Alt-V formed Legal Methlab to tackle this approach:
Legal meth-lab was spawned from was our ability to have a toolkit to interpret and solicit information from a business in a very empathetic way that engages all manner of the firm. It's surprising what you find, in a particular practice group, a secretary over there that just knows exactly what's going on, but previously wouldn't have been consulted, that can improve the workload for that practice group exponentially, based on correct solicitation methodologies.
If deployed correctly, then the approach is welcomed with open arms by lawyers and other legal professionals:
We want these methodologies to be systemic within the law firm. They're not held in an ivory tower of wizards in innovation hubs and not pushed outside of the business because it's too scary and lawyers won't get it. The lawyers do get it and lawyers, embrace it. if it's dealt with properly. And with a large dose of empathy around inclusionary problem solving and lateral problem solving, they embrace it with open arms.
The Altruistic Ventures team is putting the above into practice as part of a Design Lab for Taylor Wessing, which the firm uses to discover new ways to advise and support their clients.
During this journey, 40 innovators (from the law firm and their clients) will take part in a fully remote experience which seeks to embed a culture of innovation in law firms, giving all roles across the business access to skills and tools which can be used in daily legal service delivery and making innovation everyone's business.
About Allister
Allister Spencer is the Director and co-founder of Altruistic Ventures – a boutique management consultancy providing specialized services to law firms and in-house legal teams globally
Allister has over 20 years of senior management experience, having worked within technology services teams for law firms, for legal technology vendors, and most recently as a director of multiple legal consultancies. His expertise spans technology strategy and business change advice for firms experiencing great change.