No-code for legal teams - Report
What if you could build your own app without any coding skills? That's the promise of #nocode tools. We went down the rabbit hole, so you don't have to.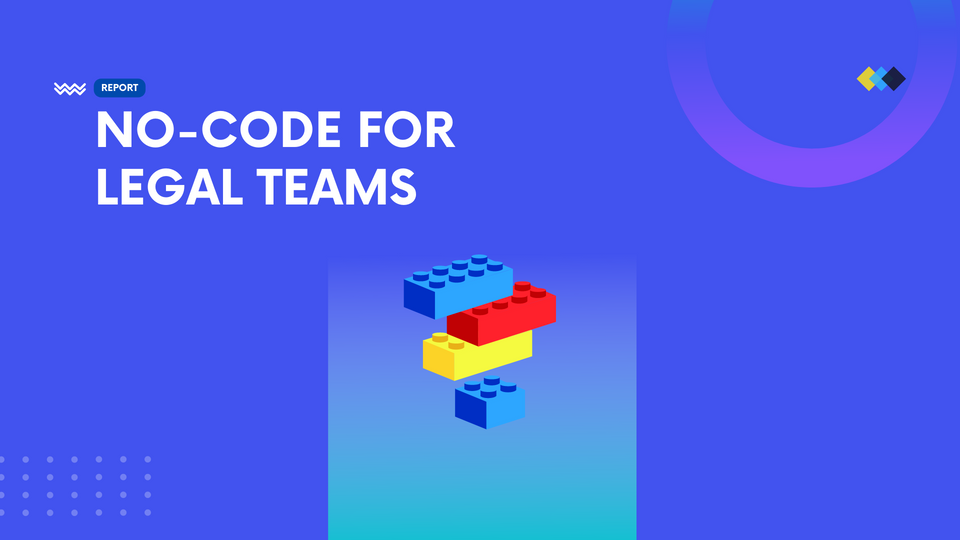 ---
Save days of market research by reading this 9-minute report.
Here's what's covered
What is no-code?
What problems do no-code tools solve?
Why should you care?
Key market drivers
Why now?
What do the curios ask?
What do the skeptics say?
Risks
Opportunities
Use cases
Key players
The future

Download the report as a beautiful PDF here or read on below.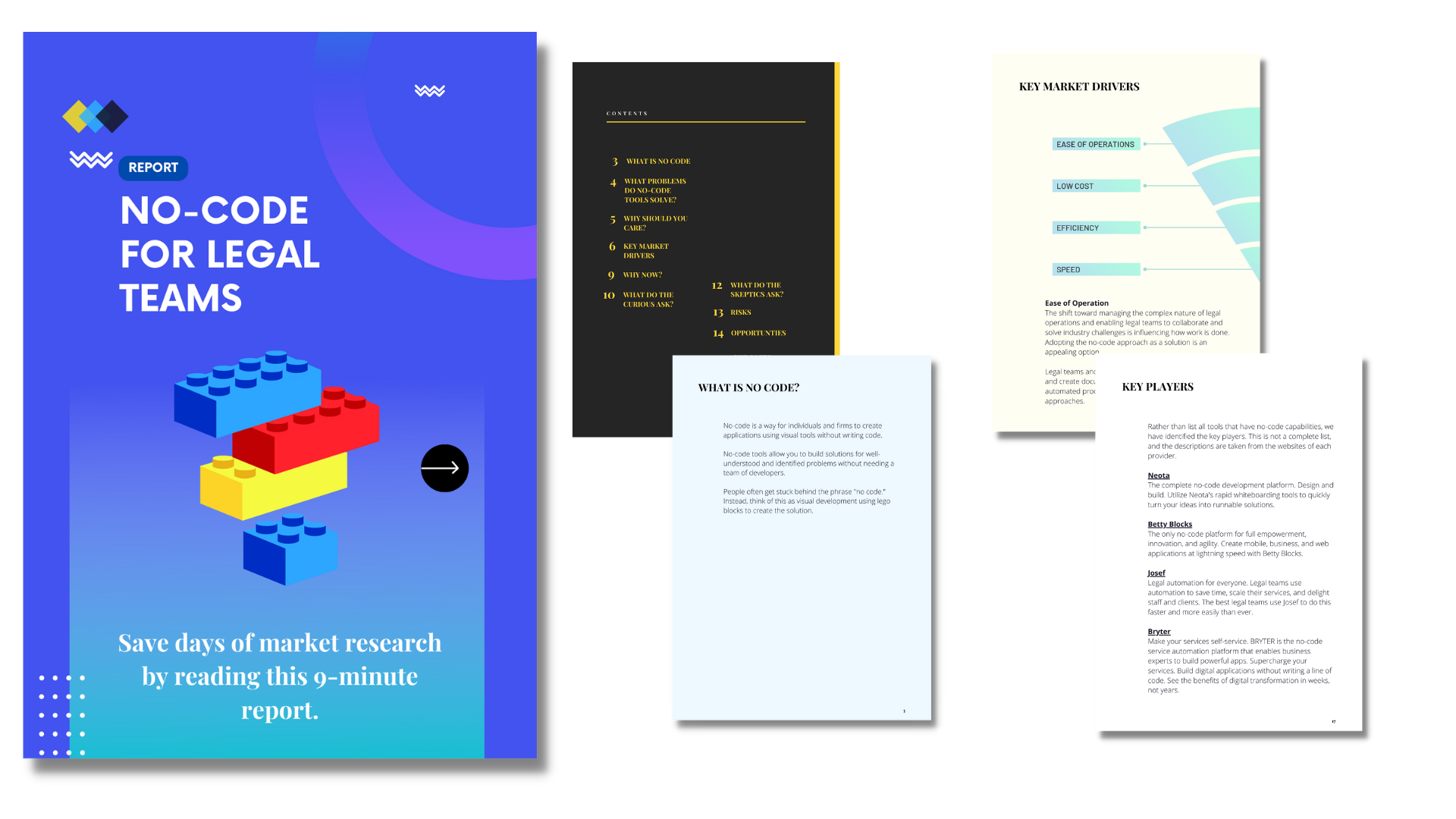 ---
What is no-code?

No-code is a way for individuals and firms to create applications using visual tools without writing code.
No-code tools allow you to build solutions for well-understood and identified problems without needing a team of developers.
People often get stuck behind the phrase "no code." Instead, think of this as visual development using lego blocks to create the solution.
---

---
What problem do no-code tools solve?
Ideas are cheap. Execution is what matters. No-code tools allow the rapid testing, iteration, and launch of ideas.
The "standard" approach takes too long - once you have identified a problem to be solved, it still requires considerable time, effort, and expertise to build the solution.
No-code tools democratize the ability of individuals and organizations to create and ship ideas more quickly. By leveraging no-code tools, organizations can build sophisticated solutions faster at a fraction of the cost. It enables less technical users (often called Citizen Developers in the no-code community) to rapidly test, deploy and launch ideas.
It's worth noting that no-code is not a magic wand. It is best for well defined problems. It requires an understanding of the problem, current process, requirements, and design to be successful.
With no-code, you can more easily automate internal processes and/or create client-facing applications increasing the value delivered to your clients. It also opens up a potential additional revenue stream by productizing services.  
Why should you care?
According to Gartner, By 2024, 80% of technology products and services will be built by those who are not technology professionals.
"Digital business is treated as a team sport by CEOs and no longer the sole domain of the IT department," said Rajesh Kandaswamy, distinguished research vice president at Gartner. "Growth in digital data, low-code development tools and artificial intelligence (AI)-assisted development are among the many factors that enable the democratization of technology development beyond IT professionals."
Digital transformations that used to take weeks or months may now be completed in days—and at a fraction of the cost—thanks to no-code apps. Contracting work, for example, can be sped up by automating contract generation, negotiation, routing, tracking, notification, analytics, and reporting.
No-code lowers the barrier to entry for creators but doesn't make developers obsolete.
Key market drivers

Ease of Operation
The shift toward managing the complex nature of legal operations and enabling legal teams to collaborate and solve industry challenges is influencing how work is done. Adopting the no-code approach as a solution is an appealing option.

Legal teams and law firms can now track, organize, audit, and create documents in their workplaces using automated processes made possible by no/low code approaches.

Low Costs
Gartner reports, and others predict high tech spending for law firms in the coming years. From 2.6 percent of in-house budgets in 2017 to 3.9 percent in 2020, legal technology spending has already climbed 1.5 times. According to Gartner, legal technology investment will grow to 12% of in-house budgets by 2025, a threefold rise from 2020 levels.
Many legal firms are utilizing no/low-code as a cushion to avoid the financial burden of hiring or contracting a tech team in the near future, which is boosting demand for no/low-code solutions.

Efficiency
It's difficult to tie down the traditional notion of "efficiency" in firms.
While in the past, efficiency and legal productivity have been a function of the number of billable hours worked by lawyers divided by the total number of lawyers, this is (thankfully) changing. Clients reward value, counsel, and results rather than time.
No-code platforms allow for the automation of the existing process and the development of new tools tied to Key Performance Indicators (KPIs).
Speed
Historically, the legal profession has been slow to adopt technology, but that is changing as law firms are forced to change how they deliver legal services to better meet their client's demands.
Most law firms face more pressure from their clients wanting greater speed without losing value. Law firms must look at new ways to deliver legal services faster than they used to. The adoption of no-code tools furthers this effort in a big way.
Why now?
Small development teams can have a big impact. The development and deployment of technology have improved exponentially, which has reduced the barrier to entry. Ease of use has increased, and the cost to get started has gone down.  
Chris Dixon, a partner at A16Z (the firm behind "software is eating the world"), summarized the reasons best:
Infrastructure costs are now minimal
Open source dominates every level of the development stack
General purpose tools for non-programmers
Special purpose tools for non-programmers: specialist no-code tools for professional services, web3, and more exist to disrupt specific industries.

What do the curious ask?

What's the difference between no-code and low-code?
No-code answers the question: what if you could build your own app without coding skills?
Low-code empowers developers to complete software projects faster and easier. By providing reusable blocks, it speeds up the developer's workflow because they do not need to start from scratch.
What's the difference between no-code in tools vs. no-code solutions?
As with any trending term, you will likely see "no-code" slapped on dozens of tools. No judgment here!
Many tools, think document automation, have a no-code approach to building out the automation, e.g., instead of having to "code fields: you just drag a visual field in its place.
The key players mentioned in this report are platform plays, allowing users to build applications with them.

So there really isn't any code?
Of course there is. It's just hidden from view.
No-code sounds easy.
Not quite. No-code does not mean no learning curve. Figuring out the tools is significantly faster than learning a programming language. However, having a good understanding of logic, data structures, and more will allow you to build more robust applications.
Can no-code be used for all projects?
Probably not. No-code tools are likely not best for uber-complex or bespoke work. The question to ask is, can this type of work be standardized? If yes, then it can likely be automated with no-code tools.
It's also worth noting that this is a thriving field, and the pace of development is bewildering. So even some complex components, e.g., Machine Learning, Web3, APIs, etc., can be incorporated into no-code applications.

What do the skeptics say?

No-code will eliminate developer roles.
Just like technology is not going to make lawyers obsolete. No-code is not going to make developers obsolete. It frees up developers to focus on more interesting problems.
No-code can't be used to solve problem X.
Quite possible. It's not a perfect solution for all problems.
In some instances, no-code can be used to create the MVP (minimum viable product) or initial iterations of products, which can be developed further by development teams once PMF (product market fit) is proven out.
You need a large team to develop applications.
Not true. Many large applications - millions in revenue/valued into billions - had small teams. Here's a list to explore.

No-code applications don't scale well.
In most cases, this is not an issue. However, they must be created with a well-designed database model, optimized logic, and functional UI to scale appropriately.
What are the risks?
There are two key risks:

Platform risk
Leveraging any platform to build your product is a risky endeavor. This applies to add-ins as much as it does to no-code tools.
What if the no-code platform gets acquired, shut down, or changes key policies? This is the risk of building on "closed-source" applications vs. coding using an "open-source" framework such as React, Ruby on Rails, or Django.
The rise of shadow IT
There is a concern that no-code apps may lead to shadow IT when people construct programs without sufficient oversight or scrutiny. Security concerns, compliance issues, integration issues, apps that consume more resources than necessary, and increasing technical debt are all possible outcomes.
This is a risk that can be minimized by vendors providing training and guidance. Firms can help by allowing people to experiment in a sandbox environment.
Opportunities

Increase speed to value. Build and deliver faster. Amaze clients by providing robust solutions in a fraction of the time compared to competitor firms.
Attract talent - offer another dimension to prospective employees and shows the commitment to leveraging technology to reduce the amount of repetitive work.
Retain talent - allow growth-minded attorneys and legal professionals to scratch their itch and develop tools that add value internally and to clients.
Create more diverse roles. Will future firms have Chief Automation Officers or Heads of Technology Efficiency?
Integration Platform as a Service (iPaaS). Integration becomes even more important. There is a thriving no-code community outside of legal, and integration tools such as Zapier, Make (previously called Integromat), and Automate are pillars that ease data transfer between apps. Syncly has already started to capitalize on the opportunity for legal teams.
Use cases
There are two main categories of use cases for no-code tools:
Automation
Applications

Automation
As part of digital transformation initiatives, it may be possible to automate any number of tasks. Leveraging tools, the goal is the reduce the number of steps required to complete the work.
Some examples:
automating document and contract creation, review, and management
automating intake procedures and tracking and organizing client, case, and matter information
Automating auditing, compliance, and KYC measures
(source)

Applications
Applications can be internal only or client-facing. These could be point solutions to serve a specific need or ways to serve data.
Some examples:
Client portals
Self-service document generators
Privacy focused applications
Virtual Legal Assistants or AI-Powered Chatbots
Further exploration: privacy requests
As privacy rules provide customers new rights, businesses must brace themselves for increased consumer claims. The European Union's Global Data Protection Regulation (GDPR) and California's Customer Privacy Act (CCPA) have increased demands for privacy-focused services. There is increased demand for specialized solutions to handle subject rights requests (SRRs) on behalf of clients. Automation will be critical in making the process more efficient and quicker.

Key players
Rather than list all tools that have no-code capabilities, we have identified the key players. This is not a complete list, and the descriptions are taken from the websites of each provider.
The complete no-code development platform. Design and build. Utilize Neota's rapid whiteboarding tools to quickly turn your ideas into runnable solutions.
🎧
Supplement this report with
the discussion with Jackson Liu
- Chief Commercial Office at Neota, on how nocode tools are being used by law firms, tackling adoption, and predictions for the future.
The only no-code platform for full empowerment, innovation, and agility. Create mobile, business, and web applications at lightning speed with Betty Blocks.
Legal automation for everyone. Legal teams use automation to save time, scale their services, and delight staff and clients. The best legal teams use Josef to do this faster and more easily than ever.
Make your services self-service. BRYTER is the no-code service automation platform that enables business experts to build powerful apps. Supercharge your services. Build digital applications without writing a line of code. See the benefits of digital transformation in weeks, not years.
Autologyx is an operations platform that enables businesses to manage, automate, integrate and scale all their work using the same platform. Automate any process across your organization with a single, connected environment.
Enabling anyone to create useful app experiences. As simple as building a presentation… As powerful as your imagination.
Berkeley Bridge is the expert when it comes to knowledge-based systems that use decision trees and has vast experience in the automation of legal documents. Its easy-to-build and easy-to-use applications are widely used by law firms, operating companies, healthcare organizations, and governments.
Checkbox is an award-winning no-code platform which allows users to build their own business apps for process automation.

The future
There is a great opportunity for those building businesses. It's faster than ever to get from an idea to a commercialized product by leveraging no-code tools (think agencies, marketplaces, job boards, etc.). There is also an opportunity for individuals to shine as experts by learning the logic behind these tools and providing implementation support.
For firms, this is a chance to productize your service revenue or add additional value for your clients by offering SaaS applications (at a cost). No-code also empowers internal innovation teams to validate ideas quickly, at minimal cost (money and time).
Will external players make a play to enter the legal market? Will the generalized no-code solutions (such as Bubble.io, Softr, Airtable, and Glide) and horizontal players (e.g., Microsoft with its Power Apps Platform) make a play for legal?
Watch this space 🚀.
---

---