Stewart Rasmussen on the Changing Landscape of Australia Legal Technology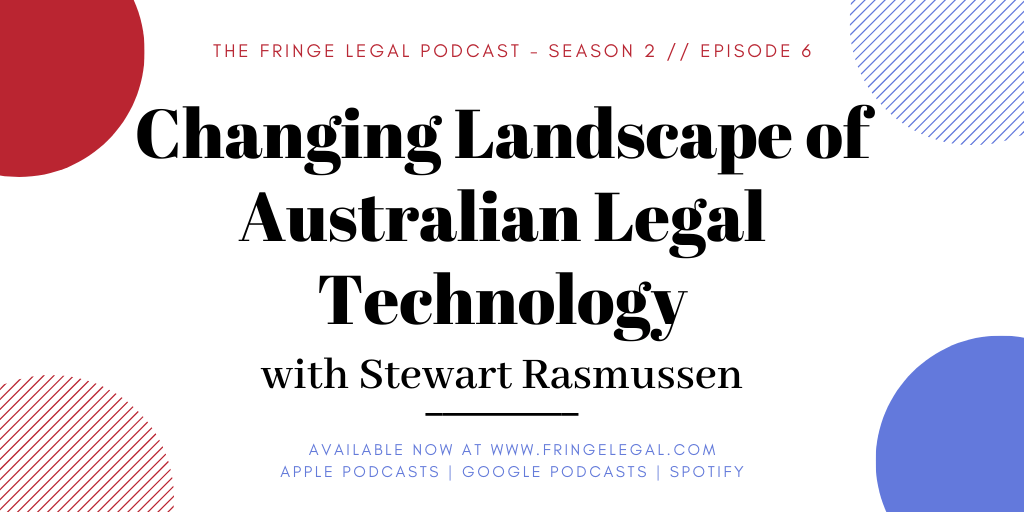 On the show today, we have Stewart Rasmussen. Stew is a friend, a technologist, and someone who is extremely knowledgeable about the Australian market, especially the legal segment.
He's previously worked for the likes of Phoenix Business Solutions in the UK and APAC, served as the Head of Client Services APAC for HighQ, and most recently was the Director of Legal Technology for KPMG Australia.
Stew was at KPMG when we recorded this conversation in 2019 – all views are his own and not those of his employers.
Just a quick note to say that Stew recorded this during a particularly busy afternoon so the audio is a little unclear at times. Please bear with it.
SUBSCRIBE AND REVIEW: iTunes // Spotify // Pocket Casts // Stitcher
The new breed of technology companies gets it. They know they need to integrate, and not create those silos – it's quite refreshing to see.
I think technologists are doing the best they can to develop products. Otherwise, they're going to just end up in an endless cycle of development and they end up with a product that caters to everybody and nobody at the same time… Whereas, law firms need to become better at saying: is there a standardized approach? Is my bespoke process actually competitive, agile, can we start to adopt the standard by doing it this way now?
We pack quite a lot in a small amount of time. Some highlights include:
the changing landscape of the Australian Legal Tech Market – bearing in mind it's distant proximity to other large markets
how different cultures sometimes produce different use cases
first-mover advantages, or lack thereof, in the legal profession
the upcoming wave of consolidation, especially within the productized segment of legal
extendibility of software via APIs and vendor partnerships
Please subscribe, and if you enjoyed the episode help me by leaving a review.