Training Lawyers to Learn By Doing: How AltaClaro is Closing the Practical Skills Gap
Abdi Shayesteh reinvented legal training with AltaClaro by closing skills gaps through experiential learning. Simulations and expert feedback build associates' judgment. Data provides insights to improve and personalize education. Hands-on training will grow as technology transforms law.
The legal industry is undergoing a massive generational shift. Virtually overnight, AI capabilities have captured the attention of law firms worldwide. LLM-based tools can generate legal content, analyze documents, extract key information, and even converse with human-like ability. Their disruptive potential across the legal sector is immense.
Yet, while technology races ahead, improving legal training and education has lagged behind. Law schools excel at teaching students the law, but critical and practical skills development is often lacking. With the traditional law firm apprenticeship model fading, junior lawyers frequently lack opportunities to gain hands-on experience.
Abdi Shayesteh, founder and CEO of the legal training platform AltaClaro, is on a mission to close this practical skills gap. Frustrated by the inefficiencies he experienced firsthand as a junior lawyer, Abdi has reinvented legal education and training. AltaClaro leverages experiential learning techniques rooted in education science to provide associates with hands-on practice on simulated legal matters.
In my discussion with Abdi, we explored his unique journey to launching AltaClaro, the experiential learning model they have pioneered, and key legal training trends he is observing.
Five takeaways that could be applied to training, tech pilots, or innovation projects ▽
Start Small, Iterate Quickly. Begin with low-risk applications to test capabilities. Rapidly build on successes through iterations to expand use cases.
Blend Human Expertise and Technology. Combine instructors' real-world experience with data and tech-enabled simulations to create engaging learning.
Gather Feedback from All Parties. Associates, instructors, and firms all provide insights on progress. Feedback enables continuous improvement.
Personalize and Segment Training. Small cohorts (< 10) of similar experience permit tailored teaching. Use data to identify individual strengths and improvement areas.
Make it Experiential. Hands-on simulations anchored in real work build judgment and skills. Practical application cements learning.
---
---
From Café Manager to Legal Entrepreneur
Abdi has been sharpening his entrepreneurial instincts since childhood. He shared how, at just 11 years old, he began helping manage a French café his father had invested in:
"I became an entrepreneur by accident at a very early age. At the age of 11, I was helping out and eventually managing a cafe in San Diego."
Taking the bus to open the struggling café daily at 5 AM, Abdi quickly realized their beach town location and menu were out of sync with local tastes. He convinced his father to implement his suggested changes, getting an early taste for market validation and pivoting.
Abdi carried this entrepreneurial spirit with him to college, starting a successful apparel business to fund his education.
"My first company financed my entire education. We grew it to 10 people and did all the UC schools in California."
After being urged to take a traditional career path, Abdi headed to law school during the heady dot com boom days. The startup bug bit once again after graduating.
"I enjoyed being there in the early days of the dot com bubble. Eventually I graduated from law school and pretty quickly after working at a firm that represented startups and entrepreneurs, I joined a startup."
Abdi rapidly rose to become CEO of a legal fintech startup in his late 20s.
"At the age of 27, the board made me CEO of the company. Very humbling and a great experience, baptism by fire."
This early exposure to the entrepreneurial rollercoaster gave Abdi management experience beyond his years. With two startups under his belt by his late twenties, Abdi seemed destined for career-growing companies. However, after his second exit, Abdi put entrepreneurship on hold to focus on law.
Identifying the Training Gap
Abdi's mother had high hopes he would have a traditional legal career after his business adventures. He headed this call, practicing law both in BigLaw and as in-house counsel for a global bank. But Abdi soon identified major inefficiencies in the way junior lawyers are trained.
Like many attorneys, Abdi found taking time from billable work to properly train associates difficult. The traditional law firm apprenticeship model was withering under client pressures on legal spend. Partners lacked bandwidth, while associates lacked structured development opportunities.
As in-house counsel reviewing law firm bills, Abdi witnessed firsthand the high costs of this disjointed training model:
"I would see an associate spending 10 hours on marking up an NDA. I thought, this shouldn't have taken more than an hour or two."
Abdi knew from being in the associate chair there had to be a better way.
"It was through my pains as a lawyer, especially as I was ramping up in New York, working in BigLaw, where I had this fantasy of wishing there was a place I could practice and get feedback."
He saw an opportunity to reinvent legal training and finally apply his entrepreneurial skills to the legal industry. After a few years back in the corporate world, the startup itch returned. The genesis of AltaClaro was born.
Learning by Doing
Abdi identified that hands-on practice with high-quality feedback was fundamental to accelerating associate skills. However, the traditional law firm model was not designed to provide this efficiently at scale.
AltaClaro set out to leverage technology and design thinking to recreate practical learning experiences. Their experiential learning model aligns to proven educational techniques for adult learning. Research shows we remember:
10% of what we read
50% of what we see and hear
90% of what we do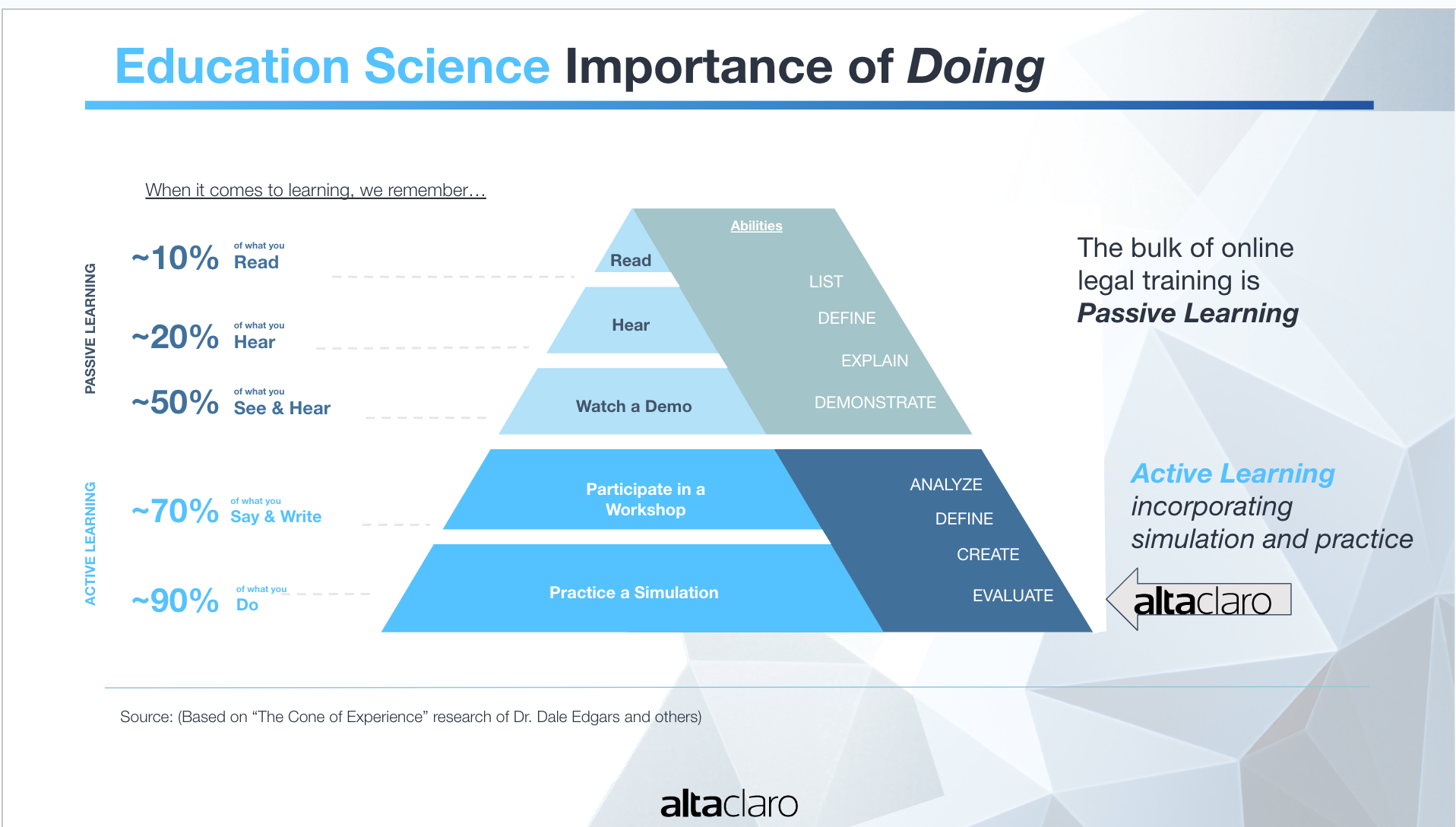 Through simulated experiences and feedback, AltaClaro focuses associates' training on the techniques proven most impactful for recall and application.
The Experiential Learning Model
AltaClaro courses blend self-paced learning, hands-on simulations, and interactive feedback. Associates alternate between learning concepts, applying them to realistic assignments, and instructor-led review sessions.
To begin, associates work through a curriculum of on-demand videos and assessments to gain core knowledge. This self-paced approach allows associates to learn foundational concepts at their own pace.
Next comes the critical simulation phase. Associates receive a mock legal assignment replicating real work. They review background materials and documentation, then complete hands-on drafting and analysis tasks.
Finally, small groups of associates participate in live online sessions reviewing the assignment with experienced practitioners. Instructors provide personalized feedback and facilitate discussions to cement critical thinking.
The Power of Practice
Abdi emphasized that AltaClaro's simulations mimic the flow of real legal work as closely as possible. Associates receive the types of documents, facts, and instructions they would be given for actual matters.
"It sounds like real work, right? Its non linear. It's a puzzle. It's a self-paced assignment, so you could totally take your time with it."
The assignments are designed to build legal judgment, not just test knowledge. There are no simple right or wrong answers. Associates learn by doing and reflecting on feedback.
Abdi shared an example of associates receiving an email from a hypothetical client requesting contract changes. They must analyze potential risks, identify clauses to update, and provide reasoned recommendations.
Associates submit their work product via the platform before the live review session. AltaClaro's software immediately provides annotated model answers to compare against their own. Associates see what they missed and where they excelled in growing reflective learning muscles.
Feedback and Insights
In the live online sessions, instructors have reviewed all assignments in advance. They focus discussions on areas associates struggled with most. Associates can ask questions, and instructors provide guidance using realistic examples and stories.
To build rapport and ensure relevance, classes are kept to cohorts of around ten associates at similar experience levels. Abdi explained the benefits of this small group model:
"The instructor will review everyone's submissions. They will see what they folks missed, what they got right. And then come in to tailor the session based on how people performed on that assignment."
He also highlighted how data from the experiential learning process provides unique insights into individual progress. Associates, instructors, and law firms all gain feedback on skills development opportunities.
"These things we're identifying, the instructor assessments versus the associate assessments...There's a lot of data and insights that emerged from all of this that we saw benefited both the associate and the firms."
This data enables highly personalized education and surfaces where associates need extra support. These insights help law firms maximize training investments and promote retention.
The Tech-Enabled Teacher
Even with advanced technology, Abdi firmly believes learning remains a fundamental human experience. AltaClaro blends software and data with human expertise.
He emphasizes that instructors are not just subject matter experts but are specifically skilled at teaching and connecting with adult learners. They receive dedicated training to facilitate engaged learning experiences.
"All of our instructors have been highly vetted before teaching on our platform. Beyond their stellar CVs, we ensure we pick people who can teach."
Instructors draw from their own professional experiences to make concepts tangible. Their real-world expertise helps associates apply core knowledge to complex situations.
Legal Training Trends
Looking ahead, Abdi is seeing law firms increasingly request training on advanced legal topics and emerging tech skills. Tools like ChatGPT have accelerated interest in integrating AI expertise into legal practice.
"Our goal initially is to start out in the deal transactions world...But our goal is to eventually cover years all the way to ten - four, five, six, seven, eight, nine. Each year, you're gonna need the different skills to learn. And you're absolutely right, this emergence of tech, technology skills. Yes. Business skills, as well."
He believes foundational experiential training establishes habits and skills that prepare associates to nimbly evolve their capabilities throughout their careers.
Associates who experience effective practical learning early on are better equipped to adeptly apply human strengths like judgment, communication, and creativity in any role. When paired with machines, these uniquely human talents become even more critical.
Gearing Lawyers for the Future
As technology progresses, the need for hands-on, adaptive learning only increases. Abdi sees experiential training approaches like AltaClaro's becoming integral to developing legal talent.
Abdi's own winding career path demonstrates the importance of learning by doing. From managing a café at age 11 to leading legal startups to reinventing legal education, his entrepreneurial journey reflects a career driven by action and impact.
AltaClaro applies these lessons by closing practical skills gaps through transformative learning experiences. Their mission is empowering legal professionals to reach their potential by mastering essential skills in engaging, tech-enabled environments.
The legal industry has reached a crossroads. Technological disruption will only accelerate. Training models must keep pace. Experiential learning approaches provide pathways for lawyers to actively shape what comes next rather than react to it.
Abdi and the AltaClaro team provide an inspiring model of innovative learning in action. As professionals, we all have opportunities to reflect on ways to take a more hands-on approach to leveling up skills. In these times of rapid change, embracing active learning enables shaping the future rather than being shaped by it.