Emerging Tech: Visual Tools (special collab with Legal Tech Hub) 🚀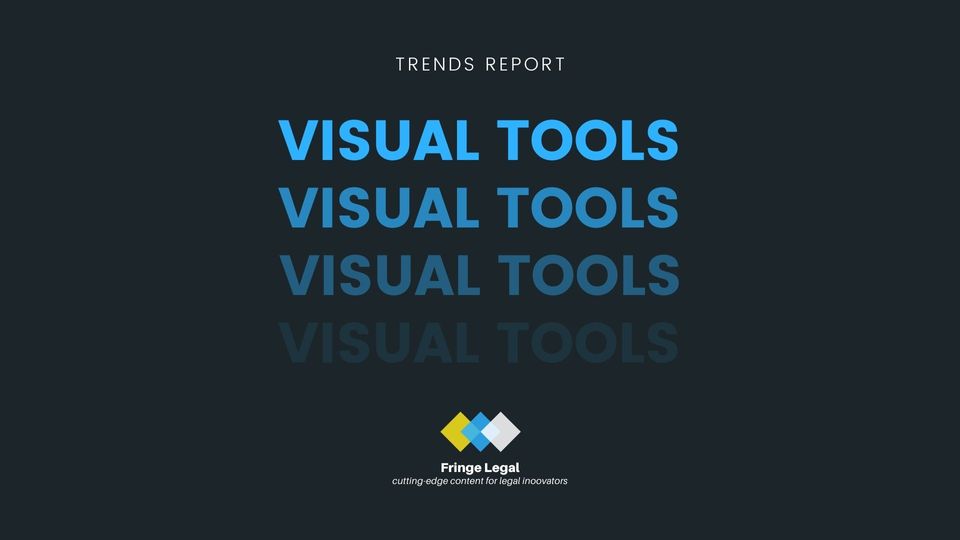 Welcome to a special edition of the newsletter focusing on emerging technologies. It's tough to keep a pulse on what's up-and-coming; that's why we have decided to collaborate with the LegalTech Hub (LTH), the most complete global legal tech directory for the commercial legal market.
Nikki Shaver is one of the founders of LTH and was kind enough to provide her perspective of the trending tech this month.
Commentary from Nikki
Whenever you're looking at new technology, whether established or emerging, it should be for the purpose of fulfilling an internal use case where the return on investment (ROI) makes it a problem worth solving. There is no benefit to investing in technology unless it meets an expressed need, or fills a gap in your portfolio without which a current need cannot be addressed. As the legal technology market evolves, some may feel pressure to buy in to the newest trend in order to keep up with appearances. However, a license for that shiny new tech won't actually help your firm or law department advance unless it is being leveraged to solve a real problem.
In today's Fringe newsletter, Ab explores the trend of visual tools. The two solutions that are explored in depth, Jigsaw and Structure Flow, advertise their solutions as a means by which to model or visualize transactions and legal structures. In exploring whether you might have an internal use case for such tools, consider the "jobs to be done" (JTBD) matrix. This framework for market research was perhaps best expressed by the late Harvard professor Theodore Levitt, who famously told his students, "People don't want to buy a quarter-inch drill. They want a quarter-inch hole."
The JTBD matrix focuses on the "why" behind customer, or user, behavior. Instead of looking at what people are using or asking for, consider why they need it. In order to determine whether a visual tool might be useful for your team, or the lawyers in your firm or department, speak to them to understand why they might want to visualize data. The "why" may reveal a need that resonates more deeply than the advertised use case of modelling a corporate transaction. For example, it might be that you find many of your lawyers want to find a way to more clearly and easily explain legal matters to clients. Improving clarity in the depiction and manipulation of data is one of the core value propositions of visual tools like those explored below. If you find that your user base would like a solution that enables them to convey information to clients or courts clearly, you may have uncovered a broad use case for Jigsaw or StructureFlow.
To explore more visualization tools, head to legaltechnologyhub.com, click on the search icon without entering a search term, and apply the functionality filter for "data visualization" tools.
Emerging: Visual Tools
Meta trend: the use of visual collaboration platforms has been steadily increasing. The demand for visual collaboration platforms (such as Miro, Mural, and Stormboard) has been exponentially growing since the beginning of the pandemic, driven by the need to counteract "Zoom fatigue" and the need for asynchronous collaboration.
The need for visual tools to augment work done by legal professionals has been increasing at a similar pace.
However, visual tools have either been just one part of a wider offering. For example, entity management tools such as Athennian (listen to my interview with their CEO here) and Corporify include a visual collaboration element. Or, mass-market software is leveraged to fit the mold; this includes tools as Visio, PowerPoint, or our good friend, a piece of paper and pencil :).
🚀 Legal specific use case: a couple of players have recently entered the market to solve for legal professionals to create business diagrams leveraging a fit-for-purpose visual platform. StructureFlow and Jigsaw are the two leaders in this space. We spoke with the founders of each to understand the what, why, and future vision.
🙏 Thanks to Travis Leon (Co-founder at Jigsaw) and Tim Follett (CEO & Founder at StructureFlow) for sharing their views. What follows are transcripts/excerpts from each individual.
What is it?
Modern organizations are complex entities, and the legal structures become even more complicated as new products or services are added, new business units are spun up, a launch in a new jurisdiction, or via M&A. Creating structure diagrams highlights risk, manage compliance matters, and clarifies ownership. Mapping company structures and transactions are common practice with a certain type of work; in doing so, users need to create, maintain, and present complex diagrams.
Both platforms allow for the creation of "beautiful business diagrams" (Jigsaw) that help the users to "visually model legal structures and transactions" (StructureFlow).
What problem do they solve?
How diagrams are created today is by leveraging tools that are not fit for purpose, require a steep learning curve, and don't allow easy collaboration. As Tim Follett, CEO of StructureFlow, explained (emphasis mine):
People are using PowerPoint and other drawing tools currently to create diagrams of deals and structures, which including due diligence reports or steps plans. The problem is that it takes a lot of time moving shapes and lines around. PowerPoint diagrams are two-dimensional, they have limited usefulness, no ability to embed data or documents, and there's limited collaboration functionality. You have to create PowerPoint documents and then circulate them by email, [which results in] lots of different versions being created.
Why the visual approach?
There are many ways to solve a problem. Yet, both of these companies have taken a visual-first approach; why?
Working visually offers two distinct advantages:
it helps the lawyers understand the information better.
It enables the client(s) to grasp complex information much more easily, and it's a more natural way to show relationships between several sets of data.
Then it becomes a method of creating something that overcomes the limitations of existing tools and makes the presentation and collaboration of the results more enjoyable. Travis Leon, Co-founder of Jigsaw, explains it best (emphasis mine):
Human beings digest information more naturally and efficiently when it is in a visual format. Most people would rather watch/see information than have to read it. Consequently, the world of information is becoming more visual; to ensure communication is efficient and even enjoyable.
What's next?
Could we see the hockey stick growth curve in the future? There is still plenty of growth, development, and adoption potential, and I suspect that we've just started to scratch the surface with this type of tech. The challenge will be the same as for many disruptive technologies, educate the market of a need for this type of solution. As Travis Leon shared:
Within our first 18 months of existence, we've already had interest from 80 of the top 100 law firms in the world, with many of the largest firms becoming clients within months of product launch. Lawyers that didn't even previously use tools to create diagrams are now doing so because it is so easy. Partners are using Jigsaw to essentially represent a whiteboard in virtual meetings where they can collaborate on transaction structures with clients and colleagues. The ability to visualize deals is becoming more and more important as they grow in complexity and size. Jigsaw sits at the heart of ensuring these transactions are clearly understood and well-executed.
Tim Follett draws a great analogy of what the changes brought about by visual tools will feel like:
The development and adoption of visual tooling within legal tech is in its infancy. There's so much potential to use visual communication and analysis to help lawyers be better lawyers, to be able to put information at their fingertips, and to [allow them to] see things that they wouldn't necessarily understand and identify if they weren't using visualization.
This huge amount of potential is going way beyond traditional diagramming, moving towards a visual interface for legal structures and transactions with the potential impact being very significant; akin to the change from people using Microsoft DOS, and then moving to Microsoft Windows, and the first visual interfaces moving from the original text-based internet to modern graphical Internet browsing experience, the future is extremely exciting.
Both StructureFlow and Jigsaw are actively building the space and have exciting new developments that they will be sharing over the next 6-12 months. Watch this space.
📢 Are you using or considering leveraging visual tools? Answer three quick questions.
How did you like this article?