Fringe Legal #32: Bringing DARPA's Innovation Lessons to Legal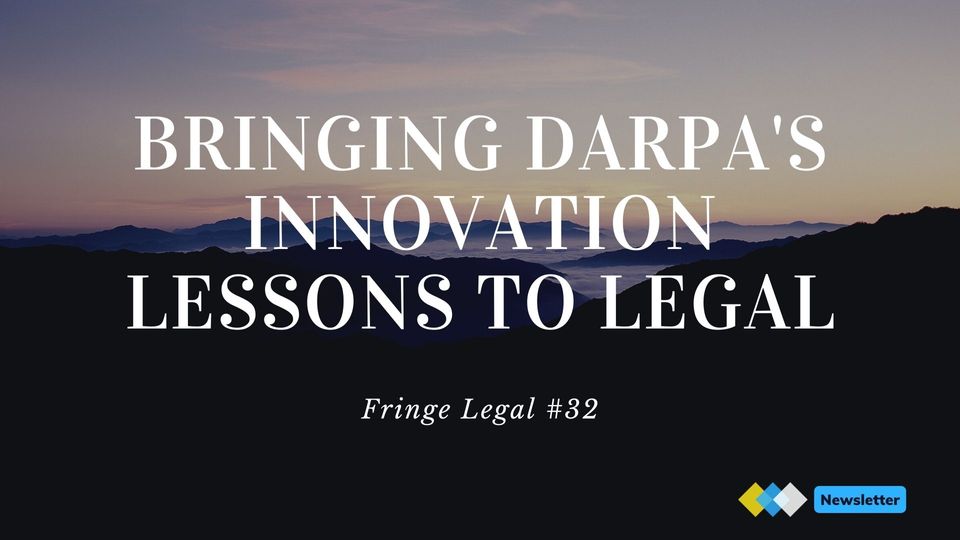 I hope you've had a good month. It's been quite a week as we come to the end of the month.
Chicago, where I'm based, is going through a winter spell, which means I get to enjoy views of a beautiful Lake Michigan (see picture):
I also attended my first virtual wedding, which some friends and I attended as a watch party on Discord. It was not the same as being present in person but nonetheless we felt more connected than I thought it might.
Alice Stephenson
A few days ago, I was also lucky to have a conversation with Alice Stephenson. Founder & CEO of Stephenson Law, and an all-around wonderful person.
During our chat, we spoke about:
Problem-solving approaches
Importance of self-reflection and becoming comfortable with making mistakes
The improving the client experience
Measuring lawyer value beyond the billable hour
Alice's perspective on breaking down barriers
I did few things, which you can expect from all future releases: the episode is available as audio (podcast), with a full transcript, and as a video (on YouTube).
People consume information differently, and I wanted to provide an option no matter your preference. If video is your preferred format, please subscribe to the channel.
Bringing DARPA's Innovation Lessons to Legal
One of my absolute favorite podcast (and newsletter) is Exponential View by Azeem Azar. Their most recent episode featured Regina Dugan, CEO of new biomedical non-profit Welcome Leap and former director of the Defense Advanced Research Projects Agency (DARPA) in the U.S.
I recommend you listen to the full episode (found here), but I also wanted to share some of my takeaways:
Ask big 'what if' questions. This led to the mRNA technique being developed ten years ago, which is now contributing to the COVID-19 vaccine development. DARPA was formed to ask these types of bold what-if questions and avoid the kind of surprise the U.S. experienced during the Sputnik era.
Far too often, questions are raised in the form of 'something may not work'; unless it is known, could it be reframed as 'there is no reason for it not to work?'
~~~
DARPA has a particular way of running innovation programs. Innovation is often thought of as a linear process, which came about during WW2:
basic research -> applied research -> productization -> commercialization
This makes sense for in-market products, where the focus is roadmap based development. However, this is not very good for getting a breakthrough.
Instead, DARPA folds up all the steps onto itself, which they refer to as pastures quadrant style of work. The premise of this is to:
Ask big questions - what capability needs to be reached, and what needs to be achieved by science.
Apply a timebox constraint - problems are restricted to 3-5 years. It's long enough for significant technological/scientific developments, but not so long that it merely becomes an academic exercise.
~~~
Perhaps, the point that stuck with me most was around measuring the odds of success for breakthrough projects. Especially because there is a higher degree of uncertainly.
To do so, one must understand what has already been demonstrated previously, leading you to believe it's possible to solve the problem.
Take a mountain and put a flag at the top, then look for flags along the way. These flags are what you work towards, even if you don't know the exact path.
As the saying goes - 'it takes an army' - to make this real go for goals that big enough that no one person will be able to get there by themselves, doing so creates strong cohesion across the full team.
My takeaway: to make exponential progress, and to achieve real breakthroughs, requires aiming for the top of the mountain but having flags along the way to guide you. Breaking away from the linear model and asking big questions.
Reimagining the future of the legal profession series
(Hat tip to Jeremy for sharing this with me.) The University of Pennsylvania Carey Law School's Future of the Profession Initiative (FPI) and Thomson Reuters are hosting a series of virtual events looking at how the current conditions will reshape the profession in years to come.
There are a series of five webinars, held each Wednesday from 10th February to 10th March.
You can learn more about each event, and sign up here:
https://www.futureofthelegalprofession.org/
How did you like this article?