Fringe Legal #33: preventing value leakage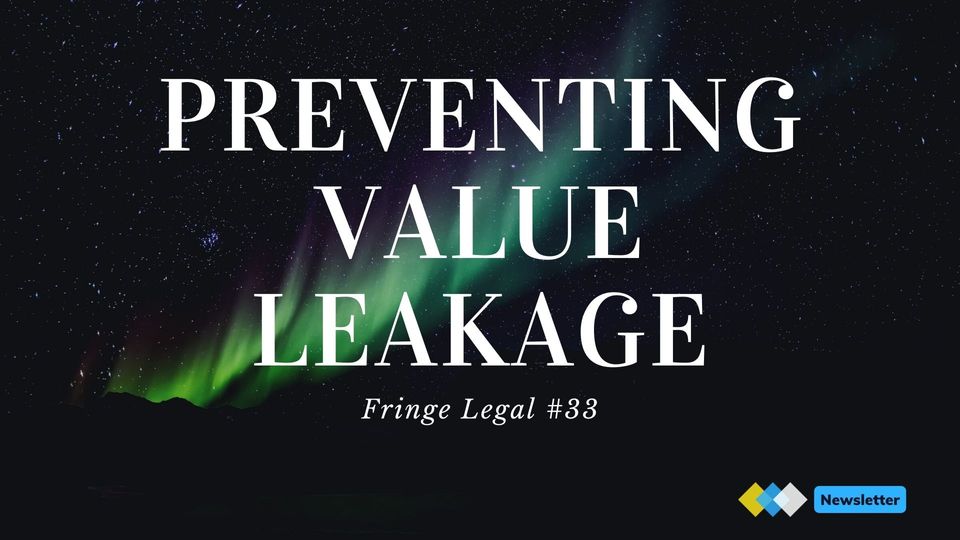 I hope your week has started well. In the US the Superbowl took place yesterday - during the event, each 30-second ad spot costs a whopping US $5.5M. Talk about pressure to make sure your message is focused.
Value leakage
I've been thinking about what makes certain initiatives valuable. There is a certain level of subjectivity to it - sure. However, it's possible to simplify it to say that to have something be valuable is a function of balancing components that add value and managing the leakage of value.
Value leakage is simply the opposite of "adding value." I've generally found the discussion around value leakage to focus on the procurement/vendor relationship [1], but I think one can apply the principles more broadly.
Value is often at the core of innovation efforts or technology initiatives. As one moves through the innovation value chain [2], there is an equal opportunity for value add or for there to be value leakage at each step.
Value is often lost through low adoption rates, being too short-term focused, or the lack of innovation. In my discussions, when procuring software, the focus (from both parties) is too often on getting the best deal. However, this creates a blind-spot and diverts the attention away from why the software was being considered in the first place. Keep the business reason front of mind.
Focusing on the best deal creates a short-term focus where what is needed is a longer-term success plan. In some of the most successful projects I've been involved in, there is a focus (even during procurement) on tying the purchase to the business goals - ensuring an adoption/growth strategy is in place, and there is open communication built-in.
This article [3] sums up the point better than I could:
Value leaks when the Value System between Provider and Business Partner is misaligned; when opportunities to create value are missed, when Provider solutions fail to fully meet the needs of the opportunity, when the solution is deployed or operated in a suboptimal way, or when business value measurement, accountability or organizational capability are lacking.
Value Leak examples include inadequate or ineffective training, poor management of organizational change and failure to replace obsolete solutions when new solutions are available (people continue using the old, familiar solution rather than learn the new solution).
Is there a realistic expectation of the value you expect to derive from the solution, i.e., don't assume that there needs to be a 100% adoption for the solution to be valuable? What's your minimum return group number [4]?
This is the minimum number of people that need to be engaged for the solution to be worth it. When calculated, I would wager that this is significantly lower than what you may have initially thought (even for enterprise software).
As you ponder the above, have projects you might be involved in - can you identify where you might be losing value?
[1] https://www.manutan.com/blog/en/digital/procure-to-pay-how-to-prevent-value-leakage-infographic
[2] https://hbr.org/2007/06/the-innovation-value-chain
[3] https://taubsolutions.com/prevent-value-leakage-greatest-threat-business-value-realization/
[4] my take on the minimum viable X - 🙃
KM/Innovation roles
Are you looking to hire KM and/or Innovation people to join your team? I have a couple of people in my network that are open to new opportunities, seeking roles of varying seniorities (junior, mid, and senior roles). They are based in the UK and US.
I have no vested interest, and simply want to connect talented individuals to great companies.
Maya Markovich on Innovation
Maya Markovich is the head of product at Dentons Nextlaw Labs. In this short video (< 2 minutes), she shares her views on operationalizing innovation, and how it plays out with both internal and external Dentons clients.
Watch on YouTube (2 min)
How did you like this article?