Fringe Legal #36: celebrating two years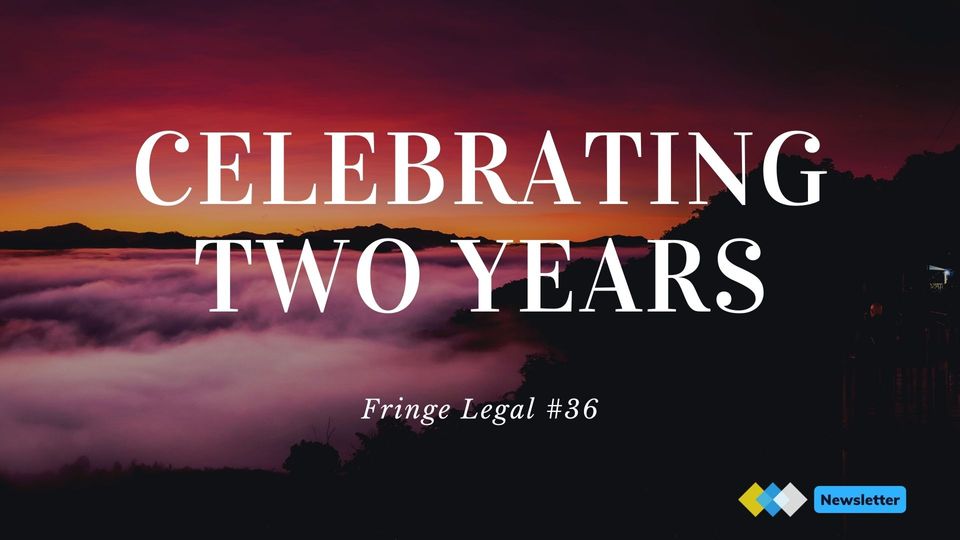 I'm excited (more so than usual) to be writing this issue. This week marks the second anniversary of Fringe Legal.
On the 1st of March 2019, the trailer for the first season of Fringe Legal (FL) went live (you can listen to it here for nostalgia). I remember thinking deeply about the first words people would hear, ultimately settling on a statement:
The legal profession is rapidly evolving. And as a result, those parts rooted in the old model are now being challenged.
Two years on, and with 100s of conversations under the belt, I feel that the statement is just as true today - only the pace has quickened. Back then, I also shared what you can expect from FL, which remains largely the same with some minor adjustments.
Join me as I speak with experts, industry influencers, and leaders. Each episode is a thoughtful discussion on ideas impacting the evolution of the legal profession. Along the way, we'll learn about challenges to overcome, what's worked in the past, and expert tips on what may make a difference in the future.
I'm excited about the projects we'll be launching this year. Thank you so much for your support - as a reader, listener, guest, or content contributor.
This year, one of my goals is to increase the reach of ideas - if you would like to help, please share this newsletter with your friends, colleagues, or neighbor and ask them to subscribe.
P.S. if you ever wanted to launch a podcast, I'm working on a write-up of my full workflow.
Structured creativity
In this short article, Danielle Emerson (Innovation Lead at Herbert Smith Freehills) draws comparisons between innovation in a law firm and lessons from pottery.
"if you want to join two pieces of clay together the process is generally the same (score both pieces and use slip), etc. This is, somewhat surprisingly, similar to innovation. There is a lot of creativity involved, but we also apply a very structured approach to how we experiment and manage innovation in the firm. We also have parameters in the form of user needs, capabilities, and strategy."
I like the idea of structured creativity (which seems like an oxymoron). In my experience, there is often a healthy conflict that exists between creativity and structure. Finding balance is what allows for great "work" to thrive. Structure creates the space for one to be creative.
Challenging the status quo
In the most recent podcast episode, I speak with Giles Thompson, Head of Growth at Avvoka.
One of the items that I reflected on is the skills spectrum across the lifespan of a role:
"The skills that often junior lawyers get rewarded for, and indeed they move up doing, are not necessarily the skills that junior lawyers are going to need to have in 10 years... or need by the time that they're looking at partnership"
We spoke about this in relation to a lawyer, but it is true regardless of the role. The challenge, of course, is to know when to shift focus towards improving the skill(s) that will allow you to move forward. Too early, and there's a risk that your current delivery suffers; too late, and you might stagnate in place longer than you might like.
Listen to any web article in your podcast player
If, like me, your preferred method of content consumption is audio, then this free tool might be exactly what you need.
This free Chrome extension allows you to listen to any article in an audio format. The text to speech is pretty good (although it also reads out the emojis, which is both hilarious and confusing!).
I add long-form articles to my podcast feed so I can enjoy them at 2x speed while walking.
How did you like this article?