How to run your own summit – a complete guide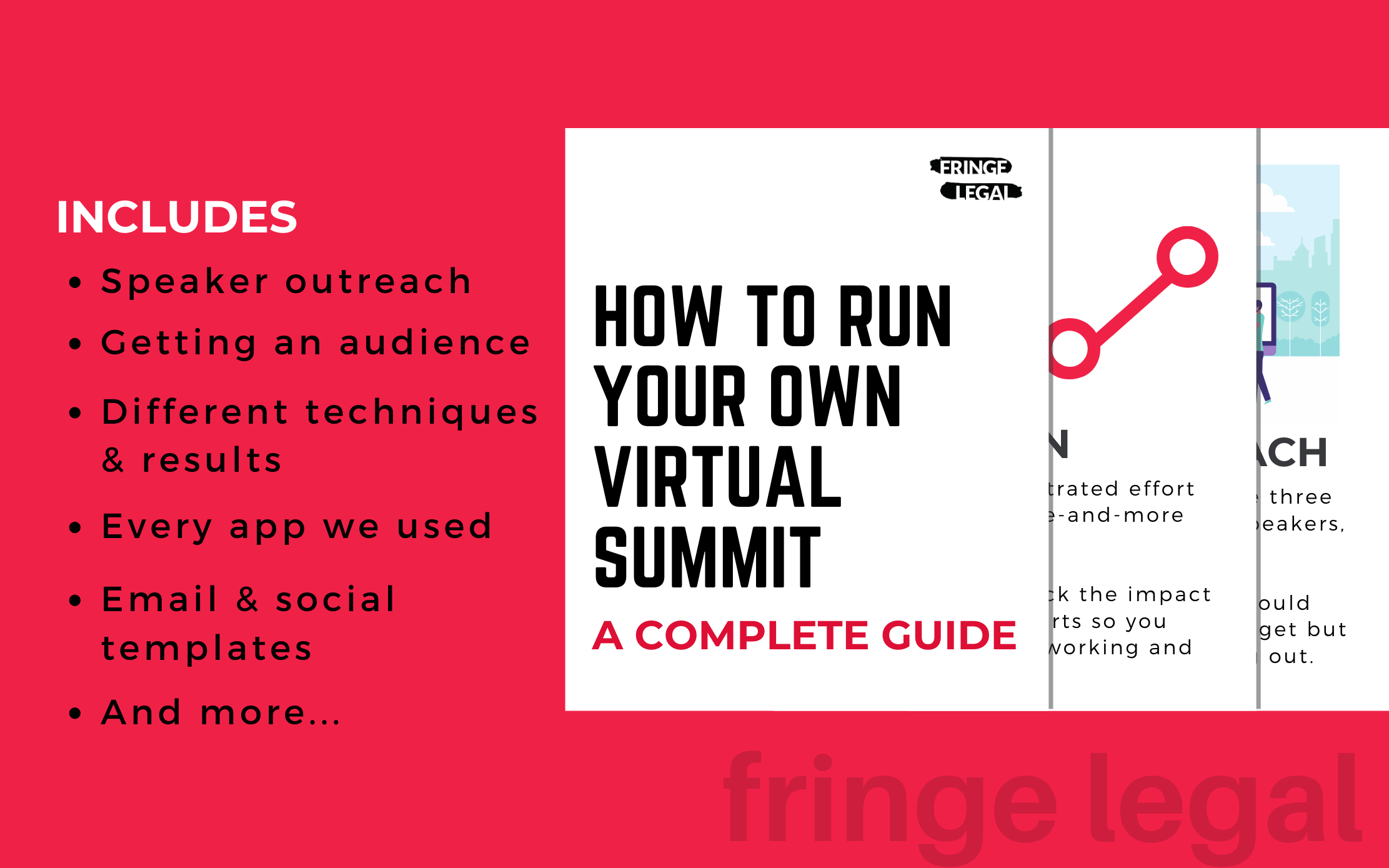 Running a summer is fun, but hard. This is post is part how-to, and part reflection to help those that want to run a virtual summit or conference for themselves. This was the first summit that I ran, and there are plenty of points of learning which I hope will help others.
For context, the Fringe Legal team (of 3 people) ran a two-day virtual summit that had 30 speakers and over 600 registered participants. The summit was called the Fringe Legal Virtual Summit ('FLS').
If you are wondering if a summit is the right thing to do, then let me provide a resounding 'yes!'. There are many benefits, and if planned well it can have a big impact for you, your brand, and business.
If you prefer a narrative-driven approach, then read the article in order, otherwise, feel free to jump to the relevant section below.
Section 1: goals and results
As stated in the introduction, running a virtual summit/conference is a mammoth task. When I thought of the idea of running a virtual summit, my first thought was 'how difficult could it be', and it turns out it's not difficult technically. However, there are a lot of moving parts, and I believe it becomes easier if there's a system/process in place (more on that below).
I would recommend understanding the following two things, and making them central to the planning of your summit:
why you want to host a summit (revenue, build an email list, brand recognition, etc.); and,
how will you measure its success (number of attendees, $ generated, etc.)
For Fringe Legal Summit (FLS), we wanted to host a summit to provide a platform for individuals that are discussing the future of the legal profession. From a business perspective, we wanted to create an identifiable email list.
Our goals were to get 10 speakers, across at least 6 talks and 1 panel, and have 100 people registered. In hindsight, these were relatively low, but I'm happy we set these as our starting point.
How did we finish: we quickly blew past our initial goals, and by the end of the conference we even surpassed our stretch goal. We had booked 30 speakers, to deliver 23 talks and participate in two panels, creating 15+ hours of content, and had 650+ registered attendees.
I share this here because it's an amazing achievement for our small team, but also to demonstrate what is possible in a short space of time. Let's talk about how to get started.
Section 2: booking speakers
By now you should know why you are running a conference/summit, and how you will measure its success. Time to start planning and making it all happen.
Speakers
Let's assume you know the broad theme, now you need to start finding a couple of speakers. I'm going to assume you do not have any budget for speakers (if you do then the process may be slightly different).
Get the first speaker – this gives you validation as well as a confidence boost. For our event, we had a commitment from someone we discussed the idea with, and this happened even before we had decided on a date.
There are three paths you can take here:
Your existing list/client base
Cold outreach
Call for speakers
Your existing list/client base
This is where we started, I reached out to all past guests that had been on the podcast previously which at the time of planning was around 30 people.
These were amazing people that we already had a connection with and were familiar with the brand. Remember that you are asking for a favor, so it's important to explain the 'why', and make it as easy as possible for the speakers to say yes.
Here's the email which I sent to our past podcast guests list:
In sending the email I wanted to be clear about:
What the event is
That it's free
What are the topic areas
The time commitment required (15-20 min talk)
What I would like: for them to speak or refer someone
We had an 83% open rate and around 60% of the people responded. Some of them agreed to be speakers, others said they couldn't, and some provided a warm introduction.
For example, as a result of the email, Maziar Jamnejad (a past podcast guest) agreed to speak AND made a connection to Lauma Skruzmane (a new connection and a wonderful summit speaker).
Results: about 40% of the speakers were acquired through this approach.
Cold outreach
This is the hardest of the three options. In looking for speakers, we had a "dream list". These had people that would frankly be impossible to get but might be worth reaching out.
Full disclosure, I did chicken out of reaching out to one such speaker – Azeem Azhar of Exponential View – maybe next time!
As for reaching out to other speakers, here was my process. We already had a list of "interesting people" that we had reached out to for the podcast (though didn't have a response), these were the next on the outreach list where there was overlap in topic areas.
Next up, were folks that I follow on social who I felt would contribute to the discussion. I was truly amazed that many of these folks said 'yes'. I've shared a couple of my outreach messages here as examples.
Top tip: do your research before reaching out. This means that after they say 'yes' and you've done your happy dance you can provide useful information.
This should include providing relevant context about the conference, what you think they should speak about (have some suggested topics ready), and any other information you think might be helpful for the speakers.
Results: about 30% of the speakers were acquired through this approach.
Call for speakers
This is certainly one area where we could've done a better job – in the pre-launch landing page (see below), we included a form that allowed individuals to register their interest to be a speaker.
If you have a strong brand and/or a good social campaign then it is entirely possible to get a handful of speakers using this approach.
The wider Fringe Legal team certainly helped here, by promoting the summit and announcing the call for speakers.
Results: we had six individuals/companies to reach out, and had three speakers from that list. Some didn't work out, and others replied too close to the start of the conference.
Section 3: content planning
Congratulations, you are well on your way! It is a wonderfully satisfying feeling to sing up new speakers.
As you do, it's important to keep track of their bios, their topics, whether they want to be on a panel, want to do a talk, or Q&A and more. This is essential as you start content planning, but can soon become a daunting task.
I'm a big process-guy and having a system here makes the whole thing much more manageable. One of my absolute favorite tools is called Notion, and it comes really handy here. You can also use other tools, or a simple spreadsheet to do this too.
At its core: you're looking for a way to track speakers, content, and tasks to be done as you move through different stages of summit prep.
This and the summit front-end stages are two where selecting the right tools will make a significant impact.
Staying organized
Start by tracking your speakers, some of the things we tracked (this evolved over time):
Basic contact details (name, company, title, email)
Status (outreach, yes, no, thinking etc.)
Format (talk, panel, Q&A etc.)
Summit category (we had multiple tracks, and this denoted the primary track)
Talk details (title, timezone, scheduled, recording type
Part of the reason, I love Notion is you can attach these items as properties and then display the data in different ways.

This meant we could see a Kanban-style view of all speakers from a progress perspective, but could also organize the view to focus on tasks (e.g. which speakers still needed to be scheduled).
All of this with only needing to enter this information once!
Below you can see a list of each of the views we had – these were extremely helpful in planning the summit – which timezone is the speaker in, do they have a title for their talk, and do we have a spread across each track – as well as from a task management perspective: have we scheduled the talk, have the speakers been added to HeySummit (the summit platform we used).
Speaker management
One of the rather arduous tasks of running a conference or summit with many speakers is ensuring that their bios, talk information, and headshots are captured.
The most common way to do that (to my knowledge) is to simply collect this information over email, or use some sort of a form. This is not an effective method – using HeySummit we were able to create a speaker profile for each speaker, which they could edit and update.
The basic profile just included their name and email address, and everything else is editable by the speaker. Having the speakers manage and edit their profile made it easy for them and saved the team many hours.
Collecting speaker information
Whether you use HeySummit or some other way to do this, it is essential to provide detailed instructions on how to manage this. We created a Notion page which we shared with the speakers, the main advantage of this is we could easily update this (based on feedback) without requiring yet another email!
You can view the live page here.
Make it easy for your speakers
We were grateful for having each and every speaker. Every talk – whether it's 10 minutes or an hour – it takes time to prepare, and skill to deliver. We wanted the summit experience to be as valuable for them as the attendees.
In order to do so, make sure to overcommunicate – make it easy for them to find information about the conference, having information available about the [intended] audience, and give them confidence in how they can seamlessly deliver a great talk.
We presented a number of talk options to every speaker, along with a recommendation. This was sent to them as a Notion page and could be referenced depending on which option this chose.
You can view the live page here.
Speakers wrap up
If I can provide a summary for working with speakers it would be this:
Reach out to anyone that may add value to your conference
Do your research and provide them with all the relevant information to make it easy for them to say 'yes'
Stay organized
Manage your speakers – take ownership of ensuring that they are updating and providing you with the information when you need it, it's was always appreciated when I provided a reminding nudge!
Practice and ensure technology works – if you're having any discussions before the talk use the same method you will present the conference, that way you can have multiple technical dry runs
Section 4: getting an audience
Things are coming along nicely! You have some, maybe all, speakers on board, word is starting to spread amongst friends but not you really need to make sure that people attend this thing!
Pre-launch
It's advisable to start getting the word out about your summit as early as possible. This should be to your network, your email list and on social media channels.
The purpose here is to start getting the word out, and it should help to help develop the brand for your summit.
For us, when we started this we didn't have enough speakers, so it was all about presenting the value and benefits of the summit.
To keep it simple, you only need two things here:
Some way to advertise your upcoming summit
A way for people to register their interest
We created two graphics to share on social media (mainly LinkedIn):
As you can see, they are relatively simple but convey the name of the summit and its purpose. They linked to a landing page which allowed people to pre-register for the event.
I should also mention, if you have an email list you should absolutely be letting them know at this point too.
Our landing page provided some additional information and allowed people to register their interest as a speaker or attendee or both. We had about 30 people signed up between this stage and the next.
Launch
Launch here is described as when you've officially opened your summit for registration. This is when future attendees are able to learn more about the talks, speakers, and ultimately sign up.
We launched our summit on 17th April, a mere three weeks before the summit date. If possible, I would recommend two months before the launch and the summit date – this allows for plenty of marketing opportunities to increase attendees.
We fully utilized HeySummit to create the landing page and more (anyone who visited the previous landing was automatically redirected to this one).
It provided up-to-date speaker and talk information, had a countdown to how long until the start of the summit and most importantly allowed people to register.
The page is still live, and can now be used to watch the replays of the talks. You can check it out at: summit.fringelegal.com
Initially, we emailed the pre-registrants and just posted a couple of messages here and there.
This was mildly effective at best.
Promotion
We required concentrated effort to start getting more-and-more registrants. It's important to track the impact of each of these efforts so you understand what is working and adjust accordingly.
The screenshot below shows the summit dashboard, and you can see that there were two clear peaks in daily attendee registrations and social shares. We also tracked sources which allowed us to validate that these two were absolutely linked.
Below I've shared some of the things we did to grow the number of attendees.
Make it easy to share
When people read about your summit, how easy is it for them to share? This means, placing social sharing logos, and providing copy (if relevant) so people can spread the word. For us, we made sure that as long as someone typed or pasted the URL of the summit, there was an image so they can get more views. Go on, try it out, goto LinkedIn or Twitter and type "www.summit.fringelegal.com":
Make it worth sharing
We also built in some virality elements. So once someone completes registration, they have the option to share about the summit to be in with a chance to win one of three books. The more places they share, the higher their chance of winning! (for anyone wondering this is a completely automated draw).
The "social share" number you see in the dashboard is what these referrers to. You can see we had 80+ folks publicly endorse the summit. The three books (three which I have thoroughly enjoyed) cost in total $30 so this was well worth it!
Create content that gets attention
Some of the biggest spikes in attendee registration came when we posted about the summit in a way that generated attention. Here are two ideas we implemented: (1) tag all your speakers and anyone else that was pivotal in the summit; (2) when you mention the summit direct them to this social post.
The more likes and comments you have here the more people will see it. I shared this when we had ⅔ of the speakers, tagging each of them along with some basic information about the conference. This post had over 3,000 views on LinkedIn and really made the conference a focus point for many. You can view the post on LinkedIn here.
Leverage your speakers
In addition to the above, make it easy for each of your speakers to share about the summit. For us, each speaker could share their own talk from their speaker page.
Additionally, we created art for each talk which we shared with each speaker. Not everyone share, that's ok, but all of them liked and/or commented on our post.
Influencer/press
We created a list of influencers and contacted as many of them as possible to spread the word. As above, make this as easy as possible, and almost all of them posted about the conference – thank you!
From a press point of view, we didn't do as well. We didn't get as much coverage as we had hoped.
There were three reasons: (1) we got in touch with people too late, less than a week to go; (2) we didn't have great connections with many so it meant going through the standard channels, which when you're short of time doesn't work too well; and, (3) we didn't really offer them anything compelling. What did they get out of this by mentioning our event…
Email reminders
It's also important to remember to set up, hopefully automatic, email sequences that go to attendees. HeySummit has this ability built-in, and we utilized it to remind people at various instances:
Registration confirmed (Sent to each attendee after either a free or paid ticket has been purchased (confirming the purchase)
You're in! (Sent to each Attendee, after they register for the event, welcoming them.)
Here's your summit schedule (Sent to each attendee, 30 minutes after registering, to confirm the list of talks they are booked into.)
It's almost time! (Sent to each attendee at 2 pm, one business day before the event is due to start.)
Your daily digest (Sent to each Attendee, at the beginning of each day (whilst the Event is running), reminding them of the talks they are registered for)
We're starting in 15 minutes! (We're starting in 15 minutes!
Sent to each Attendee, 10mins before a talk they are booked into is due to take place, along with details to access the link)
Your replay links (Sent to each Attendee, at the end of each day (whilst the Event is running), listing replay links for talks they were booked for)
There are a number of emails here and not all are necessary for every summit. We also gave the attendees an option to opt-out of a series i.e. if they didn't want to get an email 15 mins before every talk. This puts them in control while remaining helpful.
Section 5: summit day
You are likely both exhausted and excited – the big day(s) or week is upon you. Thankfully, due to diligent planning things will go smoothly. That's mostly going to be the case.
What and how you should prepare are largely dependent on two factors:
How talks are presented (i.e. if you are presenting live or pre-recorded or a mix of the two); and,
How big is your team
Let's assume you have a team of two (if you have more then things become easier/you can do a lot more).
As host, if you are presenting an all live event, or some live content then your focus should be on ensuring these run as smoothly as possible.
If you have no live content, then both you and your teammate should ensure that you have thoroughly tested the platform and content, and focus the efforts on troubleshooting and social media posting.
Prepare for what could go wrong
The most important advice I can give here is: be prepared for everything to go wrong. Most of it won't but we had a plan for how to tackle each kind of issue, some of which included:
Registrants don't get emails about their talk. Some emails were being blocked, which we learned early and included whitelisting instructions as part of the receipt.
People can't access the site
There is no video
People can't access the live feed. This happened to us and we kept rolling.
There are lag/quality issues with the stream
The guest can't log on
The guest doesn't show up
The host is sick
For panel talks, a panelist doesn't show up
For panel talks, a panelist doesn't have video
These are just some of the items that could go wrong. I would recommend thinking though as many permutations of these as you can, and making sure that mentally and/or in writing there is a plan of action on how to tackle each situation.
Create awareness
The day of the summit (especially for multi-day events) is a great time to share once more including all the speakers.
One of the big advantages of a virtual summit is that people can jump in at any point. Make sure this is clear.
We tweeted and posted on LinkedIn before each talk, and as much as possible we shared one or two insights from each talk. This creates awareness and also provides motivation for other attendees to share on social themselves.
Depending on your crowd you may or may not get many shares on social media. Make sure to encourage it, and create a hashtag for the event which will allow you and others to follow the conversation after-the-fact.
Other things we tried
Having great content and wonderful speakers that deliver it will keep engagement high.
One of the challenges of a virtual summit or conference over in-person events is that keeping attention is more challenging. Keep this in mind as you design the content and session, and implement options that help with engagement.
We tried a number of these, which I've listed below along with additional thoughts/reflection points.
Interactivity
Each talk in the conference has it's own page. This is important for a number of reasons, e.g. you can refer people directly to one talk, it's easier to share on social, and you can have a comments section for each talk.
Frankly, we expected more comments and interactivity. There's a couple of ways we could've done this better:
ask for comments (we didn't do this enough)
have better comments, using something like Disqus supercharges comments by adding threads, etc.
enable tweets and comments into a single – this may create move conversations
place the comment feed where it's easy to see the video and comment. For us, the attendee had to scroll down to comment. Placing the comments to the right of the video feed would've made it much easier
Engagement
Otherwise, things like running polls mid-talk, taking questions from your audience, etc. will also help to retain engagement.
In our summit, the attendees could also vote up (there was no down) each session. This added another element of interactivity and helped to surface the most popular talks from the previous day to attendees (though it will be less useful for single-day events).
Getting feedback
Getting feedback is crucial, not just for the speakers but also as the host/event organizer. Frankly, we could've done better. We missed a golden opportunity to send a feedback survey to our attendees – for best results it's important to do that immediately afterward or soon after the event.
One of the ways we did try and do that was via something called "encore".
The idea for Encore is simple – imagine you could extend the talk by 5-15 minutes or have the speaker answer one question – what would this be?
We built this in the summit page as a chatbot – which helps guide the attendee through this. We only had a handful of responses in total.
I believe the implementation was good, but in order to have an impact, we should've mentioned it 75% into each session as a reminder. These are just some ideas, there are more which we wished we could try but just weren't feasible this time around (such as breaking people into different groups).
Section 6: conclusion & extras
Everything we used to create and run the summit
I hope the information above is helpful as you plan and execute your summit. It is a lot of fun and a lot of work. In conclusion, I wanted to share every app we used to plan, manage, and run the summit.
Please note that some of these links might be affiliate links.
Summit platform
HeySummit
HeySummit is an amazing platform, and I would highly recommend it. This is what we used to run our summit, and is the bread and butter of everything that needed to be done.
Frankly, using HeySummit we were able to put on a summit that I'm certain would've taken a team twice the size in half the time. (and we didn't know where to begin).
Using HeySummit you will be able to manage your entire conference, including:
Create a landing page
Allowing people to register
Allow speakers to register and manage their profiles, and create speaker pages
Create multiple tracks
Make your event paid (though we didn't do that)
One thing to bear in mind, you will still need to use a video platform and/or a conference platform (if doing a live summit/conference) with HeySummit.
The platform is super simple to use and can be used with minimum customization. However, should you choose to you can completely revamp the look & feel with custom CSS, and extend using APIs for the various things (e.g. comments).
What I found the most helpful is that the support team is great, and host Q&As which are awesome. There is also a Slack group which has some amazing people that provide a lot of useful advice should you need it.
Alternatives: YouTube Livestream, a custom-built site with an embedded live stream, Remo, Hopin.
Video platform
Vimeo
We used Vimeo because it's reliable, easy to use and easy to customize. All of our videos live there, and we can embed them in various places. You can also see the viewing trends for your videos i.e. which part of the video did most people watch, which talks were most listened to, where people watched from, and more.
Best of all, HeySummit also has an integration with Vimeo so you can link up the pre-recorded or replay video to HeySummit very simply (you just copy the video id).
Alternatives: YouTube is a free alternative. Wistia is also awesome, and I've used it with previous projects.
Recording/conferencing
Zoom
Pretty much everyone knows what Zoom is by now, and no doubt you've been on at least one Zoom call in the last few months.
If you are running a pre-recorded conference then the free version is absolutely fine. If you are recording a call with more than one person there is a limit of 40 minutes, so be aware of this. The pro version gets rid of that limit, and if you're planning on using it frequently it's worth the cost.
If you are holding a live summit, then you will essentially be streaming a webinar for which you'll need the pro subscription and the webinar add-on. Know that you can get both of these on a monthly basis, should you wish to minimize spend.
The webinar plan is quite expensive and is based on how many people attend the webinar (not how many register). This is an important distinction, you can get the increased plan up to the day before the actual webinar. As a general rule of thumb, you will likely get somewhere between 50-75% of the people registered show for the event.
One of the advantages of using Zoom webinar for us was that it allowed you to have more than four panelists (the limit is way higher than what you will ever really want to use). This was important as we had at least one panel with five panelists, and this ruled out a number of other platforms.
Zoom also has an integration with HeySummit, which means as you create a talk on HeySummit, a webinar will automatically be created in Zoom which reduces a lot of hassle.
Alternatives: as an alternative, you are essentially looking for webinar platforms. Your organization may already have access to one. If you are using HeySummit, then BigMarker, Remo, LiveWebinar are alternatives. Webinar Ninja is also worth considering.
Collecting Feedback
Typeform
Typeform is my go-to app anytime we need to collect feedback. It is simple to use, presents the end-user a great experience, and works wonderfully across desktop and mobile devices.
Create forms are really simple to do, and you can create something from scratch or use a template.
There are many ways to distribute the forms too, including via Javascript which is what we did to create the Encore segment.
Alternatives: SurveyMonkey, Google Forms, Paperform, Formstack and others.
Design
Canva
I've been using Canva since 2014, and it is an amazing resource for design work. It's web-based, has lots of free templates, graphics, fonts and more and really allows you to create simple graphics very quickly.
Almost all of the design work for the Summit and the podcast is done in Canva. It should be used to create social sharing templates, speaker slides, pitches and post-conference blog post artwork.
Alternatives: Stencil, Pablo by Buffer, Photoshop, Illustrator.
Staying organized
Notion
You will have read me praise Notion in this article multiple times, and that's because it is simply amazing!
They described themselves as an all-in-one workplace to write, plan, collaborate, and get organized.
Where it really stands out is by replacing kanban, docs, spreadsheets, and notes into one app. Best of all they can share the same properties and people can collaborate on them in real time. If it sounds amazing, it is.
There are simple templates to get started and those are likely enough to accomplish what you need to for most projects. There are also plenty of support materials, and an active community to get help and be inspired.
Alternatives: Airtable, Evernote, Trello, Spreadsheets
Final thoughts
I hope you've found this guide helpful. If you have any questions please comment below or get in touch and I'll be happy to answer them.
If you know someone who is planning a summit then please share this with them if it helps.
If you've used this as you plan & execute on your own summit then please share your thoughts and experiences.
Did I miss anything, or expand more on anything – share in the comments below.