Fringe Legal #40: big impact of small failures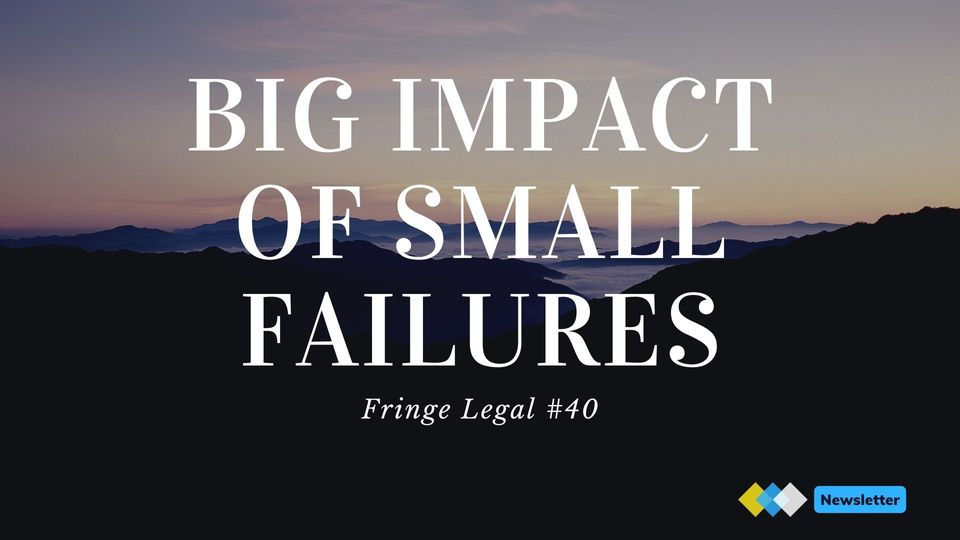 The big impact of small failures
By now, you're probably sick of seeing the memes and stories about Ever Given blocking the Suez Canal. It was fascinating seeing the whole thing fold, unfold, and get resolved over a few days.
As I reflected, my mind went to thinking about the disproportionate impact of small failures/mistakes. It's fascinating to look at the supply chain to identify bottlenecks or single points of failure, and though the Suez Canal likely wouldn't get flagged as one, it is difficult to dispute the impact:
Something like 10-12% of the global trade moves through the Suez Canal. While Ever Given blocked the canal, it cost around $400M/hour to the economy.
I think most businesses have similar impact points in their supply chain. It's important to know the ones for your practice. This article highlights some generic ones which most companies should be aware of, and interestingly many of these can be adapted to legal practices.
In wrapping up, I'll leave you this thought - if you were the operator of one of the ships that were stuck in line behind the Ever Given, what would you do? Would you wait for the issue to be resolved (not knowing how long this might take) or go around? For the latter, the most likely alternative is via the Cape of Good Hope. As a reference point, it takes just 14 days to reach Amsterdam via the Suez Canal; if you were to go via the Cape of Good Hope, that trip extends to 41 days!
Performance optimization for legal professionals
The most recent episode of the episode was my conversation with Parul Patel. Parul and I spoke about performance optimization:
"Performance optimization means that you're delivering at a high level of performance, but you're not, it's not coming at the expense of exhaustion burnout, a lot of these things that we see quite prevalent within the legal sector."
We drew analogies to professional athletes and footballers (soccer for my US audience). This is an important discussion because it tackles several things that need to be altered as the profession progresses:
Understanding that the skills that got you the role / to a particular level often aren't what's going to allow you to progress. This is true for law students, early career knowledge workers, as it is for seasoned executives.
Recognizing that there is a different skill required for leaders and managers, and most lawyer-managers don't get sufficient training to be effective managers.
Highlighting different progression paths - for many lawyers entering the profession, they do so with the perception of a "standard" profession path, and that is no longer the only path. There needs to be more coaching and education to allow knowledge workers to explore different roles with a law firm or legal department.
In my experience, the in-house teams tend to do a little better with the above. What do you think?
Also, recently Tim Corcoran published a great article on the topic, which will supplement this episode well.
Listen to the full episode here.
Why leveraging artificial intelligence in legal tech is a challenge?
I also recently spoke with Matthew Golab, Director of Legal Informatics and R+D at Gilbert + Tobin.
Much of the discussion focuses on the challenge of leveraging artificial intelligence to solve legal problems. However, many of the concepts can be equally applied to other technical challenges too. Here's just one example, discussing the variance in sensitivities between practitioners and technologists:
"To you, as a technologist, your tolerance for is it good enough is maybe say at 80%, or you're just very happy it actually didn't fail. But to a lawyer, they just assume if it's going to augment their effort or multiply their efforts, that it will be at least as good as them."
Listen to the full episode here.
How did you like this article?