Fringe Legal #41: need to know for legal professional of tomorrow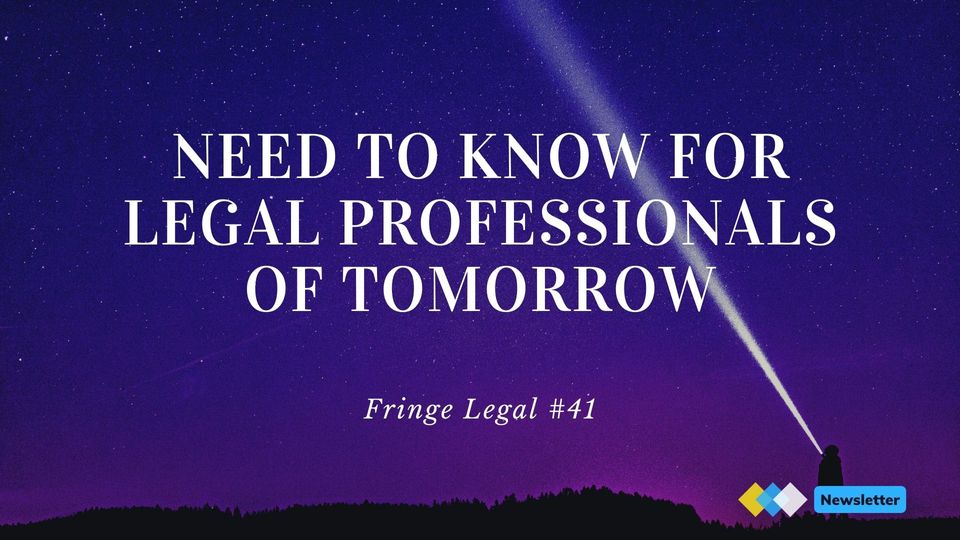 Welcome to the +10 people that have joined the newsletter since last week. If this is your first time here, expect to find snackable information on innovation, transformation, and the matters impacting the future of law each week.
Legal Technology Trends Changing In-House Legal Departments
In case you missed it, Gartner shared five legal technology trends for in-house legal departments.
At the beginning of this year, I reflected on learnings from 2020, based on my conversation with law firm leaders. One of the subtler points was the increased need to focus on technology efficacy (something I will likely write more about in the future).
I mention this because I saw a mirror of this view for corporate legal departments in opening to the predictions:
"it looks at legal technology's positive, direct impact on corporate legal productivity and efficacy, its potential for raising compliance risks and complexity, and its transformational role on the legal value chain."
Full disclosure, I'm not a massive fan of predictions. Things move too fast, and humans are particularly bad at gauging and predicting exponential changes. Nonetheless, it's still valuable to be aware of what the research supports.
Here are the five trends as headlines. It's worth reading the article for the full flavor.
By 2025, legal departments will increase their spend on legal technology threefold
By 2024, legal departments will replace 20% of generalist lawyers with nonlawyer staff
By 2024, legal departments will have automated 50% of legal work related to major corporate transactions
By 2025, corporate legal departments will capture only 30% of the potential benefit of their contract life cycle management investments
By 2025, at least 25% of spending on corporate legal applications will go to nonspecialist technology providers
The most interesting trend for me was the expectation of a substantial increase in highly specialist roles (point 2). This seems to be increasing today - "Gartner research finds increasing investments in legal project managers (up 56%) and data scientists employed within the legal function (up 30%)." - and the increase could be supported by further projectification of work. (🎩 Hat tip to Peter Dombkins for introducing me to that word).
Need to know for legal professionals of tomorrow
Bucerius Legal Tech Essentials course is back for the 2021 class, I was able to attend a couple of classes last year and look forward to watching as many of them as possible this year.
This fantastic (free) legal tech essential course is aimed at the "legal professionals of tomorrow" and will be starting in May. From their website, the course is:
"In a curated, intense, remote, and free one-month lecture series, discover the future of the legal market. Hear academic lectures and personal stories, ask questions, and gain insight into current advances in Legal Technology, Legal Operations, and Legal Innovation."
Delivering quick time to value using AI tools
Founding a business is tough, and I'm eager to speak to founders at all stages of their journey. In the most recent podcast episode, I talk with Jim Chiang, founder of My Legal Einstein - an AI-powered legal contract review tool.
"So my Legal Einstein differentiates from other tools in the pre-execution space because we're not trying to be a better attorney. I would not try to tell the attorney what to do, but we actually tried to augment the attorney's intelligence in terms of being able to address a lot of the intelligence and aspects of the mundane aspects".
During our chat, we covered:
Jim's background and introduction to My Legal Einstein
How is My Legal Einstein different from other AI contract review tools
The challenges with delivery value and how Jim approaches it
Algorithmic differentiation
Why focus on third party document
Future plans
You can listen to the full episode and find the transcript here.
How did you like this article?