Fringe Legal #43: emerging: robot process automation 🤖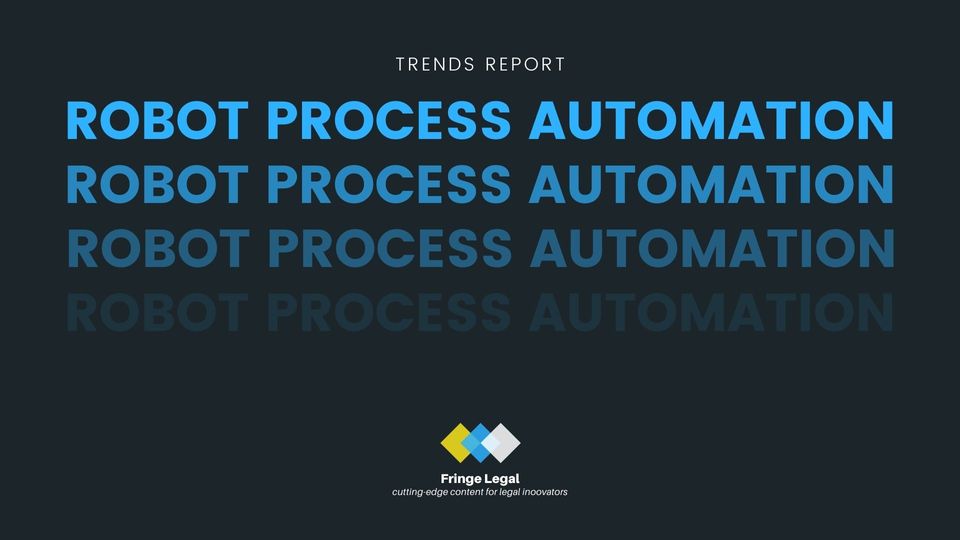 Welcome to the +19 people that have joined the newsletter since last week. If this is your first time here, expect to find snackable information on innovation, transformation, and the matters impacting the future of law each week.
🙏 Thank you to Daniel Chan for sharing the newsletter.
Last week, I wrote the first section on emerging technology/topics. This week I wanted to build on that.
Emerging: Robot Process Automation
What is it?
Robot Process Automation (RPA) allows for the automation of rules-based repetitive and tedious tasks using "bots." The goal is to enable the users to focus on higher-value work.
(source: UiPath)
RPA can be used for everything from triggering responses to messages (think client onboarding) and scape data or check against compliance criteria. For many tasks, the goal is not to fully remove the human, but to reduce the human effort by 70-80%.
What's next?
The future of the technology can see it be part of the intelligent automation movement, combing machine learning, and other artificial intelligence-enabled approaches to automate high order tasks where contextual understanding is required. The market for robot automation was $17B in 2020 and is expected to reach $30B by 2024.
At a macro level, automation technologies fall within the deployment stage of Carlota Perez's framework, such that they require existing infrastructure to be present and installed already. All sectors (including legal) have spent the last 40+ years installing the infrastructure, which makes automation a timely and common-sense play.
The market for robot automation was $17B in 2020 and is expected to reach $30B by 2024.
🚀 The Romanian-founded UiPath is an example of the market view. UiPath, which had just 20 employees in 2015, is now worth over $29B after its IPO a couple of weeks ago.
Public Comps has a more in-depth breakdown of the S-1 and the business model behind UiPath. What was interesting is to consider the three broad life stages:
Automation as a tool
Automation as a platform
Fully automated enterprise (where automation is the center of work)
(source: UiPath)
Many rule-based tasks within legal teams could benefit from RPA and other automation tools (filing forms, moving files, scraping data sources, and more). However, I feel that there is currently a big chasm before utilizing automation to deliver end-to-end solutions.
UiPath has specific solutions for legal work; additionally, check out Nintex and Roborana, who also play in the space.
I'll conclude with this:
The identification, training, and automation process takes times
Just because something is "automatable" doesn't mean it should be automated
How did you like this article?