Fringe Legal #42: build, buy or invest in legal technology?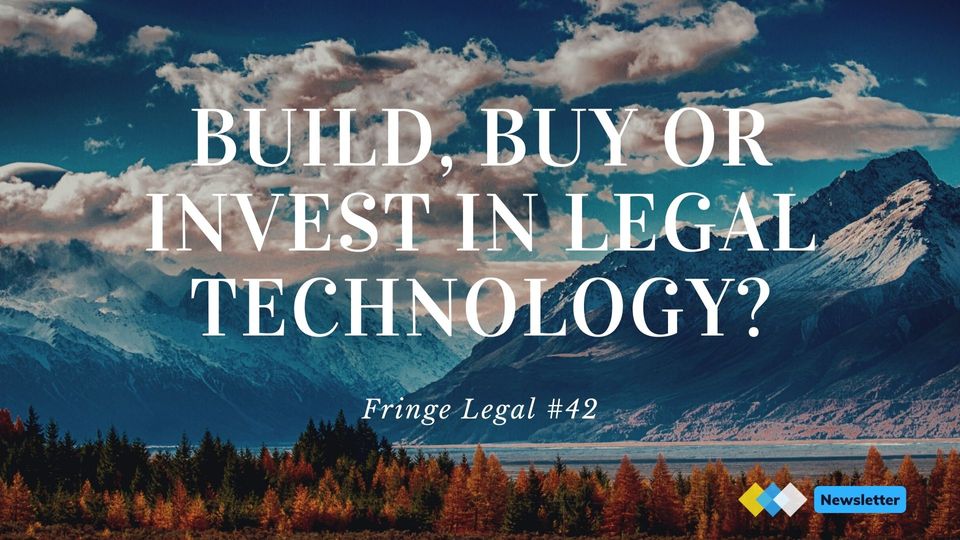 Welcome to the +14 people that have joined the newsletter since last week. If this is your first time here, expect to find snackable information on innovation, transformation, and the matters impacting the future of law each week.
🙏 Thank you to Bárbara Gondim Da Rocha for sharing the newsletter.
Fringe Legal Rewards
Last week, I rolled out Fringe Legal Rewards to a small group of readers. The goal of the rewards program is to have good things happen for those that share the newsletter.
At the bottom of this (and all future emails), you will see a link to your personal referral link. Share the newsletter using your link, and when people sign up using your link, you get goodies 😊.
Build, buy or invest in legal technology
This week on the podcast, I spoke with Elani Buchan, Venture Program Manager at MDR Lab.
MDR Lab (affiliated with Mishcon de Reya) has had success in recent years and continues to evolve. In under 30 minutes, we cover quite a lot.
When looking at tech to solve a problem, one of the questions most businesses consider is whether they build it or buy it, and some have the opportunity to invest. MDR Lab seems to have taken an approach to do all three. As Elani shares:
We're hedging our bets. Part of why we develop these three different arms is to diversify our investment strategy. Ultimately, the Lab is a vehicle or an experiment to find really interesting investments.
Elani elaborates on how each of the three arms - programs, investments, and venture building - work and how MDRL selects companies, founders, and investment opportunities.
Quite simply, it seems to come down to how do you make the biggest impact in the legal tech ecosystem. Oh, and we defined LegalTech as:
Products and services that would benefit the practice and business of law
Perpahs, most interesting was why the Lab was founded and what the strategy is. Like many service-heavy businesses, there is a shift to develop a product offering. Perhaps a version of the future firm will offer a subscription model to clients? In the short term, the focus is on leverage technology (built or bought) to get an edge:
The Lab was born out of part of that 10-year strategy where you mentioned what is the future of the law firm, and we're convinced that, or in my interpretation of what the strategy is that it isn't the law firms that you see now.
So it is providing more of these products and moving away just from services. How the firm has done that is through diversifying and offering brand management, and we have a product engineering and legal arm right now, so there are lots of really interesting experiments popping up, and I think that speaks to the entrepreneurial nature of Mishcon de Reya.
The Lab in itself plays into that strategy in a couple of different ways. One, can we turn this into a profitable investment arm of the firm, but in another way is that we get to play around with the fun tech that's out there.
So we are actively looking and scouting for the latest tools because we want to stay ahead of the game. We want to be the first at adopting the technology that will help improve the performance of the firm.
And also, as I mentioned like we're also building it. If we can't find it then we look at building it ourselves as well. I think from that perspective we are very much just looking at opportunities all around us. And making sure that we aren't siloed into one way of thinking or another, just reaching out to lots of different opportunities.
Emerging: Online Dispute Resolution (A2J)
One of the questions I've started asking more frequently to folks I speak with is around emerging tech or topics. The first one is Online Dispute Resolution (which is one Elani flagged).
What is it?
Online Dispute Resolution (ODR) utilizes technology to settle disputes. The purpose of these platforms is to allow (generally) small civil and commercial claims to be resolved quickly via the use of a digital platform outside the courtroom.
The concept isn't new and was born in the early days of e-commerce (the 1990s) to settle disputes between buyers and sellers.
What's next:
ODR is part of the wider Access to Justice (A2J) and Legal System Modernization/Digitization meta trends.
Countries, states, and courts have increased their focus on bridging the A2J gap, which COVID-19 has accelerated. Several jurisdictions already have an established process.
The University of Cambridge published a comparative analysis (PDF). The American Bar Association published a report that visualizes the state of ODR in the US (PDF). ODR platform for SMEs is also part of the funded UK LawTech Sandbox. Some suggest that utilizing blockchain technology might be a way to go.
Some platforms in the space include Jur, Resolve Disputes Online, and New Era.
Would you like to see more of this quick analysis around emerging topics/trends?
How did you like this article?