Fringe Legal #66: hub and spoke model for innovators
Innovation teams can utilize the hub and spoke model to drive quicker decisions and execute faster.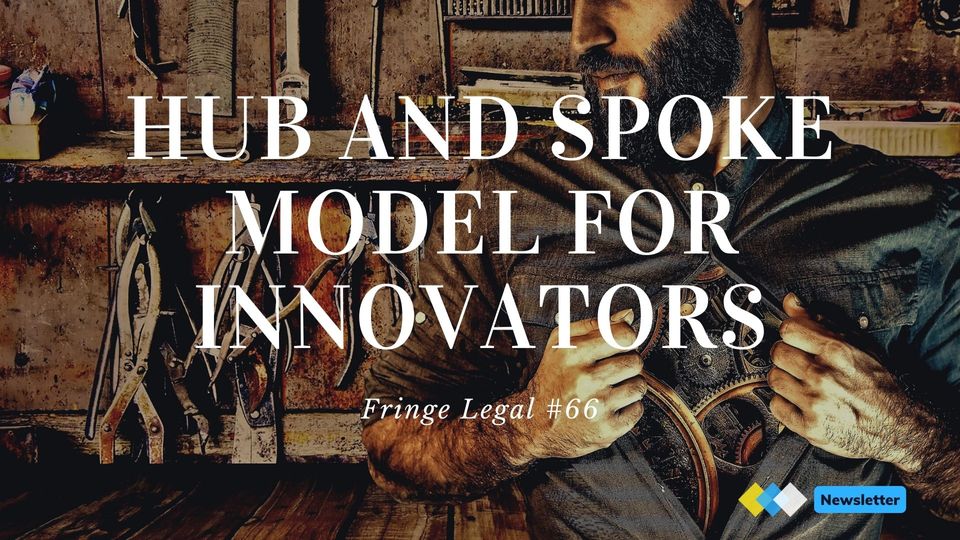 Hub and spoke model for innovation
What can Legal innovators learn from the world of logistics?
Turns out quite a lot. Here is just one framework to steal 👇
Let me tell you about the hub and spoke model. In the process, you'll learn:
1. How to increase the impact of your innovation efforts.
2. Why your Cyber Monday item, which shipped from just 5 miles away, travelled  200 miles before being delivered.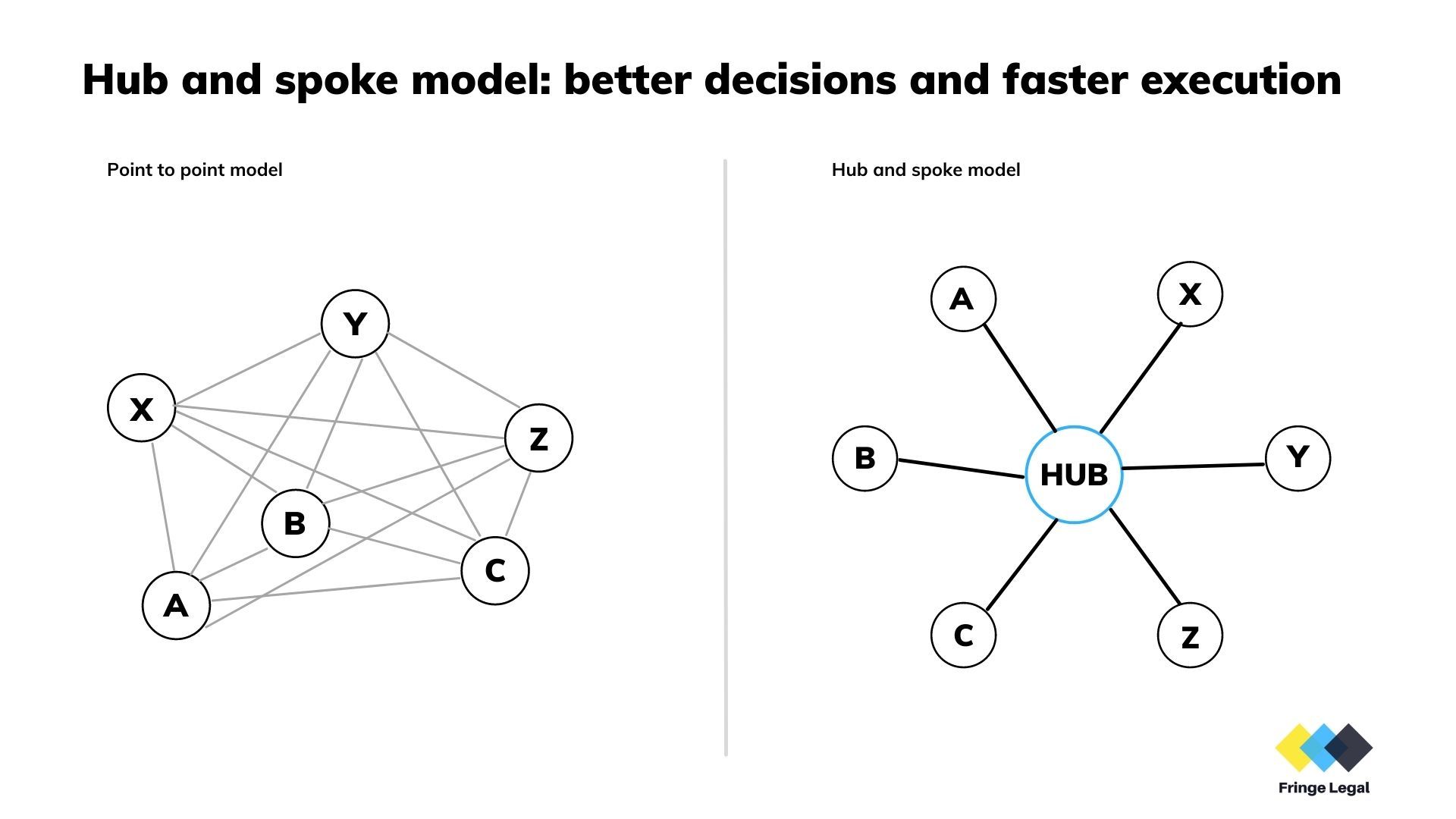 What is it?
The Hub and Spoke (H+S) framework is a distribution model traditionally used to streamline supply chain processes. If you've had to change flights to reach your destination or had a parcel delivered, you've experienced it in action.
It's analogous to the point-to-point (P-2-P) model.
How does it work?
H+S is designed after the mighty wheel.
The core concept is that the spokes can move in different directions around the central hub.
I'll explain why it's important for legal innovators after this example.
Example (as a distribution model)
If you live in Zone X, shipments you receive will go through Hub X.
If a shipment from Zone C needs to be delivered, it will first travel to Hub X before delivery.
Why? Optimization.
Advantages
Working in this way allows for:
more effective planning
better route optimization (which means fewer trips = lower carbon footprint)
greater predictability and productivity
happier employees (drivers no longer need to make crazy long trips, are less tired, have more time to spend with family, etc.)
Relevance to legal innovators
Here are two thoughts to ponder:
1) Sometimes, a small rethinking of the delivery method makes a huge difference. Before H+S became the norm, P-2-P was considered the best way to get shipments from point A to B.
Do you have processes in place today that, in the future, you might look back and think, "I can't believe we used to work that way"?
2) Where can you remove bottlenecks?
Can you transplant your innovation or digital transformation initiatives into a different way of working?
Applications
Here are two ideas to steal:
Remote working: replace the key central office with several smaller "spoke" offices. The key office could become a coordination hub. (KPMG is already thinking in this way).
Innovation: create a team or function that becomes the hub of innovation and emerging tech at the firm.
The Innovation Hub takes challenges from the partnership, experiments with fringe (I couldn't resist!) technologies, and have innovation ambassadors implanted within the firm for ideation, listening, and continuous improvement.
This drives collaboration across the business. You gain experts and a streamlined process. Ultimately, all roads for innovation efforts lead to the Innovation Hub - leading to faster decision making and execution.
P.S. I love applying models from the world of logistics to Legal. Previously, I've written about applying the last mile framework to the utilization of legal technology. You can find it here.
Product roles in legal
Most legal work is delivered as a service. Scaling this kind of business can be challenging. One way to approach this is by productizing services.
What is a productized service?
A productized service is a service sold like a product. The service is packaged with clearly defined parameters and pricing. By adding this layer of precision, it offers the customer predictability, and the firm can market this "product" many times.
Why does it matter to a law firm or legal team?
I enjoyed this article by Jason Dirkx on the increasing talent need for product people in law firms and legal teams.
My take way was this section:
The current billable hour model can resemble a hamster wheel for attorneys.  You can futz with the margins by raising billing rates, improving realization and looking more diligently at staffing and leverage, but the fundamental model requires the continuous creation of billable hours.  The current pace is unsustainable and clearly unhealthy.  One way to relieve this pressure is to diversify the lines of business in which a law firm realizes revenue.  A product line of business would leverage existing attorney expertise, likely meet unmet legal needs of clients and create an additional line of revenue that would reduce the pressure for the entire firm revenue to come from attorney hours.
Newsletter and podcast update
Podcast: Next week, on 8 December, I'll be publishing the last podcast episode of 2021. The podcast will return in early 2022.
In the meantime, you can browse the full archive of 71 episodes here.

Newsletter: In the future, I'll be publishing the newsletter every two weeks instead of weekly.

The Bi-weekly format will help ensure that the updates are still meaningful, without hitting your inbox too often. (and avoid burnout for me).

If you're interested, I'm writing every weekday on LinkedIn (bookmark this to see the latest posts daily).
Project possible

Off-topic, but I wanted to share a movie recommendation. This week saw the release of "14 Peaks: Nothing Is Impossible" on Netflix.
I've been anxiously waiting for the release of this documentary. Here's the synopsis:
Between April and October 2019, Nepali mountaineer Nimsdai "Nims" Purja attempted the most ambitious sequence of climbs of all time: to summit the world's 14 highest peaks - the 8000'ers, in an astonishing 7 month window. At the time the record stood at just under 8 years.
Watch this for beautiful cinematography, fantastic storytelling, and a heavy shot of motivation. If you are into climbing/mountaineering or adventure sports, then this should be on your list.
How did you like this issue?