Fringe Legal #81: The Paradox of Client Expectations
Notes from discussion with Brad Blickstein, David Cambria, and Keith Maziarek on Client Expectations, Tech Investments, and the Economic Downturn.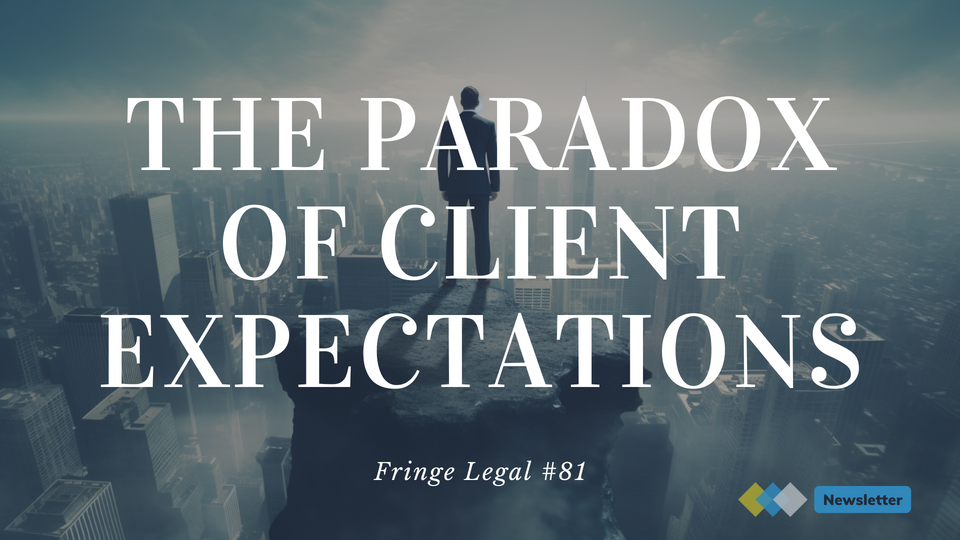 ---
Thoughts on Client Expectations, Tech Investments, and the Economic Downturn
A few weeks ago, the Legal Pricing & Project Management (LPPM) Survey Report was released. It had interesting insights (see summary below), so we got the authors on the pod to chat through the key points. Here are the takeaways from that conversation.
Special thanks to Brad Blickstein, David Cambria, and Keith Maziarek for their time.
~~~~
Like most industries, legal has seen substantial changes in recent years. The rapid growth of technology, evolving client expectations, and a shifting economic landscape have all played a part. Amid these changes, law firms and legal departments increasingly focused on pricing, project management, and service delivery. Frine Legal sat down with the authors to dissect the 3rd legal pricing and project management survey report's findings.
Unraveling the Paradox of Client Expectations
In the increasingly competitive legal industry, understanding client expectations is paramount. The survey revealed a paradox at the heart of these expectations.
Clients demand innovative, efficient, and cost-effective legal services. Yet, paradoxically, they often opt for law firms offering traditional methods. This divergence between what clients say they want and what they reward is a complex issue for law firms eager to embrace innovation and technology.
David encapsulated this problem, saying, "The clients say they want more efficiency, they want more predictability, they want more cost-effectiveness. But when it comes to rewarding that, they are often still rewarding the tried and true, the traditional approaches, the safe choices."
This raises a crucial question: how can law firms align their innovation strategy with client expectations?
One approach may involve a more transparent dialogue between law firms and clients about the benefits and potential drawbacks of new technologies. By doing so, law firms can help clients understand how these technologies can improve efficiency and reduce costs without compromising service quality.
Legal Tech Investments Amid an Economic Downturn
The report further reveals a potential decline in law firms' investments in innovation and technology. This trend is concerning, especially when juxtaposed against the backdrop of a struggling economy. The economic downturn caused by global events has placed increased pressure on law firms to deliver value for money. At the same time, it has made investments in technology and innovation more risky.
Brad, however, provides a nuanced perspective on this issue. He posits that technology and innovation aren't necessarily a panacea for the challenges law firms face. Instead, he suggests a more comprehensive approach that includes a focus on processes and people. "When it comes to tech, the truth is there's no tech that's going to solve your problems... It's how you use that tech."
In a faltering economy, this approach could prove beneficial. By focusing on improving processes and developing people, law firms can enhance their service delivery without making significant financial investments. This strategy could also help law firms deliver value for money, a crucial consideration in an economically constrained environment.
Threats and Opportunities in Legal Service Delivery
Among the challenges law firms face, the report identifies one significant threat: the everyday legal work that forms the backbone of their business. If firms can't find efficient and cost-effective ways to deliver these services, they risk losing them to alternative service providers.
"To me, the biggest question that we're going to be facing over the next 10, 15 years is, all of that, not commodity, but the everyday legal work... who's going to be doing that work?" Brad questions.
Despite the threats, there are also opportunities for law firms willing to embrace change and innovation. Keith underscores the potential of technology and alternative business models that have matured over the last decade. He suggests that these might hold more promise in the current climate than they did in the past.
Law firms and legal departments face significant challenges in the form of shifting client expectations, a downturn economy, and the need to deliver everyday legal work efficiently. By embracing change, focusing on people and processes, and forging a new path in legal service delivery, they can navigate these challenges and emerge stronger. As the legal profession continues to evolve, these insights provide a valuable roadmap for the future.
---
🎧 We dove deeper with the authors on the pod. Listen and dive in: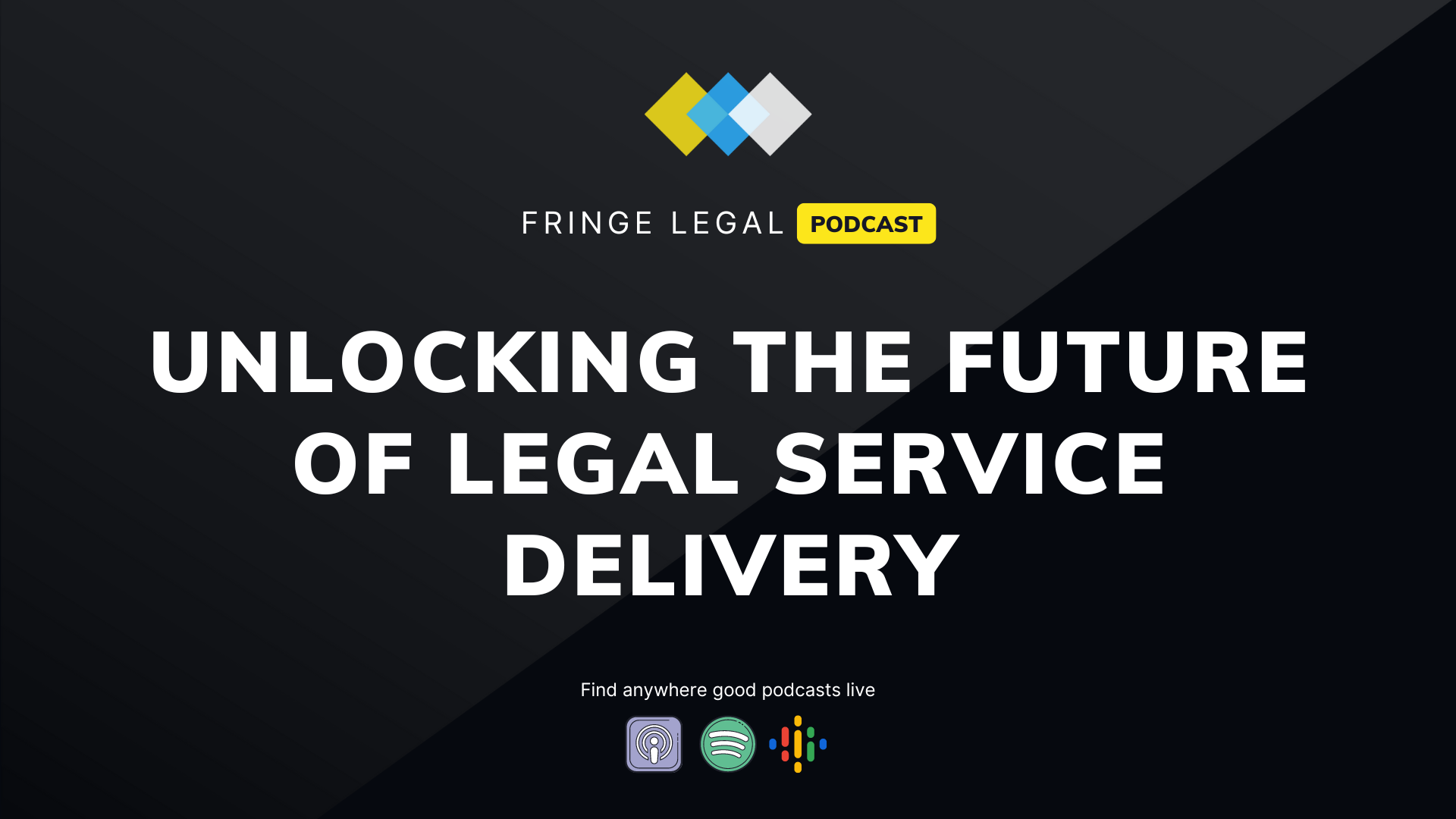 ---
LPPM report key findings
The 3rd Annual Legal Pricing & Project Management (LPPM) Survey Report produced by the Legal Value Network and Blickstein Group is worth a read as it includes great insights.
Below you will find the macro takeaways from the report:
| Key Finding | Details |
| --- | --- |
| 1. Legal profession facing transformation | The legal profession is experiencing significant changes due to economic, technological, and client expectation factors, requiring a transformation in how legal services are delivered. |
| 2. Emphasis on client-centricity | Clients are increasingly expecting tailored and value-added services, leading to a need for legal professionals to focus on client-centric approaches, including transparency, predictability, and efficiency. |
| 3. Adoption of Legal Project Management (LPM) | LPM is becoming an essential tool to help law firms and legal departments better manage resources, processes, and costs, enabling them to deliver more efficient and effective legal services. |
| 4. Shift towards alternative fee arrangements (AFAs) | The report highlights a move away from traditional hourly billing towards AFAs, such as fixed fees, success fees, and other value-based pricing models, to better align with client expectations and provide more predictable and transparent pricing. |
| 5. Role of technology in driving change | Advances in technology, including Artificial Intelligence (AI), automation, and data analytics, are increasingly being adopted by legal professionals to streamline operations, improve efficiency, and deliver better client outcomes. |
| 6. Importance of collaboration and multidisciplinary teams | There is a greater emphasis on the need for collaboration among legal professionals and the engagement of multidisciplinary teams to better address the diverse and complex challenges faced by clients and drive innovation in the delivery of legal services. |
| 7. Growth of alternative legal service providers (ALSPs) | ALSPs have emerged as a significant player in the legal market, providing a range of services to clients, including legal process outsourcing, managed services, and consulting, often leveraging technology and innovative business models to deliver cost-effective solutions. |
| 8. The need for new skills and capabilities | The transformation of the legal profession requires legal professionals to develop new skills and capabilities, such as project management, data analysis, and change management, in order to remain competitive and effectively navigate the changing landscape. |
| 9. The role of leadership in driving transformation | Strong leadership is essential in promoting the adoption of new approaches, fostering a culture of innovation, and ensuring the successful implementation of transformation initiatives within law firms and legal departments. |
| 10. The need for continuous learning and adaptability | The research underscores the importance of continuous learning and adaptability among legal professionals to stay ahead of industry trends, embrace new tools and methodologies, and deliver the best possible service to clients. |
Additionally, here are three key highlights from the report:
Clients have espoused a new set of rules for efficiency and metrics but continued to operate under the old rules of not giving law firms feedback and hiring those they like. They have given lip service to innovation but haven't rewarded firms for their efforts to provide it. No one has thought too hard about what value means or figured out how to measure it.
Eighty percent of LDOs [aw department operations professionals] have already seen law firm rates rise, and over 80% expect them to go even higher over the next 12 months. Instead of the usual outrage over rate hikes, everyone seems to be attributing these increases to market forces as the economy continues to falter.
law firms should maintain a long-term focus on improving processes, increasing efficiency and— perhaps most importantly—finding ways to define and create value in the delivery of legal services, not just in the business aspects of their operations.
---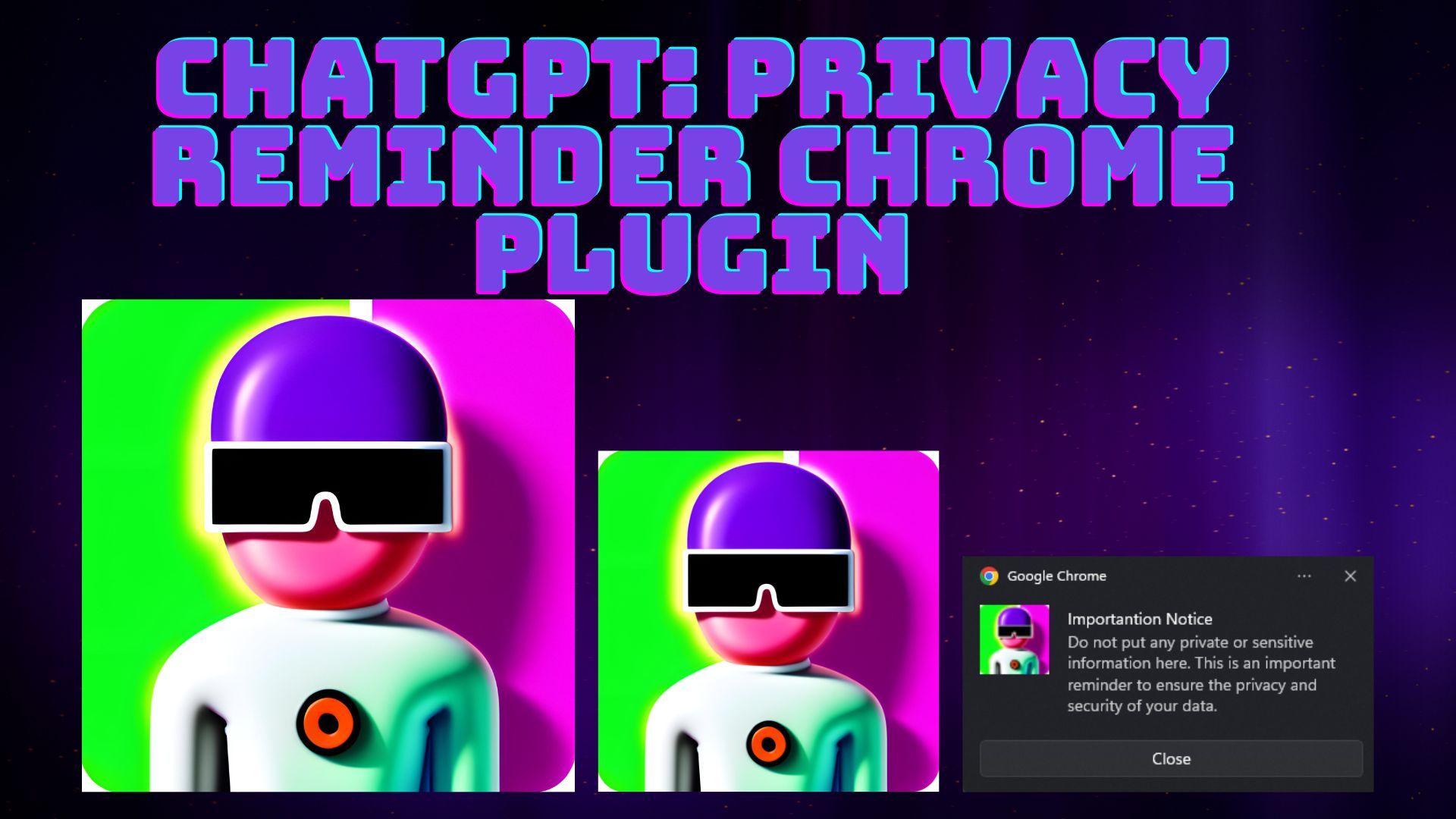 Safeguarding sensitive data on ChatGPT
As the popularity of ChatGPT and GenAI apps rises, ensuring responsible data sharing is crucial. As a fun project, we developed an extension that displays a persistent reminder to warn users against sharing private or sensitive information.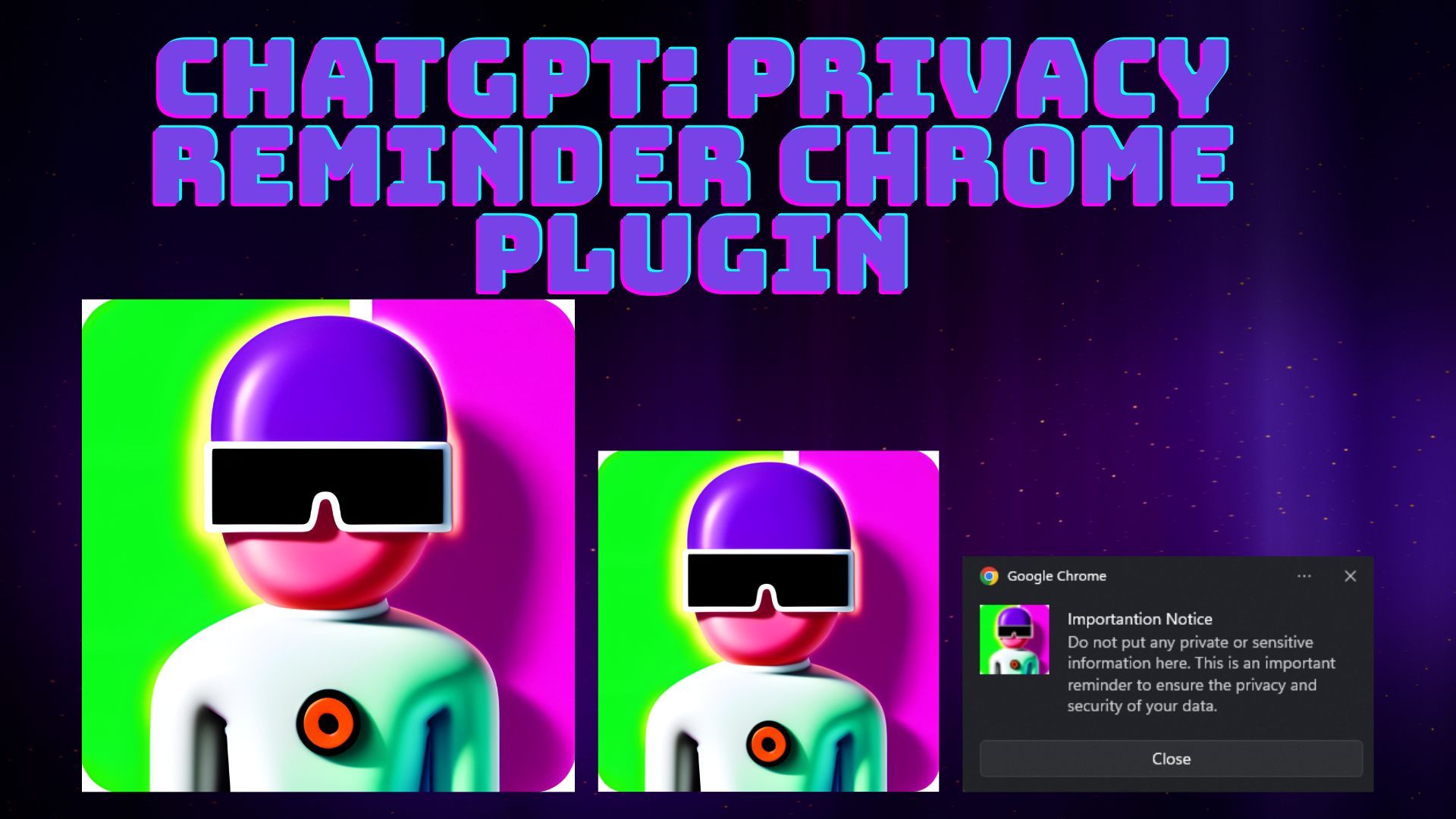 ---
Carve outs
(random tidbits for curious minds)
👟 Air. Based on true events, Air is the story of Nike's pursuit of Michael Jordan to create the partnership that will become Air Jordan.
🏛️ US Congress kicked off a series of AI hearings. OpenAI CEO Sam Altman asked for regulatory intervention by governments to mitigate the risks of AI models.
📱Google I/O. Google's annual developer event took place last week. There were a number of interesting announcements, including Google's entry into foldable phones with the Pixel Fold and updates to Bard (which is now available to everyone).