Moving Past the AI Hype - Conversation with LexisNexis' Jeff Pfeifer
LexisNexis CPO Jeff Pfeifer explores moving past AI hype cycles to drive real legal adoption. Practical benefits key to dodging disillusionment trough.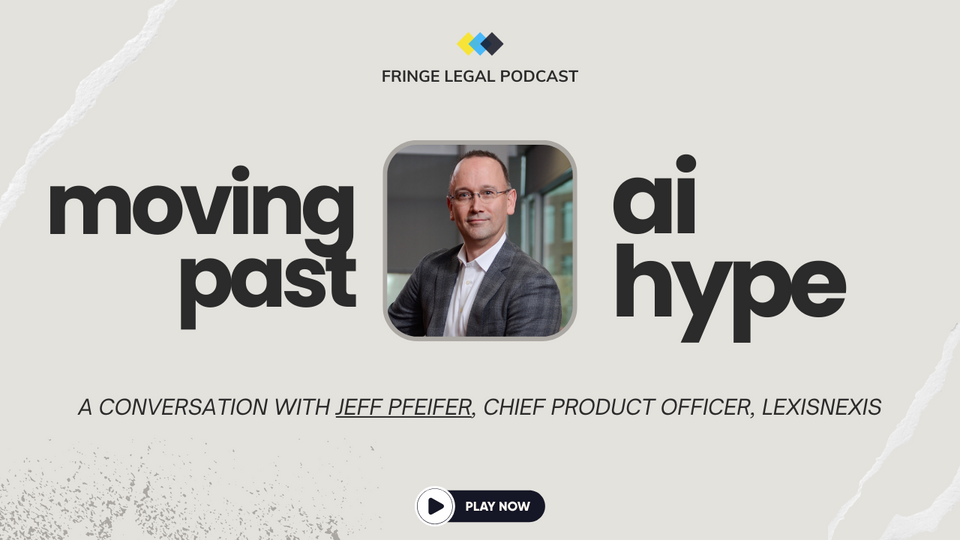 ---
📢
Ab's note: This is the first of a series of three episodes focused on AI. In true Fringe Legal fashion, we are speaking with those building, supporting, educating, and disrupting the space. Enjoy.
Artificial intelligence has been dominating discussions everywhere you look. However, moving past the hype and identifying real-world benefits is crucial for driving increased adoption.
During ILTACON 2023, Fringe Legal sat down with LexisNexis's Chief Product Officer, Jeff Pfeifer, to get his insights into AI progress and perception from a major legal information provider's perspective. We discussed the promise versus hype debate, the importance of tangible productivity gains, and demonstrating results.
---
Listen to the supporting episode
---
Navigating the Balance Between AI's Promise and Hype
The legal industry is awash in AI hype, with vendors touting capabilities and law firms feeling pressured to experiment. This has led to natural skepticism and fatigue around yet another "next big thing." As Jeff Pfeifer observed during his time at ILTACON :
"AI signage is everywhere. It seems like every organization here is doing something on that front."
However, Pfeifer believes we may not yet be at "peak hype" for legal AI. Over the last six months, he has noticed real differences in law firms' mindsets and willingness to engage:
"The conversations that I'm having with law firms now are very different than they were six months ago...I think law firms in particular are more engaged and more experimental that they have been at any phase of the process so far."
This suggests that beneath the vendor hype, pragmatic experimentation and implementation is starting to take hold. But turning hype into real productivity gains for law firms remains critical.
Generative AI's Potential to Enhance Legal Work
What makes this new wave of AI, especially generative models, so promising for legal work? As Pfeifer highlighted, the core skill is right in line with lawyers' daily work:
"What's so exciting is the ability to create text. And obviously in our market, our clients create a lot of documents and therefore, the opportunity to have a significant impact on productivity is perhaps higher than in other markets."
With document drafting and review being so central to legal practice, generative AI's natural language capabilities could significantly enhance these workflows. This potential for tangible productivity gains and demonstrated cost savings helps counteract some of the hype.
And it's not just about the final work product. Pfeifer explained how generative AI can enable a completely new approach to finding and extracting answers and insights:
"I always say to our teams at LexisNexis that we're doing our job best if the user has absolutely no idea what technology is running in the backend."
For end users, it is about having questions answered and problems solved, not the underlying technology. Natural language conversational interfaces represent a paradigm shift from traditional keyword-based search.
However, given the risks of hallucinations and inaccuracies, especially in the legal realm, Pfeifer stressed the importance of grounding generative models in credible data sources and content. This is an area where established legal information providers have a strong advantage over generalist AI platforms.
Growing Interest and Adoption Among Law Firms
Beyond the potential, what is the on-the-ground reality of legal AI adoption and implementation today? Pfeifer has observed a substantial spike in law firms' appetite to explore AI capabilities:
AI is sparking unprecedented levels of interest and connections with knowledge management teams across law firms. Pfeifer gave an example where a knowledge management leader at a major global law firm told him:
"[I'm] now engaging with people throughout the firm that have never talked to the group before. That partners and fee earners and others are intimately interested in what the benefits might be for the organization."
He highlighted how AI is sparking unprecedented levels of interest and connections with knowledge management teams across law firms. Partners and other fee earners who may not have previously interacted with these groups are now actively seeking to discover AI benefits. This pull from the end users themselves is a promising sign.
But for law firms to realize productivity gains, solutions need to integrate where lawyers already work. As Pfeifer commented:
"It is critical that we solve the need for information, insights, at the point of work activity."
They are strategically focused on delivering AI directly through Microsoft 365 tools, including Word, Outlook, and Teams. This integration helps ensure adoption rather than disruption of existing workflows.
Avoiding the "Trough of Disillusionment"
Of course, the big question is whether legal AI can avoid the "trough of disillusionment" that has swallowed other hyped enterprise technologies. Pfeifer is cautiously optimistic:
"I think what's different this time is this is real. People are putting the technology to work already."
He contrasted it with previous ILTACON trends like blockchain that never delivered tangible benefits:
"If you came to ILTACON years ago, you would have heard people talk about [other technologies]...I think what's different this time is this is real."
The key difference is that legal professionals are already seeing practical results from AI and integrating it into their real work and personal lives. For example, widespread public use of AI chatbots such as ChatGPT is driving an understanding of the benefits.
But Pfeifer acknowledged there are still challenges to mainstream acceptance. Expectations need to be managed, especially regarding promises that seem unrealistic today. However, he believes growing hands-on use will help legal AI avoid falling into the trough.
The Importance of Demonstrating Tangible Benefits
The key will be maintaining the momentum of experimentation and tangible productivity gains that can showcase legal AI's real potential. As Pfeifer noted, beyond the hype peaks lies a great opportunity for generative AI to transform core legal workflows through capabilities like natural language search and document drafting.
But realizing lasting value will require delivering practical solutions and demonstrable benefits that drive adoption, not just excitement.
The legal industry's level of engagement and hands-on exploration gives reason for optimism about AI's future.
---