Maya Markovich of Dentons Nextlaw Labs on Catalyzing Innovation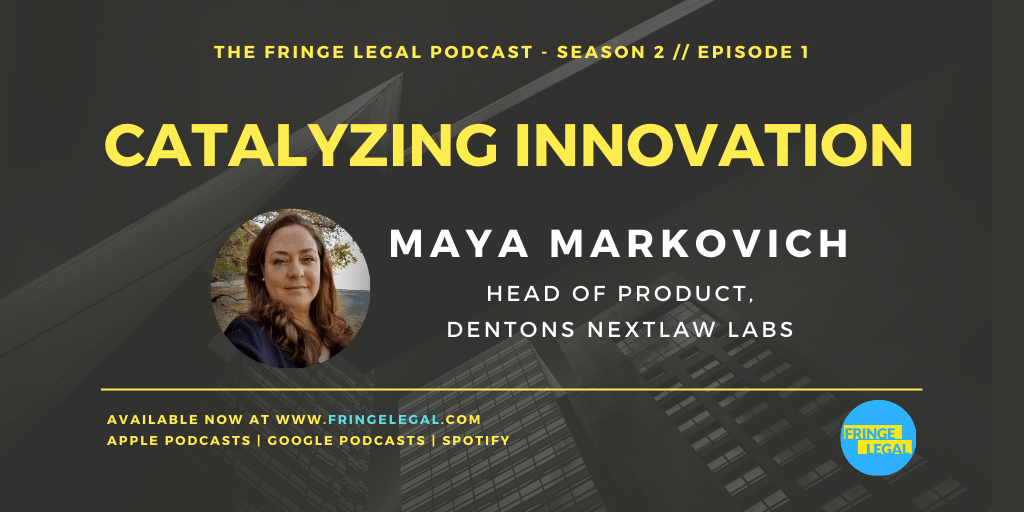 Welcome to the 2nd season of the Fringe Legal podcast. In the first episode, we speak with Maya Markovich, Head of Product at Dentons Nextlaw Labs.
SUBSCRIBE AND REVIEW:  iTunes // Spotify // Pocket Casts // Stitcher
The core theme of the episode is all around innovation;  we cover three broad categories:
The 3 different pillars of NextLaw labs, and how innovation can take the robot out of the lawyer
How do you catalyze innovation? What that means, and the importance of becoming the connective tissue across the firm/business
Impact of legal tech on access to justice
Thanks to Maya for taking the time, and also to Isabella Galeno (who's featured later in the season) for introducing me to Maya.
---
About Maya
Head of product for Nextlaw Labs, Maya Markovich is an innovation leader with roots in change management, behavioral science, law, VC, and tech. She delivers next-generation technology, process, and business growth services for Dentons, the world's largest law firm, and its clients, including acceleration of the legal tech startups in the Nextlaw Ventures portfolio.
Her background enables her to encourage, design, and implement the future of the legal profession around the globe. Maya also serves on the boards of Legal Access Alameda, LexLab, OneJustice, and The Technolawgist, and as a mentor for LegalGeek's Women in LawTech and the University of Arizona TechLaw Fellows program, supporting legal tech initiatives to improve access to justice, gender equity, and the future of legal education.
She speaks and writes frequently on legal tech and innovation/design, and is deeply committed to leveraging tech for good, especially to increase diversity and access to justice. Find her on LinkedIn and Twitter @MarkovichMaya.