Dr. Allan McCay on Neuroscience, Ethics and Criminal Law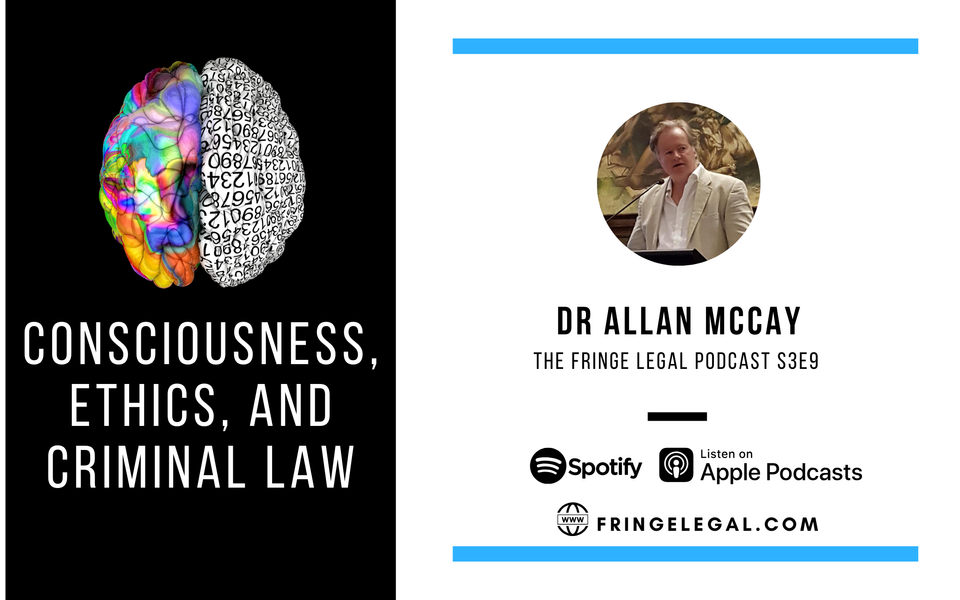 Dr. Allan McCay has a PhD in Law (University of Sydney), is an admitted solicitor in Scotland, Hong Kong, New South Wales, and Tasmania (Australia). He is an author of several books, and teaches at the University of Sydney Foundation Program and will again be lecturing in Criminal Law at the University of Sydney Law School in semester 2, 2020.
SUBSCRIBE AND REVIEW:  iTunes // Spotify // Pocket Casts // Stitcher
And so, on that view, it seems like the human consciousness doesn't seem to add much because ultimately human decision making is algorithmic and as these algorithmic machines are getting better and better they will surpass us. And, there are dire implications for the future work.  

As I was reading that, I kept from thinking, well if David Hodgson's view is right then that's not, that's not true. So if David Hodgson's view is right then there is some kind of advantage in the workplace from being a conscious human and the certain kinds of humans can, engage in a certain kind of judgment, when they make decisions that are not open to a non-conscious algorithmic machine.

So in a nutshell: consciousness provides a facility for judgment in the past, have probably had an evolutionary advantage, that is lacking in algorithmic non-conscious machines. According to my paper, which uses David Hodgkin's views this may be economically advantageous to us because using this judgment that we have as a result being conscious may provide an advantage in the workplace.
In this episode you'll learn about:
Allan's interest in neuroscience, ethics, and the law
What advantage humans may or may not have over artificial intelligent agents in the workplace of the future
Impact of neuroscientific evidence in sentencing. Could the presence of certain protein markers (e.g, MAOA) lead to a plea for mitigation in sentencing?
What is the Australian Neurolaw Database
What are brain-computer interfaces (BCI)
The possibility of people committing offenses by way of BCI
We talk through some hypotheticals – how BCI offenses challenge the core of criminal law
How might human consciousness impact the future of work, against the future of algorithmic machines that will soon surpass us in decision making
The question of what, advantages humans may or may not have over Artificially intelligent agents in the workplace of the future.

You can find out more about Allan on his website. Connect with him on LinkedIn, and Twitter.
You can explore Allan's books below: