Setting up legal teams for success (podcast)
Legal operation teams have been increasing in popularity. We explore why they matter and how to leverage them to find success for legal teams in firms and in-house.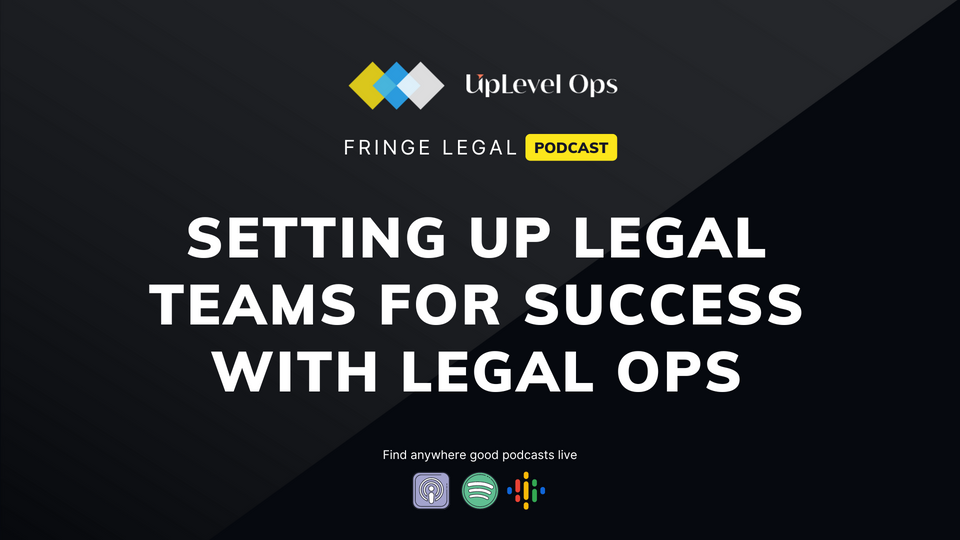 ---
Legal operation teams have been increasing in popularity. In this episode, Liz Lugones and Sumi Trombley from Uplevel Ops share why Legal Ops teams matter, why you should care, and how to leverage them to level up your legal team (in-house and at firms).
Uplevel Ops are offering a complimentary 30-minute consultation, you can find more here.  
In the episode, we discuss:
(03:12) Why should you care about legal operations (LegalOps)?
(04:21) Law school vs. practice
(08:12) Enabling fail-fast thinking in legal teams
(11:11) It's not just about technology
(16:32) Embedded in the organization
(21:25) Creating space for creativity and ideas
(28:38) Celebrating success
(30:49) Gaining trust
(34:25) Shifts in legal operations
Article referenced
Striving for Imperfection: The Complicated Relationship of Lawyers and Project Management by Sumi Trombley & Liz Lugones
Key quotes
(edited for a better reading experience)
People and lawyers want to be able to solve the problems of their clients, but in doing so, and what's the best way to do it doesn't always mean here's the legal answer. Maybe they're looking for optionality, a strategic partner, or they are looking to reduce the risk. Whatever the answer is,  you have to talk to your business counterparts to be able to figure that out.
The thing that Liz hit on was 'the therapy' - that aspect of legal operations is the bridge from getting to, I know the legal answer, to how do I deliver it to my client in a way that makes them happy and feel like they have the best result.
Sometimes you're not likely to go to the person who's giving you the advice and say, "I don't like the way you're giving me the advice." You need a buffer, and that's the legal operations buffer. With that in place, you can express the problem. The legal ops professional can go share it as the buffer: "I'm generally hearing from these people, And here's what I suggest we start to do to help facilitate."
Often, I believe people in the profession think that legal operations are putting technology in, right? Or you're putting a process in. And I feel like the conduit that legal offspring is legal ops is not all those things. Legal ops is a mindset that needs to happen in the culture of the org, for the department to get better. The buffer is the data coming out of the technology you put in there.
About the guests
Elizabeth "Liz" Lugones, COO/Senior Advisor, UpLevel Ops
Liz has built and managed Legal Operations teams in various industries in both public and private companies over her 20+ year career. She excels in global project management and business reengineering, with particular expertise in process improvement, change management, cross-functional collaboration and team building, but her true passion is helping others find their own strengths and talents and harness them for the value of all.
Before joining UpLevel, Liz served as the Senior Director of Legal Operations at WeWork. Prior to WeWork, Liz served as Director of Legal Operations at a diverse range of companies, including UnitedLex, DXC Technology, Becton Dickinson, and MetLife. She also worked at Citigroup as Manager, Strategy and M&A.
Liz holds a BA in Political Science and Journalism from Rutgers University, is certified in Lean Six Sigma and fluent in Spanish. She is based in New Jersey.
Sumi Trombley, Senior Advisor, UpLevel Ops
Sumi Trombley practiced in law firms and in-house legal departments for more than a decade before coming to UpLevel Ops. Sumi previously served as Director, Legal at enterprise legal services provider Marshall Denning, LLC, where she managed and trained a team of junior and senior attorneys and developed and implemented resource optimizing processes for RFPs and pre-litigation disputes. She is known for her ability to provide strategic guidance and cost-effective solutions.
Prior to joining Marshall Denning, Sumi was Legal Counsel at Hewlett Packard Enterprise, serving as a de facto general counsel to top enterprise IT outsourcing accounts. She started her legal career at the law firms of Paul Hastings LLP in New York and Latham & Watkins LLP in DC, practicing corporate finance and securities law.
Sumi holds a JD from Northwestern University Pritzker School of Law, and a BA in Political Economy from Georgetown University. She is based in Maryland.