Fringe Legal #76: three takeaways from ILTACON
ILTACON 2022 packed 3000+ people into a bustling four days. Whether you were there or not, here are the key themes from the conference you should know.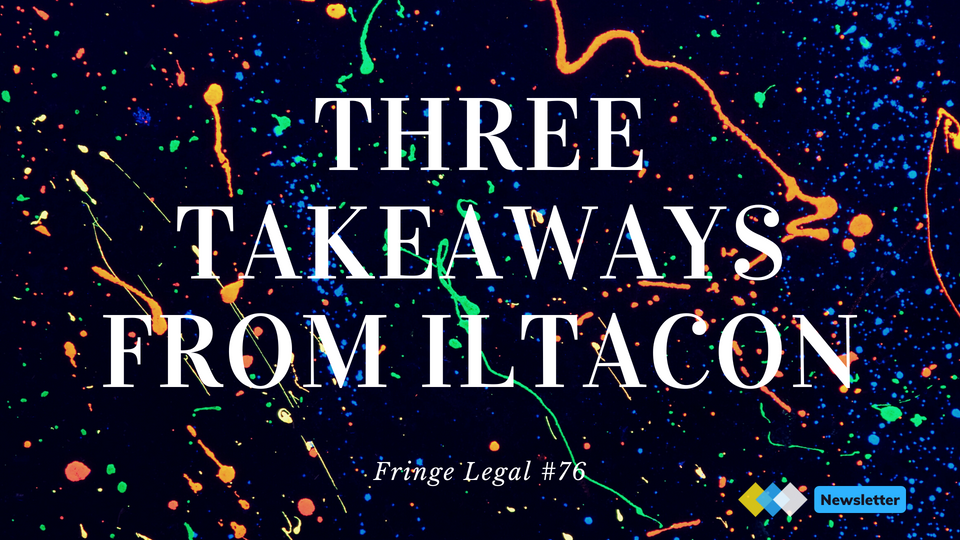 ---
ILTACON was last week - it is the biggest legal technology conference in North America and likely the first in-person event of this scale many have attended since the start of the pandemic. Feel free to skip below to the themes or grab a coffee and enjoy the lead-in ☕.
The feeling on the ground was that "it's back," and there was an air of enthusiasm and invigorated energy amongst the attendees. It was a "sold out" conference with over 3000 registrants (making this the 3rd largest event in the show's 42-year history).
ILTA strongly focuses on education, so it was a surprise to see fewer sessions. Still, as it was shared during a press briefing, the focus shifted from quantity to quality (there were over 600 speaker applications).
A shout out to the ILTA committee and everyone involved in making the event happen. There are a thousand moving parts during these things, and it's not easy. A special thank you to Beth Anne Stuebe, Director of Publications and Press, who provided press passes to publications big and small, as well as useful daily updates.
ILTA 2023 will be returning to Disney, Florida.
Themes
Let's get to what you came here for. Here are the themes that repeatedly appeared across 100s of conversations.
(1) Data and interoperability
There was increased chatter around the importance of data, specifically managing, analyzing, and leveraging data to draw insights. I felt there were many more individuals with "data" in their title, though most were from large law firms.
Given the above, perhaps the the results from a poll I ran on LinkedIn recently aren't too surprising. Over half of the respondents suggested that "Chief Data Officer" will be a role commonplace in the law firm of the future.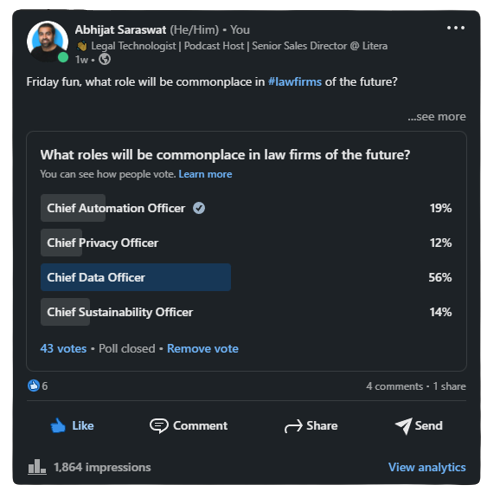 I classed interoperability with data; perhaps it can be a separate topic. While the case for having interoperable systems is generally clear, it's a difficult problem to solve. A paper from 2014 sums up the benefits in its title alone (source: PDF):
LEGAL INTEROPERABILITY AS A TOOL FOR COMBATTING FRAGMENTATION
While the context of the paper is different, the takeaways can be easily applied to legal technology:
Legal interoperability can facilitate global communication, reduce costs in cross-border business and drive innovation, thereby creating a level playing field for the next generation of technologies and cultural exchange… In cyberspace, legal interoperability should be designed to function on four broad layers of complex systems: technology, data, human elements and institutional aspects.
Most vendors are thinking about the data they collect as a second-order benefit of their offering. Connecting disparate systems so there is one place to work for a specific workflow is an opportunity worth exploring.
Related is the use of API (Application Programming Interface) - the building blocks which allow two applications to talk to each other. I hope that there will be an increase in more solutions offering truly open and well-documented APIs. Zuva is a good example of an API-only offering.
(2) Continued focus on specific use cases
While there is a continued focus on platformization and ecosystems, walk the vendor hall, and there were just as many single-solution focused offerings. (I've written about the difference between each before).
What this signals to me is that there will continue to be consolidation of overlapping workflows. Still, there are just as many opportunities to explore, including solving a niche use case or solving an already solved problem in a different way.
There were a handful of vendors that stood out, but I wasn't able to meet with everyone present. I will lean on Nikki Shaver of the Legal Tech Hub for her views, as she managed the impressive feat: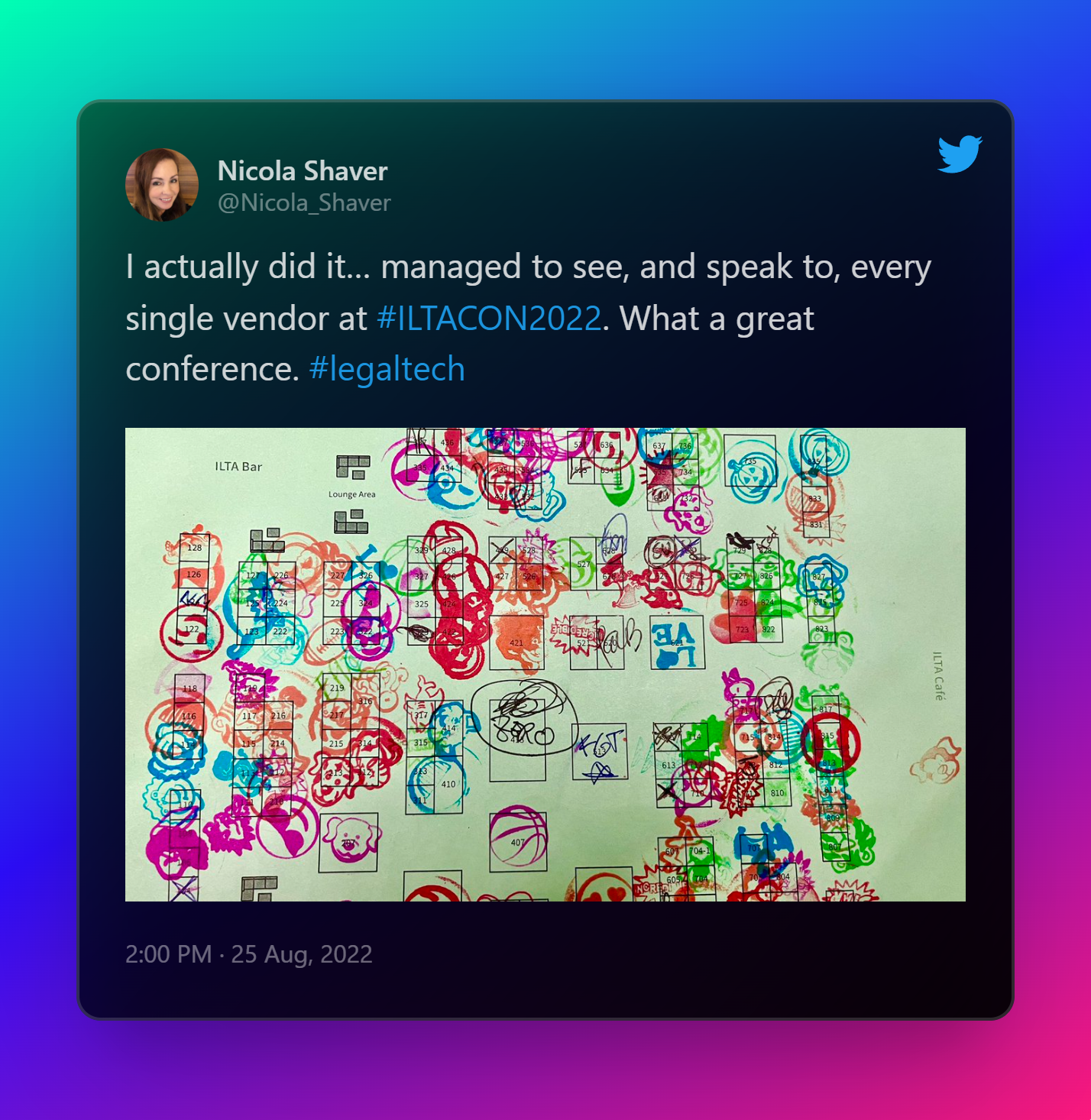 (3) More mature
Looking at the session grid, AI, Blockchain, and Data stood out as three core topic areas. My initial reaction was that we had gone back to the future, as these seemed like the core topics at ILTA a few years back.
On deeper reflection, it seems like a smart approach from the planning committee for two reasons:
Maturity: the level of understanding, as well as the maturity of the offerings, has evolved significantly.
New audience: there were many people for whom this was the first ILTA event (I believe the organizers ran out of the "first timer" ribbons people could attach to their badge). Therefore the introductory level exposure to these topics was likely helpful.
One negative outcome of the mix above was that most of the sessions were too high-level, leaving some wanting more. I suggest having 101, 201, and 301 style sessions so folks can choose their own adventure based on their level of understanding.
The huge positive was the vibrant discussion around many of these topics. It was cool to hear the tried-and-tested methodologies organizations have started to put in place.
Two specific call-outs here:
It was refreshing to see the focus on change management - how to increase adoption and demonstrate value. Even startups were highlighting their customer/client success fucntions.
Legal Ops was a prevalent topic. I heard from many that the session focusing on "legal operations and law firms" was a raving success with standing room only.
This is a small smattering of my takeaways. ILTA also shared the executive summary of its 2022 Technology Survey. I'll share highlights from that in a future issue.
---
🔗other highlights
---