What do 150+ legal innovators want to accomplish in 2022?
What are 169 legal innovators focusing on in 2022? We analyzed the responses to highlight the macro trends, 2022 priorities, and opportunities.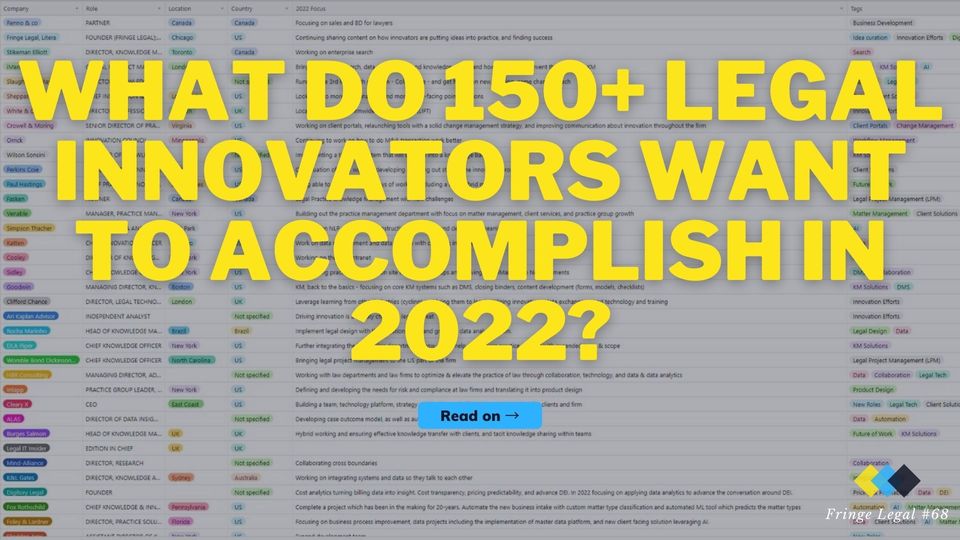 A new year brings new resolutions, new plans, and new priorities.
Preparation > prediction
I'm sure we'll see several posts highlighting predictions for the entire legal market. As entertaining as those posts are to read, I choose to pay closer attention to those putting a stake in the ground and taking action.
What better way to learn about what innovators are planning to accomplish in 2022 than going directly to the source.
I choose to pay closer attention to those putting a stake in the ground and taking action.
Luckily, knowledge management and innovation leaders gather to compare notes on current developments in KM, innovation, and the business of law each January. The event is called the Strategic Knowledge & Innovation Legal Leaders' Summit (SKILLS Leaders'an find out more, and follow the SKILL summit here.
Methodology
As part of the event, each attendee has to share what they will be focusing on for the coming year.
We watched and rewatched each video to get juicy insights.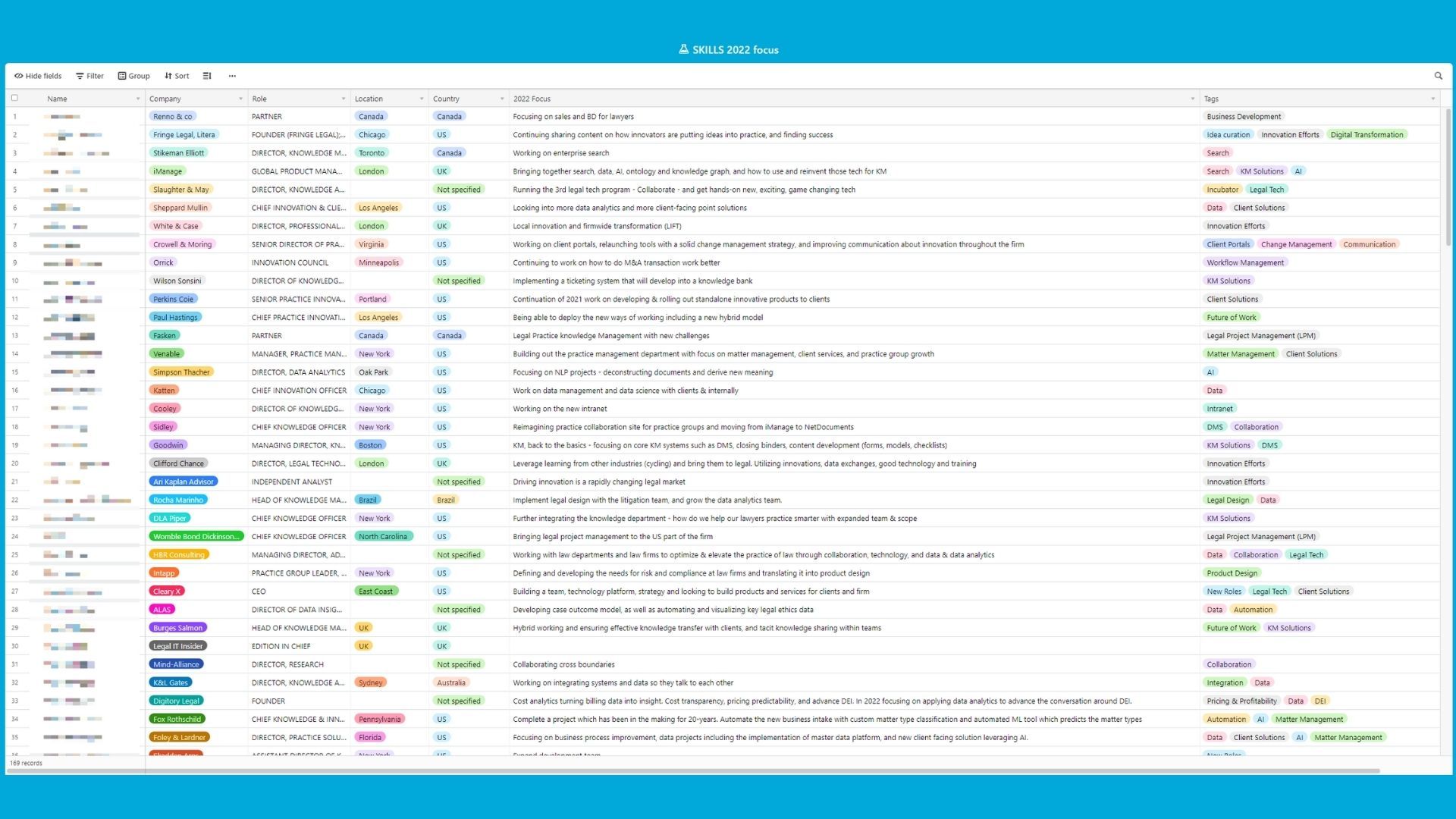 The goal was to create a structured database. I captured information about the individual's role, geography, focus, and area(s) of interest to populate the base.
For the 2022 focus, we captured this directly from the response provided by an individual where possible. This was then categorized into one or more focus "tags."
In some instances, the focus wasn't entirely clear (no judgments here) or personal, in which case we did not include it.
Ultimately, we captured and structured responses from 169 legal innovators. I leveraged these to report on:
Macro trends
Themes around 2022 focus
Potential opportunities
Macro trends

Attendee trends
With n=169 there is a relatively large sample size to speculate on macro and micro trends.
Unsurprisingly, the US has the strongest representation (59% attendees). Followed closely by the UK (13% attendees) and Canada (8%).
Several attendees didn't include their location which accounts for 'not specified.'
It was great to see the Baltics, Brazil, and Australia represented. Special kudos to the two Australians that will be up in the middle of the night to attend live!
Variety of roles
Here are my three takeaways from reviewing the myriad roles of the attendees:
1) No standardization across the industry: people doing similar roles have very different titles. Size and geography look to be the biggest factor here.
2) Knowledge management is rarely a specialized role: that's not to say it is not a focus area (quite the contrary - see below 👇).
However, there are many "KM and X" titles in the mix. Some examples:
Knowledge management and innovation
Knowledge management and information services
Knowledge management and pricing
Knowledge management, education, and innovation
I can interpret this from a pessimist's and an optimists' viewpoint:
Pessimist's view: there is not enough value or work for "just KM"
Optimist's view: KM is a critical role, one which flows across other key functions and needs to be broader in scope  
Which one do you think?
It may be useful to listen to my conversation with Alma Asay on the state of KM & Innovation across the US AMLaw 200 firms: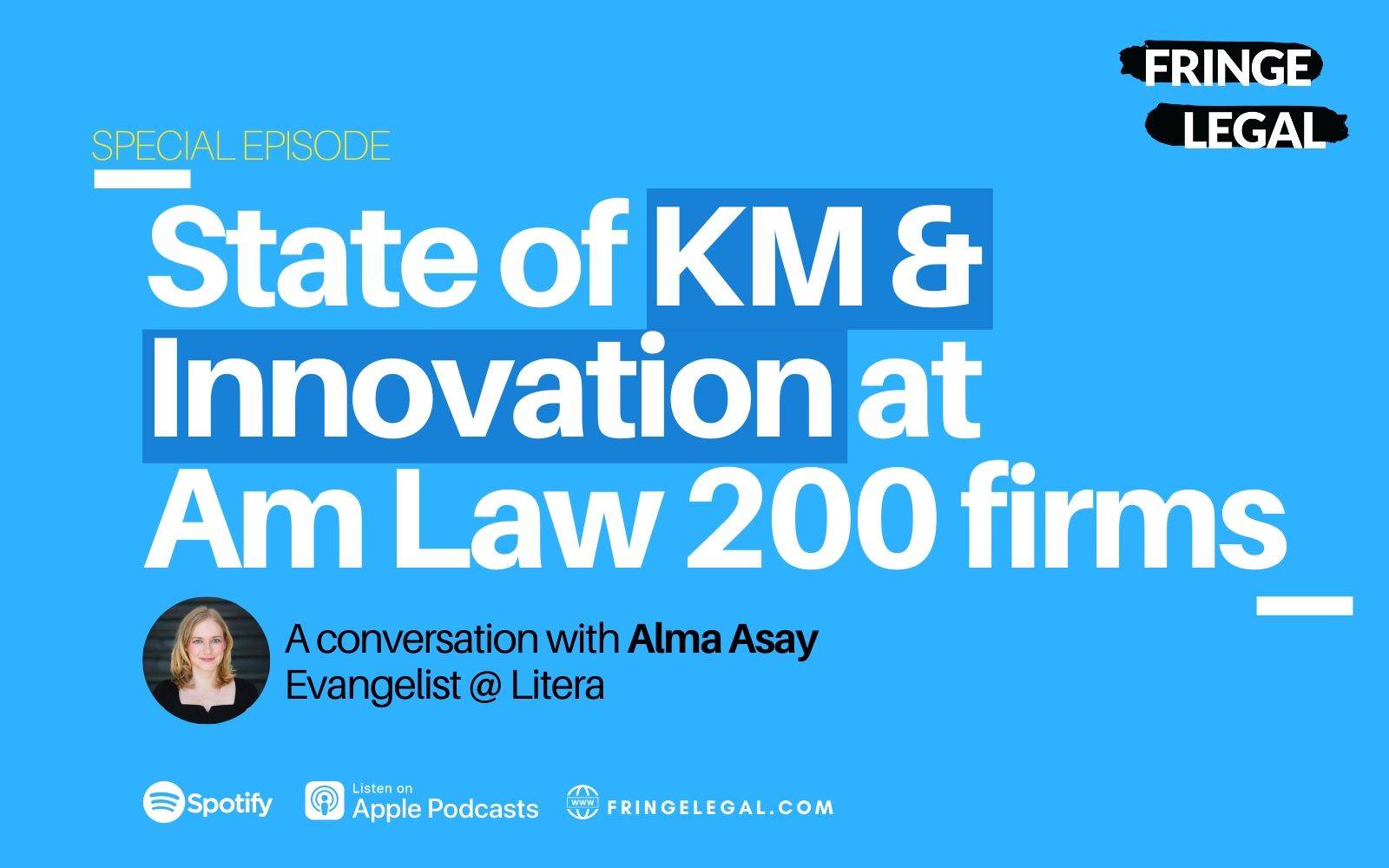 3) Broadening crowd: given the title of the summit, it's not surprising to see most of the attendees in the KM or innovation camp.
What was refreshing to see, especially given the 2022 focus, was the inclusion of technology founders, industry analysts & commentators, law firm partners, and data specialists.
Projected trend - in 12 months:
the many title variation will consolidate under 'knowledge management & innovation'
specialist roles (Ops, pricing, and data analytics) will make up as much as 33% of the audience
What do 150+ legal innovators want to accomplish in 2022?
2022 themes

Now comes the fun part, finding out what your peers are looking to accomplish in 2022.
You can see a full list of focus 'tags' in the chart above. As you review the list, are there any surprises? Here's my readout:
1) KM solutions
A surprising number focused on KM solutions. Many of those KM solutions are around content curation and delivery.
Just as many combined a focus on KM solution with another area - most frequently with technology including implementation of legal tech, DMS, search, or intranet.
Here are some of the focus items from the respondents:
"Implementing a ticketing system that will develop into a knowledge bank"
"Engaging in the knowledge reimagined project, organizing an internal global knowledge conference, and providing strategy for the firm's knowledge team"
"Bringing together search, data, AI, ontology and knowledge graph, and how to use and reinvent that tech for KM"
"Launching a new knowledge bank where the multi-jurisdiction and multi-lingual requirement will be at the heart of what is being built"
Opportunity
KM professionals are amazing and underutilized for client-focused work. They are extremely versatile, have a good grasp of user needs, and can pitch the value of solutions effectively (a lot of this happens just to get budget!).
Firms and in-house teams can benefit from looping the KM teams into client pitches, co-development work, or as the trusted advisor.
2) Data
No surprises here at all. Data has been a topic of conversation for some time. Now we get to see firms leverage and execute against various data initiatives.
Data projects tend to be focused on improving profitability, building new revenue streams, and delivering value to existing clients → 💰💰💰.
Here are some sample responses:
"How analytics can create new revenue streams for law firms"
"Help clients navigate digital business, emerging tech, legal operation initiatives and help the firm create structured data management programs"
"Combining data, precedent, and technology to advance transactional drafting"
"Cost analytics turning billing data into insight. Cost transparency, pricing predictability, and advance DEI. In 2022 focusing on applying data analytics to advance the conversation around DEI."
Opportunity
We are in the infant stages of leveraging multiple data sources. There is a huge opportunity to utilize various data sources to improve the customer experience - the simplest way to do this? Leverage an Experience Management software, including those specifically designed with law firms in mind.  (Experience Management was also a focus area for a few respondents).
Vendors need to focus on making APIs and webhooks more readily available so that customers can create more customized outputs mixing-and-matching different sources.
3) Client solutions / portals
It was good to see a focus on delivering solutions to clients. These largely came in the form of one of the following:
Co-developing solutions with clients
Identifying solutions for clients
Creating/relaunching a client portal
Here are some sample responses:
"Focusing on client-facing work, focusing on collaboration platforms and expand to do more process automation"
"Focusing on business process improvement, data projects including the implementation of master data platform, and new client-facing solution leveraging AI."
"Expanding KM team with KM counsel; exploring practice specific tools and client-facing engagements"
Opportunity
Firms, incubators, and accelerators should consider "building in public". If you are not familiar with the concept, here's a summary:
Taking an audience along for the ride as entrepreneurs develop a product or service, even before it's ready for primetime. It allows you to establish product-market fit and build a base of customers.
Additionally, consider leveraging no-code tools to wireframe and iterate faster on the solution.
Your thoughts
I would love to hear your thoughts on the trends and focus areas.
Are there opportunities or trends that you see at your firm which are not called out above?
Comment below (or reply if you got this via email).