Fringe Legal #67: the case for slow innovation
In the issue this week, we cover the case for slow innovation, creativity in law firms, ILTA's technology survey, digital assets, writing as a networking tool for introverts, and some bite-sized morsels.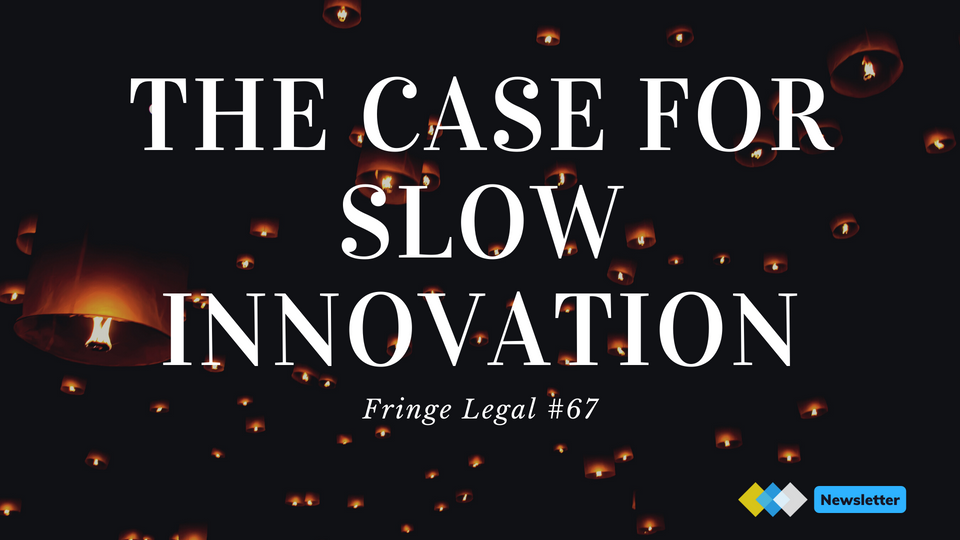 In the issue this week, I cover creativity in law firms, ILTA's technology survey, digital assets, writing as a networking tool for introverts, and some bite-sized morsels.
🎧 Creativity in law firms
What role does creativity play in a law firm and legal practice?

Dale Miller and I to discuss creativity, collaboration, and the role of sales in law firms.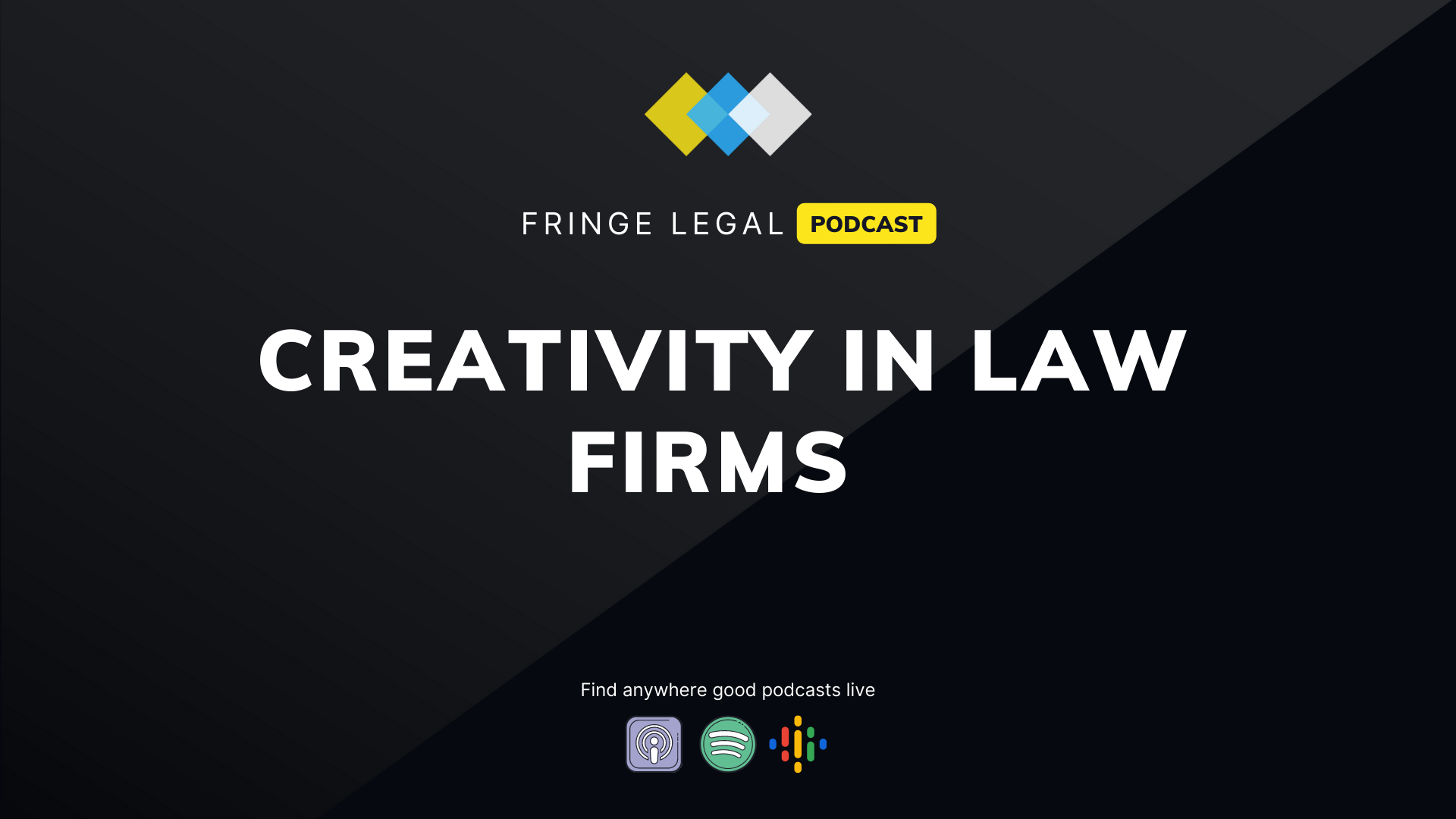 Here are my five takeaways from the conversation:

1. Creativity

Creativity is a mindset and applies to any industry. Yes, including legal.

Creativity doesn't have to mean inventing something new. It can be looking at what is out there and seeing how you can apply it to your practice.

It starts with being open to ideas, willing to collaborate, and having diverse inputs.

2. Focus on pricing

Firms place a lot of emphasis on pricing and offering creative pricing.

The focus on pricing needs to be backed by data-driven decisions. Interesting to hear that H&K brought on board a CRO and has associates focused on BD plans 👍

3. Struggling with being client-centric

We hear a lot about being firms wanting to be client-centric, but how are firms actually doing in executing against this?
Firms need to turn their focus from attorneys as the center of the universe to their clients as the center of the universe. As Dale put it:
"truly trying to understand the client needs upfront, offering more than just the legal services. Really becoming a trusted business advisor, which means putting in the time to understand the business and to ask the right questions of their clients."
4. The future firm

Successful firms take an agile approach where they are willing to try new things, learn, and grow through experimentation instead of being rigid.

It can't always be perfect. Revisit ideas, maybe we tried this before once, and it didn't work. Has the technology changed, has the market changed, or perhaps your client's expectations. Do some part of the strategy or tactical piece in a new way.

5. Role of marketing

Marketing and BD are superpowers that are underutilized at law firms.

Marketing teams do so much more than just RFPs and pitches.

They create and identify opportunities to cross-sell, highlight trends and showcase the talent & expertise of the firm.
Listen to the full episode here
This is the last episode of 2021 - the podcast will return in early 2022
---
The case for slow innovation
Some conversations I had recently about how firms plan innovation efforts reminded me of a fantastic article from years ago.
I had to dig this piece out from the internet archives: the case for slow innovation.
It's from 2016 and focuses on GE's innovation efforts at the time, but you can easily transfer the points to law firms today.
Technology should serve an underlying business objective. What is the question you are looking to answer by leveraging tech?
Technology is the answer, but what was the question?" Despite what General Electric says in their recently released Innovation Barometer, the question remains an important one when trying to understand the forces that drive companies' "Fear of Becoming Obsolete."
It's easy to focus on process improvement and even calculate a tangible expense. Still, it may be a wasted effort without having the right team (and team structure) or problem statement in place.
Process is never the frictionless undertaking that its purveyors would have you believe. Yet technology-led and Process-driven solutions appear seductive in their certainty when compared to the challenges of seeking out genuine human Problems to solve, or understanding the complexity of the People with whom you work and aspire to serve.
With a bit of calculation, change in Process can often be given a firm price tag, and a fixed expense is a tempting response to the pervasive ambiguity of FOBO. In contrast, it can be hard to summarize the complex challenges of People and Problem into the succinctness of a budget line item. Changing these two P's requires a deeper look inside of one's company, and the people who shape and define it.
Small changes, executed repeatedly over a longer period > creation of the "big" innovation center. Delivery of minimum viable offering, backed by continuous testing against the hypothesis, will allow the organization to get into the "respond, don't react" mindset.
We developed their company's innovation capability by strategically linking continuous, small changes in an organization's everyday work to the end-goal of building a new model of work grounded in the continual testing and questioning of hypotheses. We believe progress is only enabled through forward, reflective momentum.
---
ILTA 2021 technology survey
The annual ILTA technology survey results were published recently - you can find the executive summary here.
It includes a survey of 460 law firms of all sizes and across jurisdictions.
Here are some of my callouts:
Legal desktops are getting more complex, and firms are craving simplicity. In general, there is a move away from homegrown solutions to those which can be more easily integrated into the legal application stack.
WFH has accelerated digitization, technology adoption, and how business is done. But people are still sticklers for printing, with 42% of firms classified closer to "paper-lite"!
Automation is still high on the agenda (doc assembly, matter intake, and approval workflow as notables). A few firms are considering more sophisticated automation, such as Robot Process Automation.
User acceptance of change is the biggest problem to tackle  
The key message seems to be to simplify:
"simplification of the legal desktop enables all users in a law firm to be more self-sufficient, which leads to efficiencies and lower costs."
---
Writing is networking for introverts
Networking is an effective way to uncover great opportunities and widen your reach. However, it doesn't come naturally to all.
It's a skill and can be improved with work.
However, for many introverts, it still doesn't get rid of the wibbles when they approach a room (virtual or physical) full of strangers. This article resonated with me, especially for those moments where I feel introverted. Here are the key points:
Clearly networking, in a broad sense, works. But it doesn't work very well for people who are bad at striking up conversations with strangers or near-strangers, and I definitely qualify there.
There is a solution: be famous. You lose the ability to filter out who you want to talk to, but at least everyone starts the conversation with some context; you're outsourcing the extroversion to them.
Fame is hard, and it has other costs. But there's a second alternative: be microfamous. Microfame is the best kind of fame, because it combines an easier task (be famous to fewer people) with a better outcome (be famous to the right people).
---
Overview of digital assets and blockchain
Crypto, NFTS, Defi, and the Metaverse are likely terms you are sick of hearing.
Whether you plan to dig deep into the world of Web3 or not, I find it useful to be familiar with the core concepts so I can better gauge future utility and opportunities.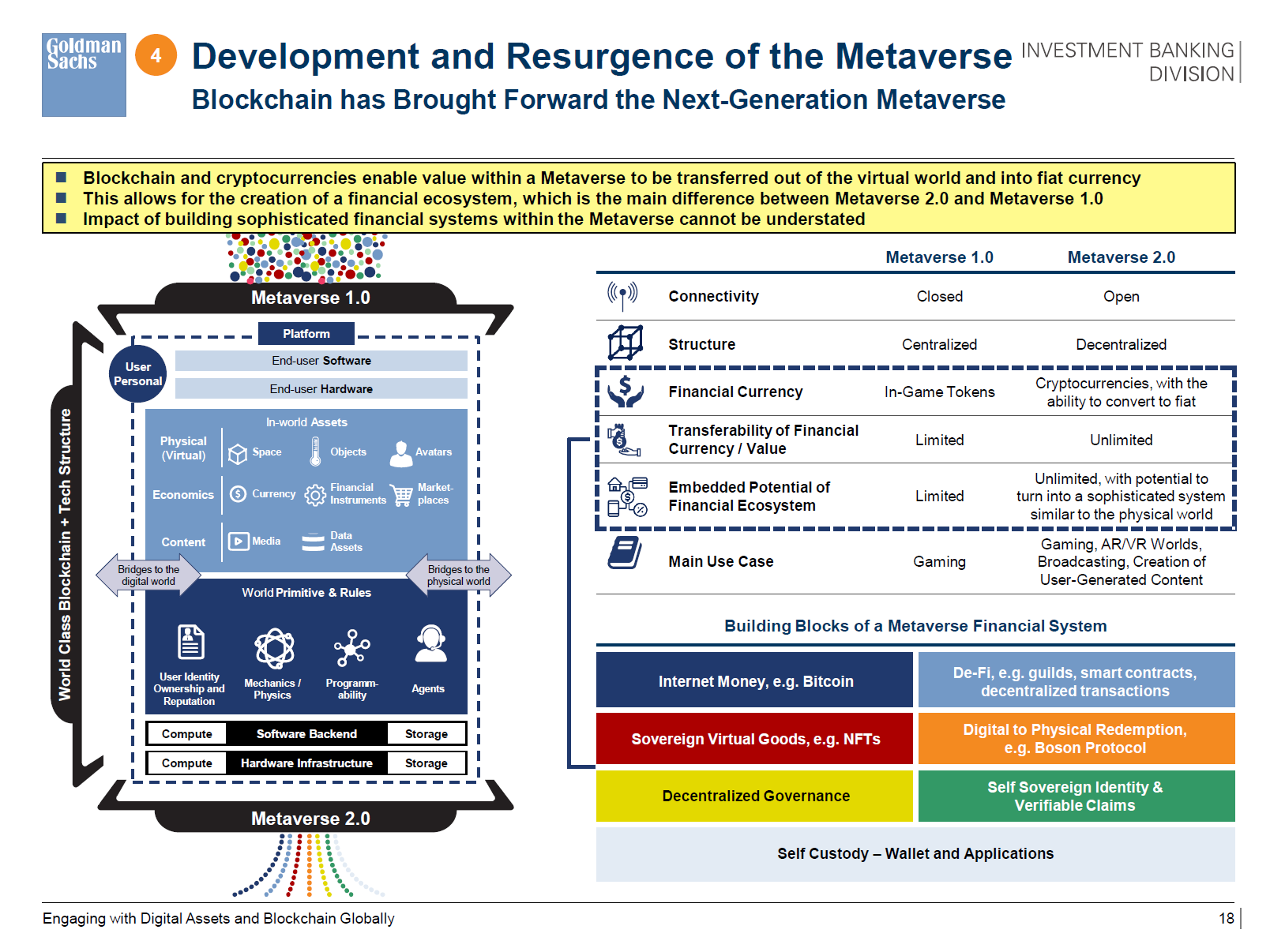 I came across this document (PDF) from Goldman Sachs (Asia), which gives a good overview of digital assets and financial infrastructure (via).
---
Other links
I've been posting on LinkedIn every weekday for the past six weeks. Here are some highlights:
---
How did you like this issue?