Fringe Legal #68: only two ways to make money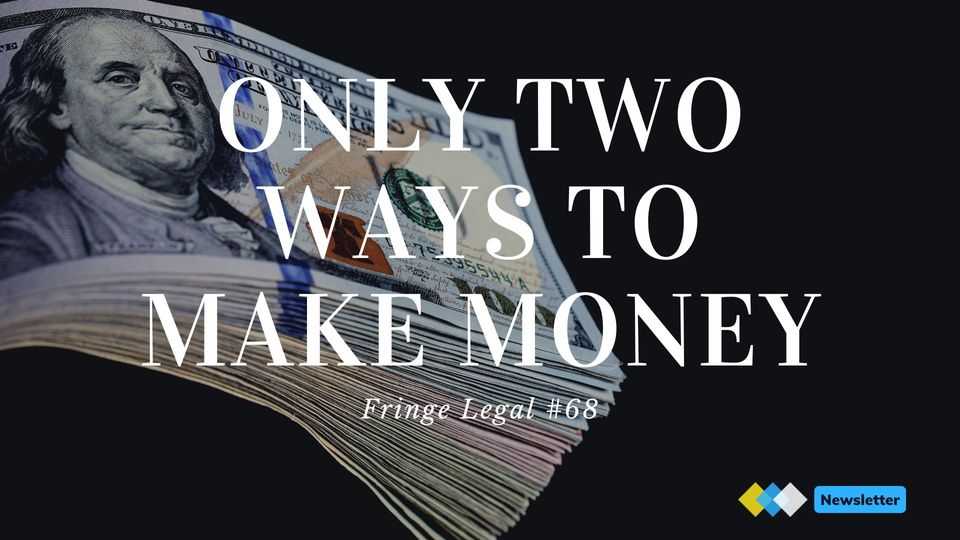 ---
On stage are two executives, addressing a crowd of eager investment bankers at the Savoy Hotel in London. It's the 1990s, and Marc Andreessen and Jim Barksdale are there for a roadshow as they prepared for the hottest tech IPO of the day - Netscape.
Needing to leave for a flight, in response to a question from the audience, they quipped:
"There are only two ways to make money in this business: one is to bundle; the other is to unbundle."
While an off-the-cuff remark, we've seen some version of this play out across all verticals, and legal is no exception.
I've thought about this a few times as the pattern seems to appear across several industries, and legal is no exception.
The topic recently came up during my conversation with Keith Maziarek on pricing legal matters - the conversation while released recently was recorded a full month before I write this newsletter.
Ultimately, it's a question of value.
Is the perceived value greater when you are providing multiple items packed into a bundle, or is it greater when offered as a hyper-focused solution?
Bundling vs unbundling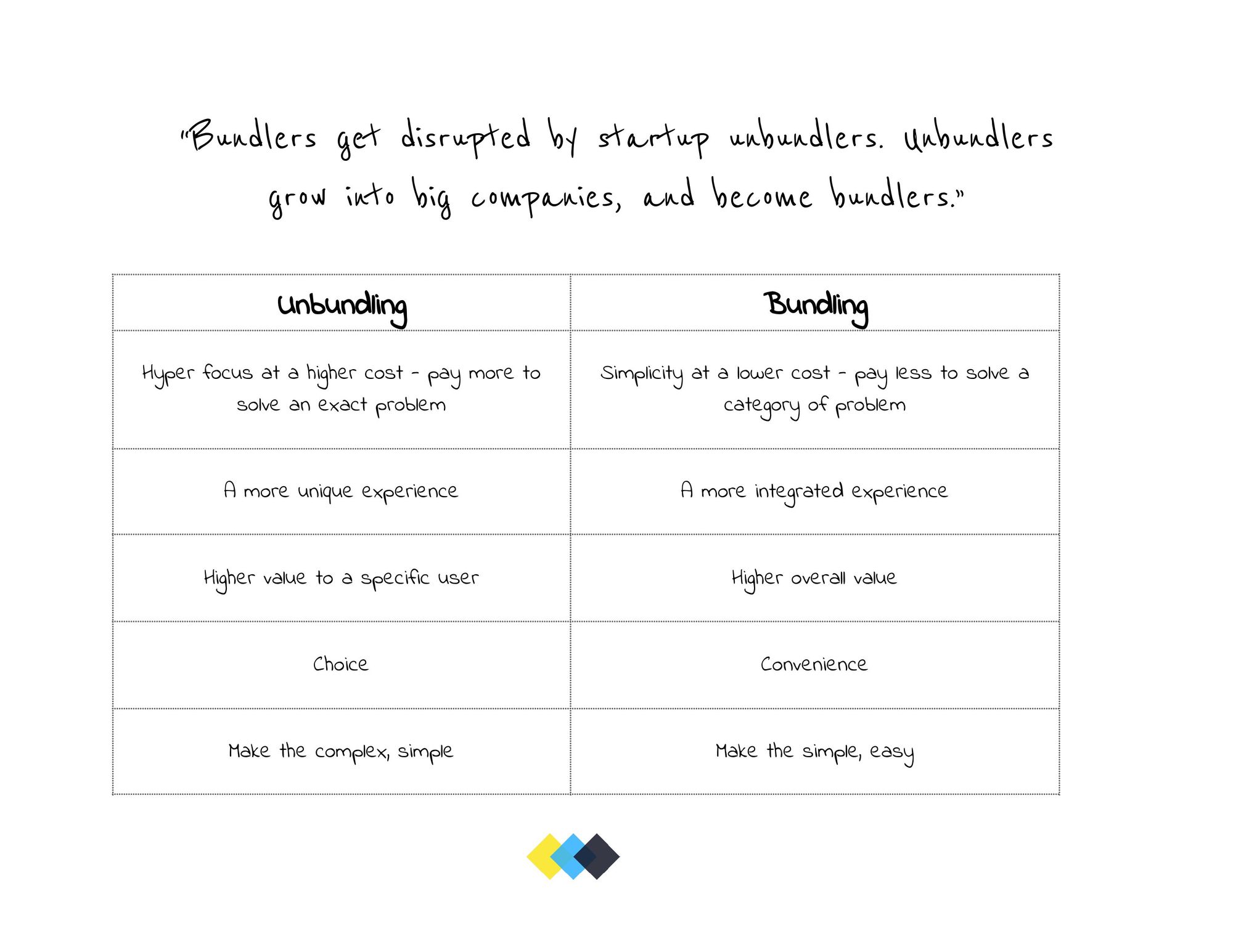 A familiar future?
Cycles are hard to avoid. Consider technology available to law firms in the past, bundles were certainly available and purchased. However, due to technical and operational limitations, it was difficult to achieve interoperability.
Enter founders that identified opportunities by unbundling - they solved a specific problem for a niche group of users.
What we are now seeing is the rebundling - the niche offerings being acquired by larger players to provide a central platform for users. The goal is to aggregate the value so that the sum of the whole is great than the individual.
A piece looking at the economics of bundling and unbinding sums it up perfectly:
Bundlers get disrupted by startup unbundlers. Unbundlers grow into big companies, and become bundlers.
If you are in a role that evaluates, influences, or purchases technology- what will you do? Lean into the bundle for the economies of scale or solve a very specific problem?
Further reading
Here's the HBR interview with Andreessen and Barksdale for the story behind the quote.
Ben Thompson's piece on the great unbundling of the media industry is a great study
---
🧠
Fringe Legal Summit '22 is coming Oct 10, 2022. Discover the future inside the present.
Become an early supporter
, get access to special items, and get a
highly discounted
rate by buying a
limited
early bird ticket.
Thanks to everyone who has signed up so far 🙏.
---
Value based pricing for law firms
In case you missed it, earlier this week we released the conversation with Keith Maziarek discussing pricing strategies for law firms.
There are only so many levers in this business in terms of what I can do. It's all about service delivery models and the underlying economics. This isn't astrophysics... There are a couple of levers on who's going to do the work and how much they have to do, what's the cheapest way to do it, and what the outcome will be. How do those things correlate (the price to the product)? Having those conversations with people that understand that better is important.
There are some fantastic resources covering this topic, so naturally, we went deeper. Exploring:
why are pricing conversations so difficult
how power shifted from buyers to suppliers
the impact of inflation on pricing specialized services (such as legal work)
the importance of increased understanding of pricing models leads to better options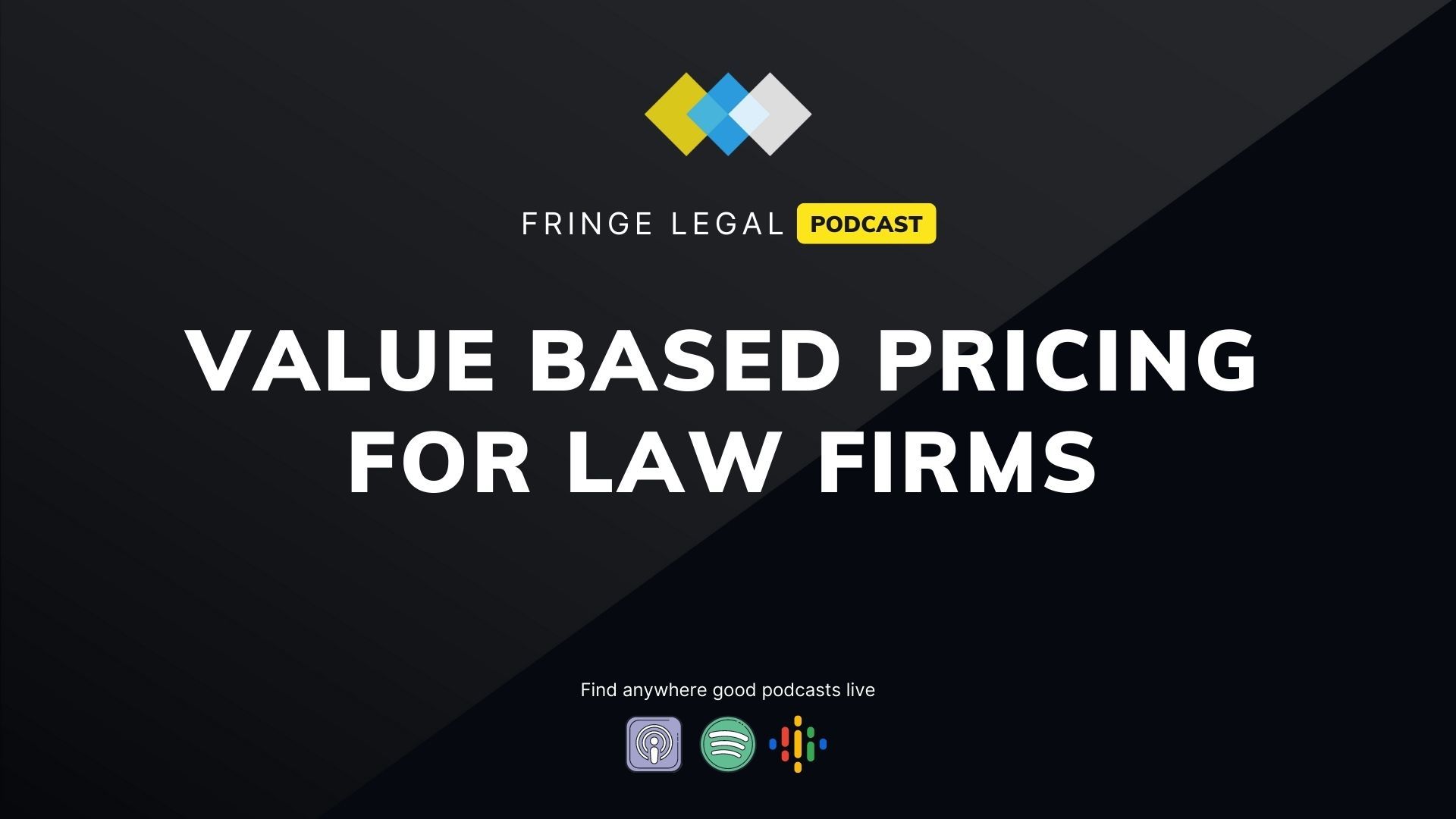 ---
Legal Tech Investments
As we are talking about value, it wouldn't be complete without highlighting investment in legal tech. Too many legal tech companies raised funding and made acquisitions to name them all but below are a couple that I found noteworthy.
Legl, a modular workflow tool, raised $18M Series B led by Octopus Ventures (a VC that invested in a number of legal tech such as ThoughtRiver). 🎧 Listen to the episode with Legl CEO Julia Slasky.
SirionLabs, an AI-powered Contract Management platform raised $85M with Tiger Global, Sequoia and others.
Legal.io (marketplace for legal-sector employees and technology) raised $11.6M Series A. Led by Tiger Global (Tiger has previously invested in tech such as Bryter and SirionLabs (above)).
Proof Technologies (a service that allows to service of documents) raised a $4.6M Seed round. Investors include The LegaTech Fund (who have invested in a number of other legal tech companies).
Time by Ping (automated time tracking tool) raised $36.5M Series B.
Ex Parte (ML-powered SaaS that predicts the outcome of litigation) raised a $7.5M Series A.
Key takeaways
consolidation continues as a business acquires to increase their TAM (e.g. ThoughtTrace by TR) and bring complementary services under the same roof (LiveNotary by PandaDoc).
investment is spread across all areas where technology can make an impact. Big [investor] money is being spent on contract (lifecycle) management tools.
🔮 The crystal ball says: there's a lot of competition in this space and we'll start seeing a handful of leaders emerge that will start absorbing others. LexisNexis announced the acquisition of Parley Pro recently.