Nicola Shaver on design thinking for lawyers & law firms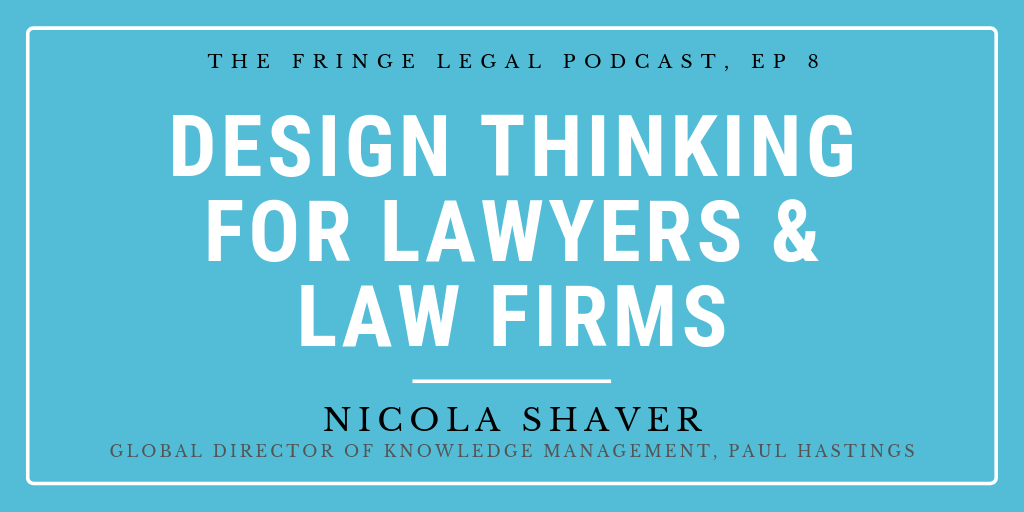 Nicola Shaver is the global Director of Knowledge Management at Paul Hastings LLP in New York. In her role, she focuses on opportunities to optimize processes and introduce tools that will improve efficiency and productivity, and on leveraging the firm's intellectual capital to better serve clients.
Nicola has worked in the legal services industry for over 15 years in three different jurisdictions. Nicola is passionate about finding innovative solutions to existing problems, building a culture of innovation within law firms, and instilling an empathic approach to design.
SUBSCRIBE AND REVIEW:  iTunes // Spotify // Pocket Casts // Stitcher
Some of the items we cover in the episode include:
How Nikki got to NYC – her story of working in three countries
Nikki's move to KM – Nikki's view of KM, and why she thinks it's such an exciting role to be in
What she sees as the key components of a KM role
What are some of the items that will help lawyers actually want to continue to practice law
The shift in technology, processes, and the way law is practiced
What is design thinking
What components makeup design thinking
What are the steps of design thinking
Empathy
Define
Ideate
Prototype
Test
Execute
Why empathy is one of the key components of any problem-solving exercise
How Nikki was first exposed to Design Thinking
How her firm explored the concept of design thinking
How to promote the concept to lawyers and have them be engaged
What is one key stage, after which, the lawyers will be hooked
What is a range of time investment required for a design thinking workshop
Some amazing tips to help you out if you're trying this out for the first time
Some key takeaways for Nikki after having put design thinking into
How design thinking can help tap into the "big brains" of lawyers