Angela Dowd on developing an innovator's mindset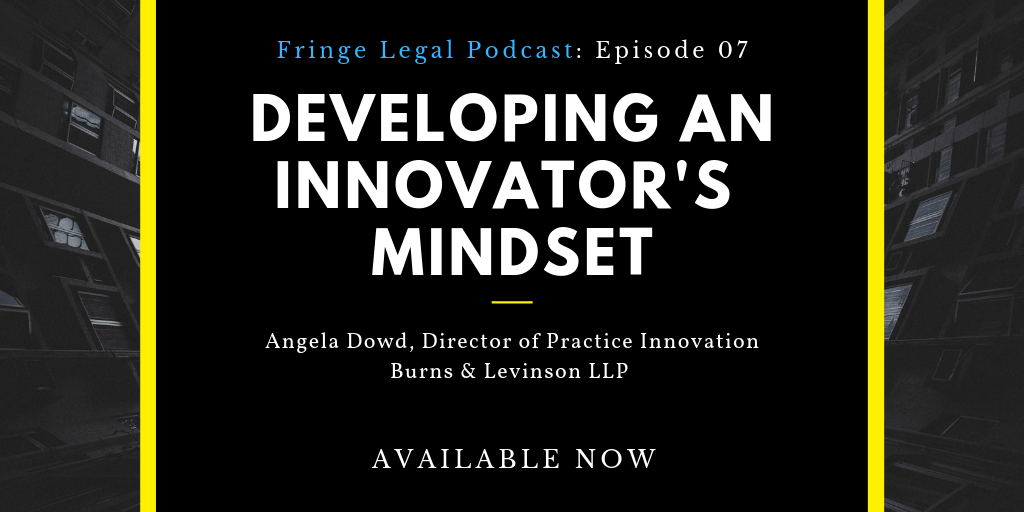 Angela Dowd is the Director of Practice Innovation for the law firm of Burns & Levinson LLP in Boston, Massachusetts. In her current role with the firm, she is works with practice groups and administrative departments to increase efficiency and streamline business processes. She has also been an active member of the International Legal Technology Association (ILTA) for many years, speaking at the annual conference. She is in her second term on the Board of Directors, currently serving as President. In addition, she has spoken at the Association of Legal Administrators, Legal Marketing Association, and the Law Firm Alliance conferences.
SUBSCRIBE AND REVIEW:  iTunes // Spotify // Pocket Casts // Stitcher
In this episode, I speak to the brilliant Angela Dowd. We really focus the conversation on how to develop an innovator's mindset, and lessons learned as Director of Practice Innovation at Burns & Levinson LLP, and as the President of the Board of Directors at ILTA.
Some of the highlights include: (numbers are time codes)
Angela's "organic, rambling path" into legal: going from chemical engineering, HR, training, applications and innovation → 1.20
Symptomatic problem solving vs business problem solving → 4.17
Instead of suggesting solutions, focus on learning about the problem the user is trying to solve → 5.40
The challenges and benefits of working in a "firm of laterals" → 7.20
"Cross-fertilization of innovative ideas" → 10.45
Make gain where you can, and tying innovation initiatives to business problems → 12.32
Resistance to change vs the desire to change → 13.48
Reverse mentoring on as a tool to challenge your assumptions → 25.00
What's on the horizon for the legal profession → 30.00
It may also be worth listening to the interview with ILTA CEO Joy Heath Rush: