Paul Domnick on the changing landscape of the legal profession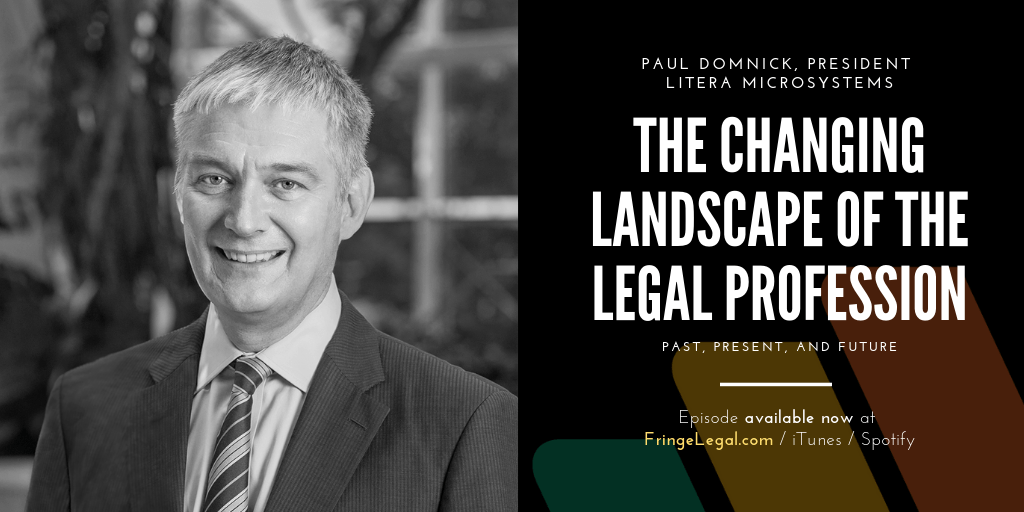 Paul Domnick is President of Litera Microsystems, having been President of Litéra Corp from 2014 to 2017. He brings unique insight into the utility of the Litera Microsystems' risk management solutions having previously been CIO of Freshfields Bruckhaus Deringer for five years. Before taking on this role in early 2007, Paul was head of global IT sourcing for Zurich Financial Services.
SUBSCRIBE AND REVIEW:  iTunes // Spotify // Pocket Casts // Stitcher
Paul is such a font of knowledge and has so many great stories which distill some of his learnings. I segmented our conversation in exploring Pauls' past (being a CIO), his present (President at Litera Microsystems), and the future (what are some items a knowledge worker should be thinking about).
Full disclosure, I worked with Paul at Litera Microsystems.

SHOW NOTES
We cover the following in this episode:
PAST: Pauls' move from financial services to the legal profession, and how the technology needs differ between law firms and professional service organizations.
Why Freshfields deliberately hired a CIO (and others) from outside of legal – and why this might be more common in the future.
Lessons learned from being a CIO (listening, learning the law firm mechanics, and growing as a leader)
The role of IT leaders as representatives of change in an organization
PRESENT: how running a different kind of procurement organization at Freshfields led to Paul moving to Litera
Growing a company from a customer-centric viewpoint (grow so you can better serve your client base)
The formation of Litera Microsystems, and the vision behind the creation of a platform company
FUTURE: true disruption comes when someone does something so drastic with current technology it changes the game
How technology can have a meaningful impact on people's lives and what role innovation plays in this
Trends for the knowledge worker – the idea of augmenting technology to your current role
AI becoming a ubiquitous piece of technology. AI is successful when you don't know it's around you.
Advantage of a first-mover vs being a fast follower
You can find out more information about at Litera Microsystems on their website.