Thao Tran on crowdsourcing ideas, the importance of mentorship, and embracing the KM role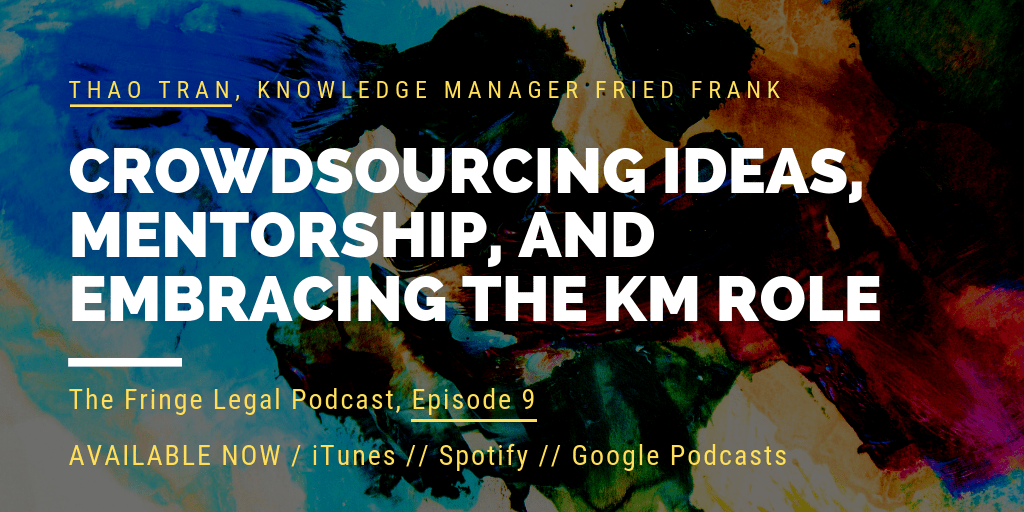 In this penultimate episode of season one, I speak with the fantastic Thao Tran. Thao is the Knowledge Manager at the international firm Fried Frank. She's based in New York, and is also the Member Liaison for ILTA in NYC.
Thao has a unusual route into knowledge management, and in exploring how she got there, we learn ways that can help break into a new role, crowdsource ideas and separate the signal from the noise.
At the end of the episode, I was left with a few pages of notes (and Thao even suggested a job for me after I retire :p)!.
SUBSCRIBE AND REVIEW:  iTunes // Spotify // Pocket Casts // Stitcher
Some of the highlights include: (numbers are time codes)
Thao's journey into knowledge management driven by work-life balance, and a nudge from a partner → 2.50
Thinking through the expansion of the KM function from just one practice area to various → 5.00
Importance of mentorship and sponsorship (and the differences between the two at a law firm) → 6.00
Why casting a "wider net" when searching for mentors is so importance, and how it helped shape Thao's career → 8.00
A primer on knowledge management, what does it mean to Thao and to law firms → 16.24
Being that bridge between lawyers, technology and management → 19.48
How to discover where the inefficiencies are, and the benefits of starting small → 25.18
Separating the signal from the noise, and having a genuine desire to learn from each conversation → 31.01
What's on the horizon for the remainder of 2019 → 36.30