Nina Gratrick on Technology Transformation and Evolution of IT Service Delivery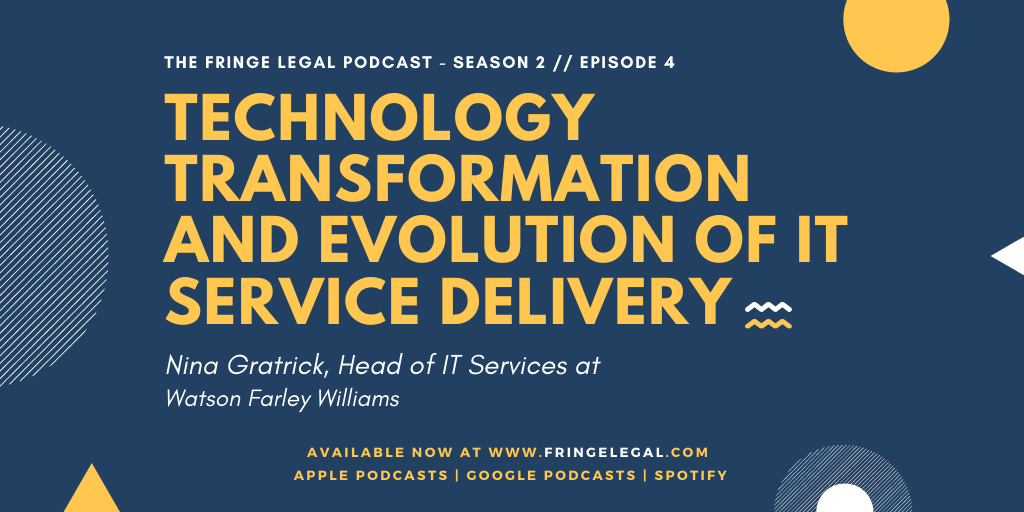 Nina Gratrick is the Head of IT Services at the global law firm of Watson Farley & Williams.
Nina Gratrick An experienced Service Delivery Manager with a demonstrated history of working in the legal industry at a global level. She's a skilled resource manager capable of crossing the divide between technology and people; facilitating engagement at all levels. A coach, a mentor, an agent for change within organizations, supporting people, process, and technology transformation to reshape the vision of IT services and support.
We talk about how the evolution of IT service delivery, and how by being customer-centric, it's possible to push the boundaries of change at your firm.
SUBSCRIBE AND REVIEW: iTunes // Spotify // Pocket Casts // Stitcher
Put the customer in the middle of what you're doing, designing, implementing. And go, am I helping or my hindering? Am I gonna make it better? Am I gonna make it worse? And sometimes we make it worse in the short term in order to make it better in the long term.
Some takeaways from the episode include:
Nina's role as a customer advocate within the IT department
The real investment doesn't always come in the short term, it comes at a cultural shift level
The difference in the learning curve between when Nina first got her start in the legal profession vs. now; one of the main differences is the increase of integration between different systems
How do you think about measuring the value of success to the business? Can you provide solutions that show value to 80% of the business quickly, and then cater for the more nuanced use cases from there?
On being flexible: do you want to be a tanker in the ocean, where you've decided on your direction, on your journey, and that's the way you're going. In order to move/change it requires a lot of work; Or, do you want to be a fleet, where you can move as a large unit really quickly, but you can also change direction just as quickly.
There shouldn't be more complexity at work, compared to how things work within people's personal lives
We're constantly fixing the same thing – there needs to be a transformation, where we get people to think about technology in a different way
How do you cross-sell your products/services as the law firm, leveraging the brand and data
As a tech vendor or a firm-based incubator, it gives you access to a wide spectrum of use cases
The importance of change management within a firm, and how customer success teams provided by tech vendors help drive this cultural shift at the firm
Fail fast, fail smart. Push the boundaries of change.
Please subscribe, and if you enjoyed the episode help me by leaving a review.