Allison Hosking - Q&A on Knowledge Management topics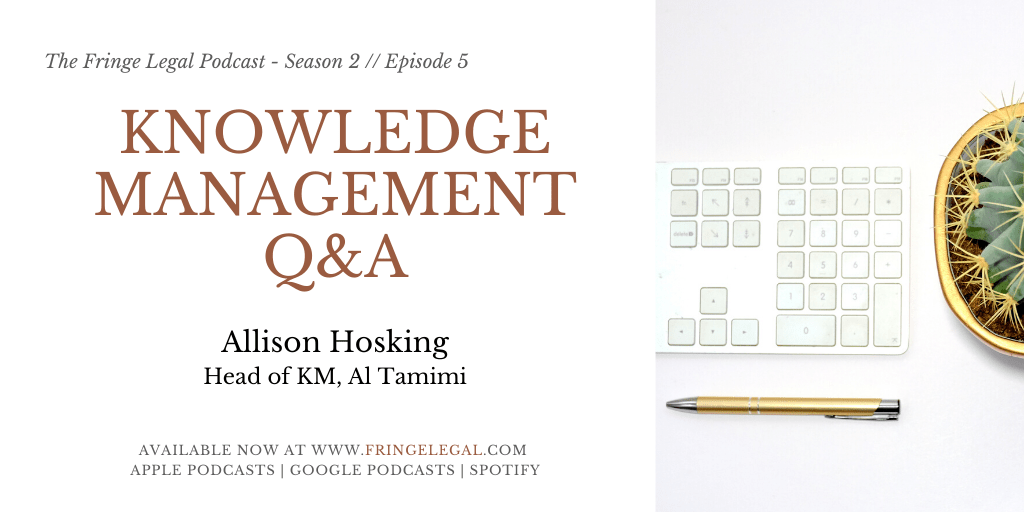 Allison Hosking is the Head of Knowledge Management at Al Tamimi & Co where she oversees a team responsible for all aspects of the firm's knowledge management strategy across their 17 offices.
Prior to joining Al Tamimi, Allison worked for over a decade for a magic circle law firm as a senior knowledge and learning manager working in their London, New York and Dubai offices. She is a qualified lawyer and has worked and practised in several jurisdictions including Chile, the USA and India. Allison has a university teaching qualification, is a Fellow of the Higher Education Academy and spent four years teaching at Nottingham Law School on their postgraduate law courses.
SUBSCRIBE AND REVIEW: iTunes // Spotify // Pocket Casts // Stitcher
For change management, you need to take people along with you; making sure that as the KM function you are positioning yourself to be the facilitators of practice innovation and enabling people to understand what tools or legal tech is out there for the so that you can be ahead, and be able there to support them.
Just some of the items we cover in the episode:
Working through the question – what is knowledge management? A way of helping organizations leverage the knowledge that the institution has, in a planned & structured manner, to achieve business benefits.
Knowledge Management as way of working through the past, present and future
Difference between explicit and tacit knowledge
Using trust as a vehicle to allow easier sharing of tacit knowledge
Building a culture of knowledge sharing in a time of extreme change change
How KM should is relevant, just in time and emergent
Difference between setting up a KM function is a young market vs. improvements made to an existing function in an established market
What kinds are requests are lawyers/users going to KM with?
Law is an industry that thrives on knowledge sharing and relationships, and you layer on tech, and that to me is a win-win. A great position to be in.
Please subscribe, and if you enjoyed the episode help me by leaving a review.