Jackson Liu of Neota Logic on creating new business opportunities using no-code platforms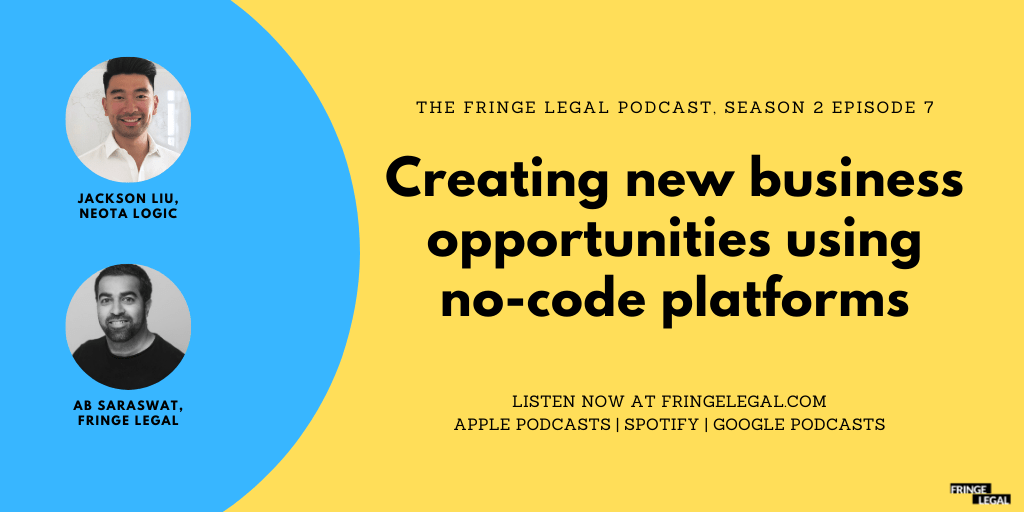 n recent years, there has been an increase in the number of no-code application development platforms being available. Specifically, there has been an uptick in the adoption of these platforms within the legal profession.
In this episode, we speak with Jackson Liu on Neota Logic to get a primer on no-code application development.
A trend that we're seeing with professional service firms and law firms is that they would build a solution or a product for a particular client and then realize we can actually market this product or this application more broadly. Through the no-code platform, they're able to customize it very, very quickly for other clients.
SUBSCRIBE AND REVIEW: iTunes // Spotify // Pocket Casts // Stitcher
Amongst other items, we cover:
What is a no-code platform
How these products can be used for rapid prototyping/development
Create MVP quickly, so it can be made available to early adopters; allow for iterative development through user feedback
How no-code platforms are being used by firms; three use case we explore are:
Internal efficiency purposes to address the 'more for less' challenge
Develop revenue-generating solutions
To win client RFPs: using the rapid prototype process to respond to RFPs with an actually built application
How Neota, using the right adoption resources & strategies, gets lawyers to become no-code "architects"
A2J: how do you prepare students (lawyers of tomorrow) through partnerships with universities/colleges/law schools
Please subscribe, and if you enjoyed the episode help me by leaving a review.