Sam Moore of Burness Paull on skills for future lawyers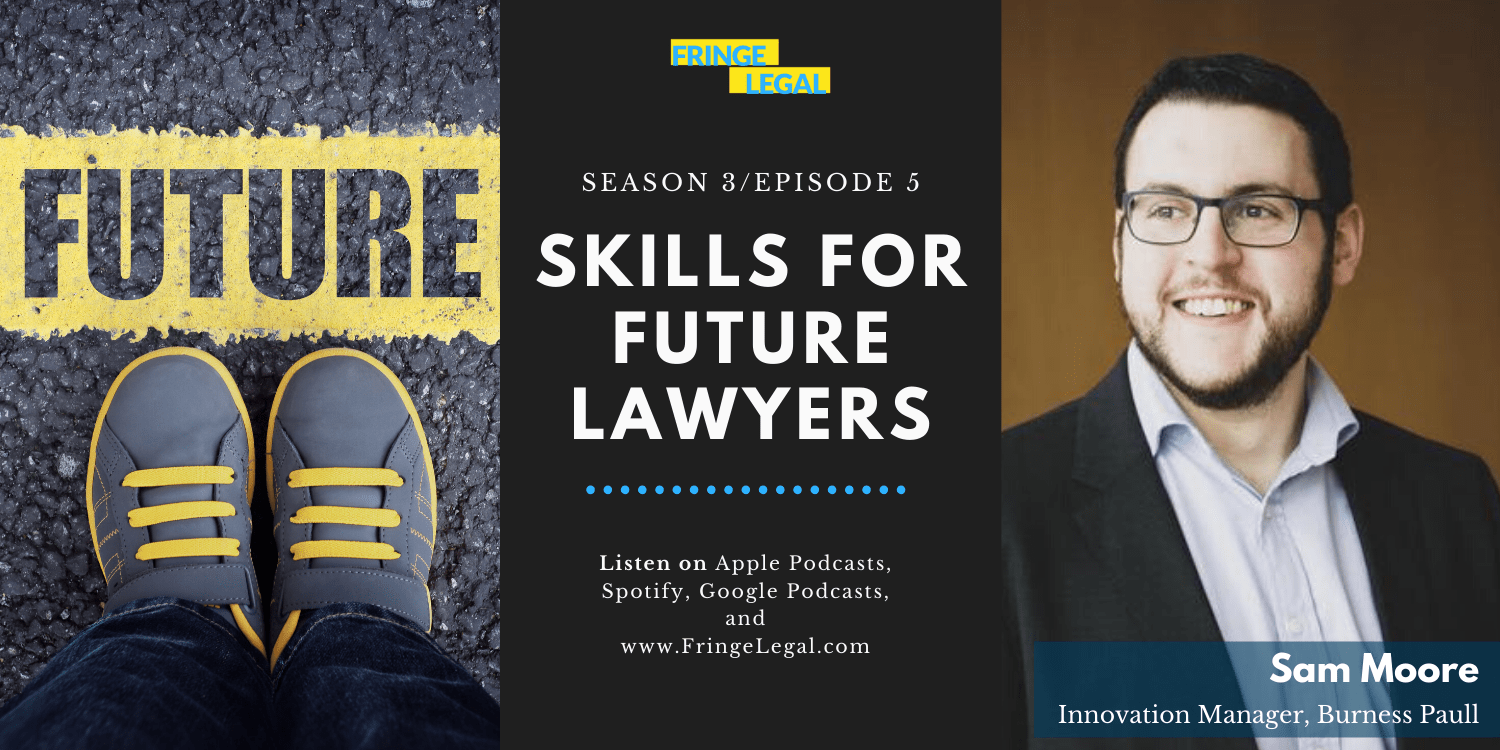 Sam Moore is the Innovation Manager at Scottish firm Burness Paull.
Sam leads business transformation projects across every division of Burness Paull. In particular, Sam helps teams within the firm to identify opportunities for automation and/or augmented workflows, making sure that Burness Paull takes full advantage of innovations in legal technology in delivering our services and delighting our clients.
SUBSCRIBE AND REVIEW:  iTunes // Spotify // Pocket Casts // Stitcher
There's an old saying that there are three kinds of work in the world: there's good work, there's fast work, and there's cheap work – you can pick any two you like. And I, I think, increasingly what we are trying to do with professionals is we're trying to achieve all three because clients expect us to achieve all three. And you can't necessarily do that by just doing things the same way you've always done them
We recorded this conversation in Nov 2019, and of course, the world has changed dramatically since then. As an accompaniment, I would recommend watching Sam's talk at the Fringe Legal Virtual Summit, which was recorded in May 2020. It provides a great juxtaposition for how his role has evolved in just a few months. And, interestingly, how many of the future skills are needed today.
Law firms are having to become more comfortable with these new roles and it's very hard to peg some of these new roles, where they sit in the typical hierarchical structure of a law firm. They don't really sit anywhere. And that's a challenge for the profession to get its head around that. You may have to be a bit more flexible about, essentially your, corporate structure to find the right place to put these important skillsets.
In this episode you'll learn about:
Sam's path to becoming an Innovation Manager
What does the Scottish Legal Technologist Accreditation mean
The transition from a legal technologist to an innovation manager
How having an in-house perspective adds tremendous value to the clients
Skills for future lawyers
Basic IT skills
Understanding of data analytics (example: how it might apply to pricing)
Better familiarity with remote working – this goes without saying now but we recorded this in November 2019, and it was great foresight. You can learn more about how Sam's role has been impacted in the post-COVID19 world from his talk at the Fringe Legal Virtual Summit.
Being aware of data and cybersecurity issues
My first experience of working with the team of Burness Paull was wearing my client hat. I'm seeing how information is being sent across, seeing how project updates are being provided, and also seeing where the sticky points are in terms of routine transactions. So when I came back over to the lawyer side of the table, I could look out for the work I was doing and think, okay, I know this particular area of the project here is going to cause some difficulties.